Third Giraffe Dies at Dallas Zoo in One Month, Officials Looking Into Potential 'Toxin'
A third giraffe has died at the Dallas Zoo in less than one month. On October 29, a 14-year-old giraffe named Jesse died after he began showing signs of illness just two days before, the zoo reported.
According to the zoo, blood test results from Jesse's labs showed abnormal liver enzymes, similar to 19-year-old Auggie the giraffe who died at the zoo just last week. On October 25, the zoo posted on their Facebook page that they believed Auggie died from "age-related issues that led to liver failure."
Both deaths followed the sudden euthanization of a three-month-old giraffe at the zoo earlier this month following catastrophic injuries.
Zoo officials said they are investigating whether the deaths of Jesse and Auggie may be connected. Utilizing blood and tissue samples from both giraffes, zoo officials are doing extensive lab testing to determine if there was a possibility that both animals were exposed to a toxin.
"The necropsy results from both giraffes pointed to liver damage," the zoo said in a statement. "Which is leading us to focus on the possibility that they were exposed to a toxin of some sort, either through a food source, in the exhibit space, or introduced via a foreign object. We also are testing for Zoonotic diseases, including encephalomyocarditis [EMC]."
The zoo said they will continue working with experts across the country to pinpoint and eliminate possibilities. This includes testing blood, tissue, food, and plants that the giraffes could have been in contact with.
"At this time, our working theory is that both Jesse and Auggie ingested a toxic material that led to their passing," Harrison Edell, Dallas Zoo's executive vice president of animal care and conservation, told Newsweek. "This toxin may have been introduced via a food source, or been present in the habitat, but it's important to note that we have not yet ruled anything out, including zoonotic diseases. We are still awaiting results from labs across the country that we hope will help us pinpoint an exact cause of the giraffes' illness."
Many animal activists have argued that large mammals do not belong in captivity. In February, the Born Free Foundation, a charity dedicated to making sure wild animals are treated with compassion, released a report showing more than 800 giraffes living in zoos around Europe.
Stephanie Jayson, Wild Animal Consultant at Born Free, called for European zoos to phase out giraffes living in zoos due to the detriment to the animal's physical and mental wellbeing.
"A zoo is no place for giraffe, where these complex, social, wide-ranging, browsing animals are subjected to a life of social deprivation, environmental restrictions and inadequate nutrition," Jayson said in a statement. "As a result, giraffes in zoos frequently suffer compromised health and stereotypic behaviors. The ex-situ management of giraffe in European zoos significantly impacts the welfare of the individual animals involved, and has no clear role in the overall conservation of the species."
Earlier this month, Newsweek reported about Marekani, the three-month-old giraffe that was euthanized by the zoo after suffering catastrophic injuries while she was running with older giraffes.
According to a statement published by zoo officials, Marekani was running with a few adult giraffes when her leg hyperextended, causing an adult giraffe to collide into her. The collision caused fractures to Marekani's radius and ulna, which were untreatable.
The zoo said they are working with giraffe experts from the Association of Zoos and Aquariums to reduce future chances of similar accidents. In a statement, the zoo said they are working to fix the areas in the giraffe enclosure that were eroding and are also installing cameras around the habitat.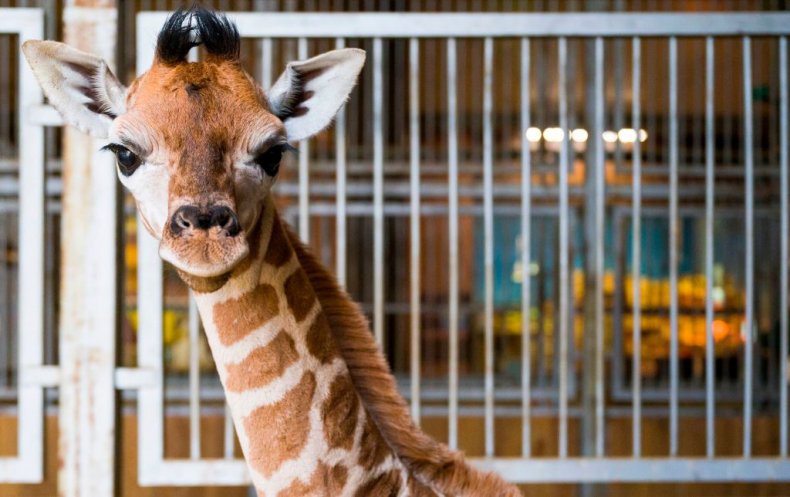 "Cameras would not have prevented this incident," the zoo said in a statement. "But this will be a valuable tool for monitoring animal interactions and behavior."
After Jesse's death, the zoo put "preventative measures" in place to isolate the incident and protect the other animals in the zoo. These measures included limiting giraffe movements, conducting regular blood tests to monitor the animals' liver enzyme levels, and replacing the animal's food with fresh crops while they await the results from toxicology screens.
Updated 11/03/2021, 4:47 p.m. ET: This story has been updated with a statement from Dallas Zoo Executive Vice President of Animal Care and Conservation Harrison Edell.