A Milwaukee police officer was shot Thursday by a man during a wellness check in the most recent string of law enforcement shootings in the city.
An individual shooting a Milwaukee police officer Thursday was the third shooting of an officer in the city within the past two weeks. Cases of people shooing law enforcement are becoming more common nationwide. Newsweek previously reported two NYPD officers were recently shot and killed while responding to a call.
In Milwaukee, a police officer was dispatched around 6:30 p.m. to check on an individual who was seen slumped over in a vehicle and reported to be sick or injured, Milwaukee Police Chief Jeffrey Norman said in a statement.
The officer, 26, encountered a 22-year-old man in the vehicle who attempted to flee and presented a gun. The officer and man exchanged gunfire, and both were stuck, authorities said.
The man then got into the MPD squad car and drove away, but he later crashed into another motorist and fled on foot. He was arrested shortly after, according to the statement.
Following the shooting, people nearby stayed and helped administer aid to the injured officer.
"I would also like to thank the community members that stopped and remained on the scene to help our wounded officer. And I mean...that was a very appreciative moment for our officer," Norman said according to Milwaukee Journal Sentinel.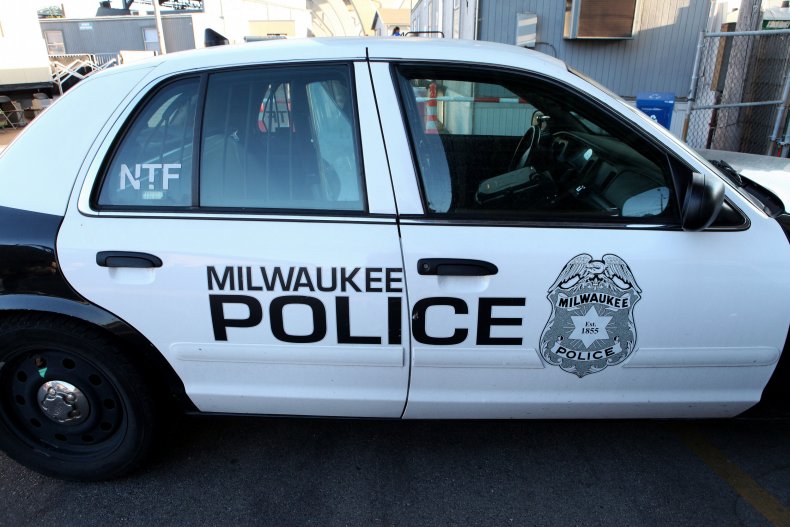 According to police, the officer was shot in the chest, stomach and shoulder, the Sentinel reported. The officer was taken to the local hospital and treated for nonfatal injuries.
The driver and the suspect also sustained nonfatal injuries and were transported to the hospital to receive care. No other injuries from the shooting were reported, Norman said in the statement.
The names of those involved have not been released at this time. The officer has over seven years of service and was placed on administrative leave.
The incident Thursday came just two days after another law enforcement officer was shot in the city and it's the overall third shooting in two weeks.
Milwaukee County Sheriff's Deputy Christian Almonte was shot by a 19-year-old man and received multiple injuries. Almonte was stuck in both arms and torso, he was released from the hospital Thursday, according to the AP.
The other Milwaukee shooting happened on January 13 when an off-duty police detective intervened in an attempted robbery and was shot multiple times. The 37-year-old detective suffered life-threatening injuries but was reported by the AP to be in stable condition.
During a police briefing on the night of January 27, 2022, Mayor Cavalier Johnson discussed the issue of gun violence in the city.
"There are too many people, in this community, who have too easy access to guns who should not have them in the first place ... I need for this community to wake up to the issue of gun violence," the AP quoted him saying.