Third Stimulus Check Likely With Joe Manchin Now In Support of Getting 'More Money Out'
Senator Joe Manchin of West Virginia, the Democrat who opposed $2,000 stimulus checks, on Tuesday softened his tone and expressed support for getting "more money out." The lawmaker's possible reversal on further direct payments has increased the prospect of President-elect Joe Biden's third check of $1,400 becoming a reality, and Democrats now may not need any Republican support to pass the measure.
Manchin was the only Democrat who strongly objected to a proposal to increase the recent $600 stimulus checks to $2,000 this month. On January 8, he told the Washington Post "absolutely not" to the increased direct payments, pushed for targeted relief and stressed that COVID-19 vaccinations should take priority.
Days later, as he faced mounting online backlash, Manchin refused to disclose how he would vote when asked by CNN's Jake Tapper, but said untargeted relief is "not who we are."
Manchin warmed toward the checks on Tuesday, telling WOWK-TV's Inside West Virginia Politics "we got to get more money out." The senator still reiterated his push for targeted payments and continued to insist that relief shouldn't be given to those that don't need it, but also acknowledged that making checks targeted could be difficult.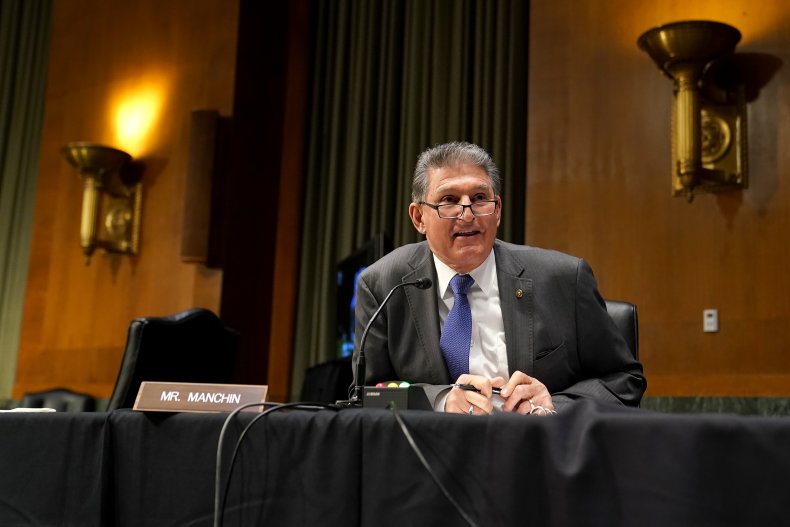 "We have people, basically, that said, 'I didn't need this, I wish somebody, my neighbor, would have gotten more, they needed more than I needed,'" he said. "So all that type of stuff—and if we can get that targeted, is there a way to target it?
"Maybe there's not. But we got to get more money out."
Biden's recently unveiled "American Rescue Plan" includes a third check of $1,400, in addition to the $600 payments issued last month.
Democrats have a slim majority in the House. After Georgia runoff winners, Jon Ossoff and Raphael Warnock, are sworn into the Senate on Wednesday afternoon, the upper chamber will be split 50-50 between the two parties and Vice President-elect Kamala Harris will have the deciding vote.
Over the past month, outgoing Senate Majority Leader Mitch McConnell has repeatedly blocked a standalone vote for more checks, but Incoming Senate Majority Leader Chuck Schumer will soon be the lawmaker who decides the bills that reach the floor.
Both Biden and Schumer have publicly supported prioritizing the payments. It's still unclear how Manchin will vote, but if he supports the measure and no other Democrats break, the party won't need a Republican to cross party lines for it to pass.
Polls indicate Americans overwhelmingly support more direct payments. In a Tuesday Morning Consult survey, 79 percent of Americans said new stimulus checks should be one of Biden's top priorities.
Schumer addressed concerns that impeachment proceedings against President Donald Trump could delay the process last week. "We're going to have to do several things at once but [Democrats have] got to move the agenda as well," he told Buffalo News. "Yes, we've got to do both."
Newsweek reached out to Manchin's office for further comment.