Third Time's a Charm? Scott Brown Takes on Another Woman in Senate Bid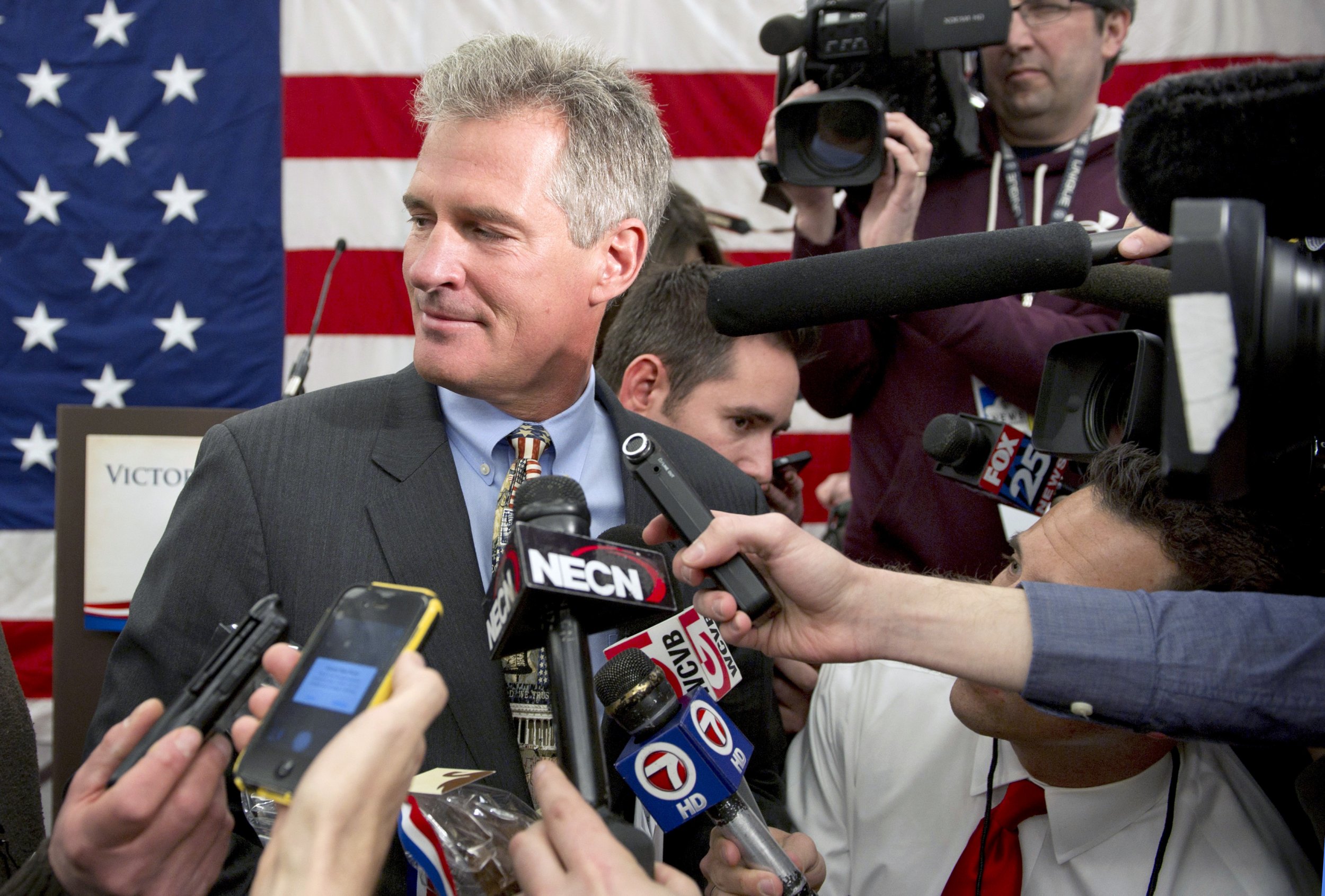 Scott Brown is a man among women. And it's not just his wife of nearly three decades, a relationship the Massachusetts Republican often touts on the campaign trail, and their two daughters.
If you've been paying attention to the former Republican senator over the last few years, you probably noticed a pattern: Brown always finds himself pitted against women.
On Thursday, Brown will launch his third Senate campaign in five years. And for the third time, he plans to challenge a woman for a seat in the U.S. Senate.
The race is just getting started, but it promises to be a big one. "This race will be the most expensive race in New Hampshire history," said Neil Levesque, executive director of the New Hampshire Institute of Politics and Political Library at Saint Anselm College in New Hampshire. "They will have every group coming in here. It's going to saturate the political system."
No one is accusing Brown of trying to run exclusively against women. By happenstance, when Brown made his debut on the national scene by winning the late Ted Kennedy's Senate seat in January 2010, his victory was a surprise upset against Massachusetts Attorney General Martha Coakley. Two years later, Harvard Law School professor Elizabeth Warren took Brown on and won.
This year, Brown could have tried to make his comeback in his home state by challenging Senator Ed Markey. Instead, he moved to New Hampshire to challenge incumbent Democratic Senator Jeanne Shaheen (assuming he wins the Republican primary first).
Democrats and Republicans each try to make hay of Scott Brown's campaigning against women. Democrats use the optics to portray Brown as part of the Republican "war on women," said Democratic strategist Scott Ferson, noting that the first two matchups were inadvertent. Brown returns fire by "burnish[ing] his female credentials by talking about his wife and his daughters."
Women candidates deal with gender-specific scrutiny (What are they wearing? Can they be mothers and politicians?) but being a man running against a woman has its pitfalls as well.
Brown, of all people, would know. While he never made a disqualifying error, Democrats believe he was too aggressive going after Elizabeth Warren and rubbed voters the wrong way.
In particular, they point to the first debate between Brown and Warren in September 2012. The first question of the night was about the importance of character, and Brown came out swinging.
"Professor Warren claimed that she was a Native American, a person of color, and as you can see, she's not," he said, referencing his campaign's accusation that Warren lied about her Native American heritage when she applied for jobs throughout her career. "She checked the box...claiming she was a Native American, and clearly she's not."
"My jaw dropped," recalls Democratic strategist Mary Anne Marsh, likening it to the infamous moment from the Hillary Clinton-Rick Lazio 2000 Senate race, when the Republican Lazio crossed the stage at a debate to urge Clinton to sign a campaign finance pledge, but came off as threatening.
Brown's aggressive tactic didn't go down in infamy like Lazio's, but Democrats like Marsh say it shattered the nice-guy persona Brown had carefully constructed.
Warren's sweet response only made Brown's attack look more unseemly. "I'm excited to be here, this is my first time to do anything like this," Warren began. "I was going to start this by saying that I think that Senator Brown is a nice guy, and that what this race is about is the issues."
In that moment, of course, Brown did not look like a very nice guy. Brown's core weakness as a candidate, says Marsh, is that his "aw shucks, I'm a nice guy" persona falls apart when he goes negative. It's a side to Brown she expects will come out again against Shaheen.
In another error from the race against Warren, Brown repeatedly referred to his opponent as "professor" in an attempt to paint her as elitist. But many believe the strategy backfired, particularly among women, because it came across as condescending. "He came off badly against Elizabeth Warren," Ferson said, referring to the "professor Warren" schtick.
In November 2012, Brown lost to Warren by eight points, thanks to women voters who chose Warren by an 18-point margin. To his credit, he did win more women than GOP presidential nominee Mitt Romney did at the top of the ticket in Massachusetts.
Now a more experienced campaigner, Brown should be expected to do an even better job this time around. His surprise upset against Coakley taught him that "anyone can win in politics," Levesque said, while he has learned to be a "vigorous campaigner" on the ground, attending many events and shaking hands.
But just as Brown becomes an expert campaigner, the dynamics of this race are very different. Whereas Warren was a novice politician, Shaheen is a tested veteran of New Hampshire politics. Whereas Massachusetts has a poor record of electing women, New Hampshire prides itself as a state where women hold the top positions in elected office.
"New Hampshire has this interesting dynamic where all of the top elected leaders are women—the governor, the two senators, the two congresswomen," Ferson said. "To ask voters to break that symbolism is hard."
Shaheen, 67, has been a mentor to most of these women. A veteran of New Hampshire politics, Shaheen is the only woman in U.S. history to serve as both governor and senator. Before she was a politician, she was a Democratic operative. As Marsh summed it up, "she knows what it takes to win."
"New Hampshire is small but New Hampshire's political clout is obviously out of proportion to the size of the state," said Ferson, referring to New Hampshire's place as the second primary state in presidential elections. "And there's no practitioner at it up there like Jeanne Shaheen."
Shaheen is expected to play up her role as a trailblazer and advocate for women, already talking up equal pay for women in campaign emails—a top issue for Democrats this election cycle. During his two years in the Senate, Scott Brown voted against an earlier version of the Paycheck Fairness Act, which Democrats will likely use against him.
This may sound grim for Brown, but he enters the race with key advantages against Shaheen. There is the obvious reason that Brown moved north in the first place: New Hampshire is more conservative than Massachusetts. Shaheen voted for the Affordable Care Act, which remains unpopular in the Granite State.
"We don't know how the president's approval ratings will play into this, how the Affordable Care Act will play into this," Levesque said. "But I think those are big factors."
The best news for Brown, however, is that New Hampshire has fallen into a pattern in the past few election cycles of trending Democratic in presidential election years and Republican in the midterms. This is a midterm year, and as in his improbable 2010 win over Coakley, Brown could ride a Republican wave back into the Senate.
The worst news for him is that he has chosen to run against a formidable politician with deep ties to New Hampshire. The state's governor, Democrat Maggie Hassan, is a Shaheen protege, to take one example. Levesque says he wouldn't be surprised to see the Clintons campaigning for Shaheen.
"Senator Shaheen has deep, very, very loyal friendships all around the state," Levesque said. "She's got very strong roots here that I think are going to be an advantage for her that I think a lot of the national pundits won't pick up on."