Is 'Thirteen Lives' on Prime Based on a True Story?
After more than two years of waiting, Thirteen Lives has finally landed on Prime Video.
The gripping movie comes from two-time Oscar nominee William Nicholson and is directed by award-winning director and actor Ron Howard.
Thirteen Lives stars A-list actors such as Viggo Mortensen, Colin Farrell, Joel Edgerton, and Tom Bateman and for their roles, many of them were required to learn how to dive.
The movie had a cinematic release at the end of July 2022 before landing on Prime Video and already it has received positive reviews from critics—but is the movie based on a true story? Newsweek has everything you need to know.
Is Thirteen Lives on Prime Based on a True Story?
Yes, Thirteen Lives is based on a remarkable true story.
The jaw-dropping film is a biographical survival film, that chronicles the events of the 2018 Tham Luang cave rescue in the Tham Luang Nang Non cave, Mae Sai, Chiang Rai Province, Thailand.
The incident saw a junior football team aged 11 to 16 and their 25-year-old assistant coach, Ekkaphon Chanthawong, trapped in a cave for a total of 18 days. The events had the world completely hooked, praying for their safe rescue.
Thirteen Lives follows the actions of the brave team of British divers and other international rescue teams to save the youngsters and their coach.
On June 23, after football practice, 12 members of the Wild Boars football team and their coach entered the cave, when they were met with heavy rainfall that flooded the cave system, blocking their exit.
The rescue operation to save them was international, including more than 100 divers, 2,000 soldiers, 900 police offers, 100 government representatives, and hundreds of rescue workers from the U.K., U.S., Australia, China and more.
At first, it was nearly impossible to locate the group due to the monsoon weather. They weren't found until July 2 at 10 p.m., almost two weeks after they first entered the cave.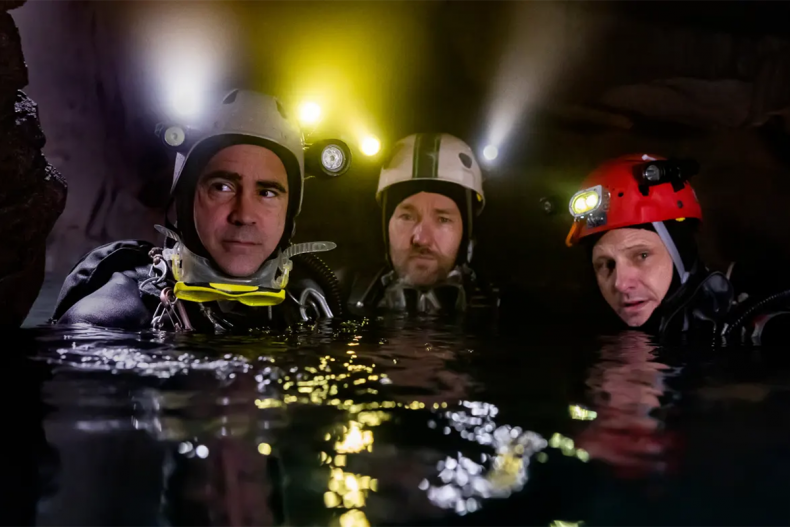 They were discovered by British divers from the British Cave Rescue Council (BCRC), John Volanthen and Richard Stanton, about 4 kilometers from the cave mouth. Volanthen and Stanton were overseen by BCRC diver Robert Harper and later assisted by the Thai, U.S., Australian and Chinese diving reams.
Adun-Sam-on, aged 14, was the only English speaker in the cave, and he communicated with the initial rescue party.
The rescue operation could have gone down very different routes. From teaching those trapped underwater diving skills to drilling a new entrance in the cave to serve as an exit the rescue operation settled on ensuring those in the cave had been freed from the cave before the next monsoon rain, which was predicted to begin on July 11, 2018.
The group was rescued between July 8 and July 10, ending one day before the monsoon rain was set to hit, which would have seriously hampered and delayed rescue efforts. The time took to retrieve each boy and their coach was three hours per individual.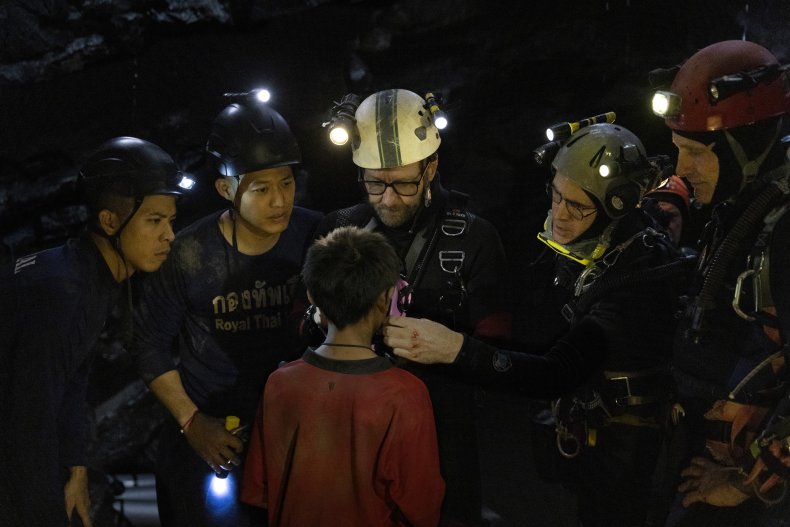 Thankfully, the 13 trapped all made it out alive, with just minor scrapes and cuts. However, the Tham Luang cave rescue was also met with tragedy.
Saman Kunan, a 37-year-old former Royal Thai Navy SEAL, died of asphyxiation during an attempted rescue on July 5 as he returned to a base in the cave after delivering diving cylinders to the trapped 13. He was pronounced dead at 1 a.m. on July 6.
In December 2019, almost one and a half years later, rescue diver and Thai Navy SEAL Beirut Pakbara died of a blood infection contracted during the operation.
Thirteen Lives is streaming on Prime Video now.