Thirty-Five Percent of Americans Willing to Visit Local Businesses Within a Month if They Reopen by Memorial Day: Poll
As more states begin to ease coronavirus lockdown restrictions, only 35 percent of Americans say they will be comfortable visiting local businesses in less than a month if they reopen Memorial Day, according to a new poll conducted by Bankrate.
Twenty-two percent said they'd be comfortable visiting local businesses within a week if they reopen on or before Memorial Day, 14 percent said they'd be comfortable between one week and less than a month, 19 percent said one month to less than three months, 11 percent said three months to less than six months, 7 percent said six months to less than a year, and 3 percent said one year or longer.
The poll, which surveyed 1,341 U.S. adults from May 5 to 6, also found that 13 percent of Americans said they won't feel comfortable visiting local reopened businesses until a vaccine is available or the virus is contained.
The poll's findings come as a number of states have begun to relax lockdown restrictions and reopen their economies. Nearly every state, except Michigan, New York, New Jersey, Massachusetts and Connecticut, has allowed some nonessential businesses to reopen statewide while continuing to follow social distancing guidelines.
Despite the reopenings in a majority of states, the nation's number of coronavirus cases continues to rise. According to May 15 data from a Johns Hopkins University tracker, the U.S. has over 1.4 million cases and at least 86,228 deaths.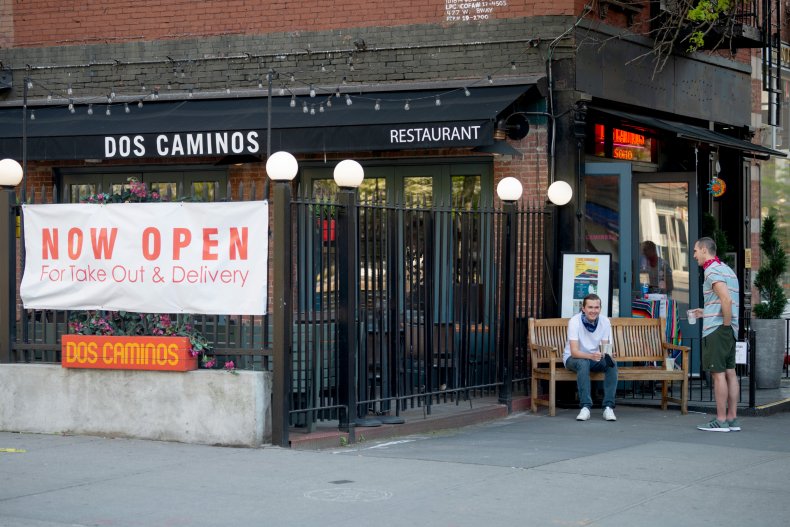 Speaking of the poll's findings, Mark Hamrick, Bankrate's senior economic analyst, told Newsweek, "I think that there's a fair amount of consumer caution in evidence here, in the case that the so-called V-shaped recovery has been diminishing as the restrictions have persisted. And that suggests that severity of the economic downturn will not be relenting immediately, or as soon as all of us would like."
Additionally, the poll found that a majority of Americans, 55 percent, said they think local businesses are reopening too soon, while 9 percent said they think it is too late and 23 percent said the timing is just about right.
"I think people have, by and large, been listening to the science experts, who are cautioning that the only real cure for this is the vaccine itself," Hamrick said, speaking about poll respondents saying that businesses were reopening too soon.
In terms of political party affiliation, 75 percent of Democrats said they think businesses are reopening too soon, compared with 35 percent of Republicans.
Another poll, conducted by The Economist/YouGov from April 29 to 30, found similar results, with only 20 percent of registered voters thinking the economy should reopen by April or May, while 37 percent said June or July and 16 percent said August or September.
Looking at the long-term economic impact of the virus's outbreak, Hamrick suggested that while a vaccine may contain infections, it will not "cure the economic devastation that's already occurred."
"What we call permanent wealth destruction," Hamrick added. "For example, the airline flights that have not been taken will not be replaced, the visits to Disney World, Broadway and the Vegas Strip will not be replaced, and everything that piggybacks on that will not be replaced. And with all those things that aren't replaced [there] is the loss of income for businesses and for workers."