Thirty Years After L.A. Riots, Many Residents Say New Riots Possible: Poll
Three decades after the 1992 Los Angeles riots, a majority of the city's residents said they think it is "likely" similar riots could occur within the next five years, according to a recent survey conducted by Loyola Marymount University's Thomas and Dorothy Leavey Center for the Study of Los Angeles (StudyLA).
Friday marks 30 years since the days-long outbreak of burning and looting began in Los Angeles. The riots ignited in response to a jury's acquittal of the police officers who had been charged in the beating of Rodney King one year earlier.
Concern among Los Angeles residents about the potential for "other riots and disturbances like those in 1992" declined between the late 1990s and the early 2010s, according to StudyLA. But an uptick recorded in 2017 appears to have gained steam. StudyLA's latest survey results released on Thursday show a greater percentage of respondents than recorded in previous surveys—68.3 percent—said they believe it is "very likely" or "somewhat likely" that future riots could happen in the next five years.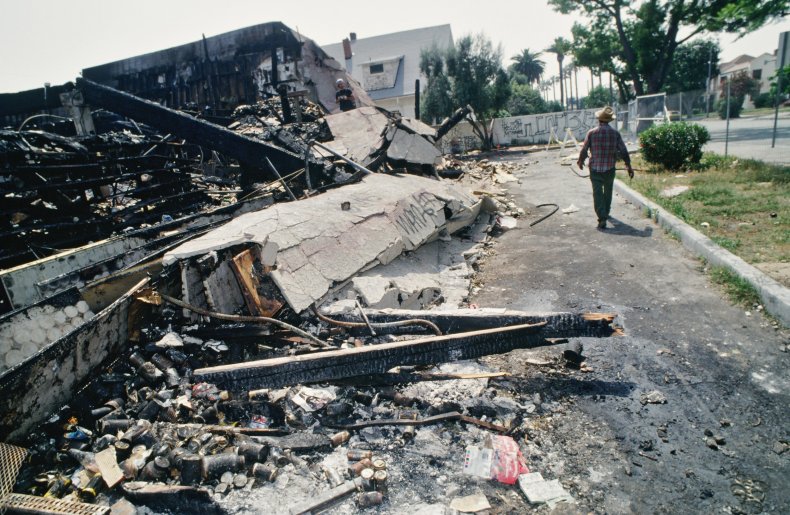 Brianne Gilbert, managing director of StudyLA, told Newsweek researchers were "really hoping 2017 was an anomaly."
"We liked that downward trend that we had been on before," she said. The latest survey "unfortunately tracks with what we're seeing on a national scale."
Based in Los Angeles, the private university's StudyLA has conducted surveys every five years since 1997 to gauge city and county residents' feelings on race relations. The surveys reach Los Angeles city and county residents by phone, online and in-person, with this year's poll conducted January 4 to February 10 among 2,002 residents, with a 3 percent margin of error.
StudyLA's first survey was released five years after the 1992 riots. Those initial results found about 64.6 percent of respondents said they thought it was "very" or "somewhat" likely that similar riots could happen in the five years that followed. The percentages declined in the two surveys that followed and "finally dipped below 50 percent" for the first time in 2012, Gilbert said.
In 2017, the percentages jumped back up by more than 10 points to 58 percent. The 2022 survey marks another increase of just over 10 percent.
City respondents' concerns about future riots were shared by those who live outside the city but still within Los Angeles County, Gilbert said. The study also found "consistency" for those concerns across "almost all" demographics polled, she added.
While the survey focused on Los Angeles residents, Gilbert said the concerns identified in the findings are likely felt on a larger scale.
"We don't believe this is just something you would see here in Los Angeles, but throughout the country," she said.
A question about how respondents feel race relations have changed in the last four years found about 19.3 percent said they had "improved," while 42.3 percent said they "stayed the same." The remaining 38.5 percent said race relations in Los Angeles had "gotten worse," a 20.5 percent jump from the 18 percent that held that opinion in 2017.
The survey also found that more than half—52.2 percent—of respondents said they think the city is headed "in the wrong direction."
Though respondents were not asked if any events in particular impacted their responses, Gilbert noted there have been significant events on a national scale, such as the coronavirus pandemic, and ongoing local issues, such as housing affordability and the homelessness crisis, that could affect residents' perceptions of their city's path forward.
"I think people are just getting really tired of not seeing a change for the better, like they thought they were going to," she said.