Being stuck inside all day can be a bummer, and even the most mundane moments can become celebratory, memorable or worth sharing with the media, even if the media is self-curated.
An 8-year-old boy named Russell created a family newsletter on March 30 to pass the time indoors, and some of his daily highlights are more than likely to make your day, too.
The post, which has gained 4,000 likes on Twitter, was shared by Russell's dad, David Friedman. Friedman is a well-known photographer who has been featured in Wired, Time and The Atlantic, according to his website.
Friedman told Newsweek last week was Russell's scheduled Spring Break, which gave him time to create the newsletter. It was Sesame Street that inspired the investigative reporting. "His younger brother was watching an episode of Sesame Street that mentioned newspapers (the letter of the day was W for Who, What, When, Where, Why), and he got the idea to make a daily paper," Friedman said over direct message.
The newsletter, titled "Family News" is a one-page announcement that details a few different parts of the social distancing day. From "Screen Time" to "After Screen Time," family members Russell, Toby, Daddy and Mommy seemed to have a pretty fulfilling day.
The day began with breakfast, which the "surveyor" captured in an interview format. "Daddy" was the subject of the interview, and exclaimed that his oatmeal was a seven out of 10 ratings on March 30.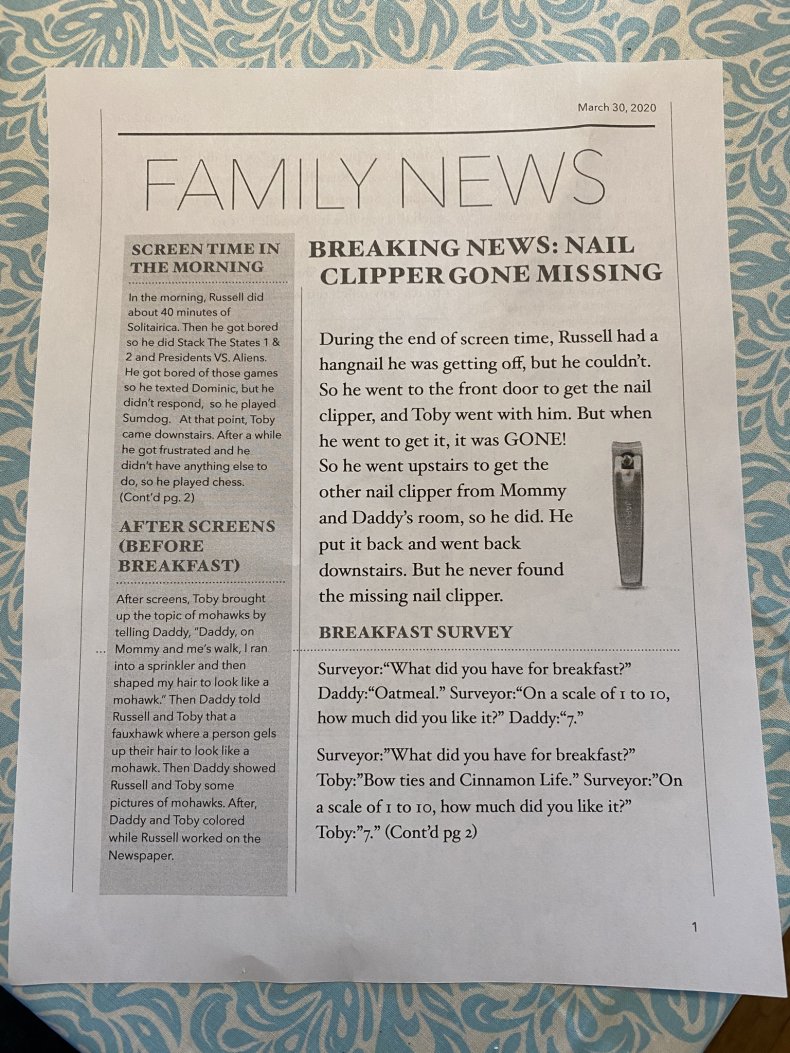 The leading story, though, was a pair of family nail clippers that, apparently, vanished. The scandal broke "during the end of screen time" when Russell noticed he had a hangnail. "He went to the front door to get the nail clipper, and Toby went with him," the brief article read. "But when he went to get it, it was GONE!"
The story reveals Russell was able to locate a second pair of nail clippers in his parent's bedroom. A story with a happy ending. Friedman explained the mystery still stands, though. "Unfortunately the missing nail clipper has still not turned up," he said.
While Russell's newsletter thrilled readers digitally, he may not have a follow up just yet. "Unfortunately his school resumed via remote learning the very next day, so he hasn't written a follow-up issue," said Friedman. "But I just asked him about it and he said he plans to continue 'on weekends and when I have time.'"
It's safe to say Russell is already building a dedicated readership. Comments on Friedman's Twitter post ask for a page 2 and some even ask how they can subscribe to Russell's future Family News publications.