'This Ain't a Charity': Woman's Texts With Former Boss About Job Description Goes Viral
The pandemic has accelerated a change in the American economy as millions of workers have quit their jobs or gotten new ones as part of "The Great Resignation."
As both job hunting and job interviewing have seemingly changed in such a short timespan, one woman's employment experience may mirror numerous, unknown others.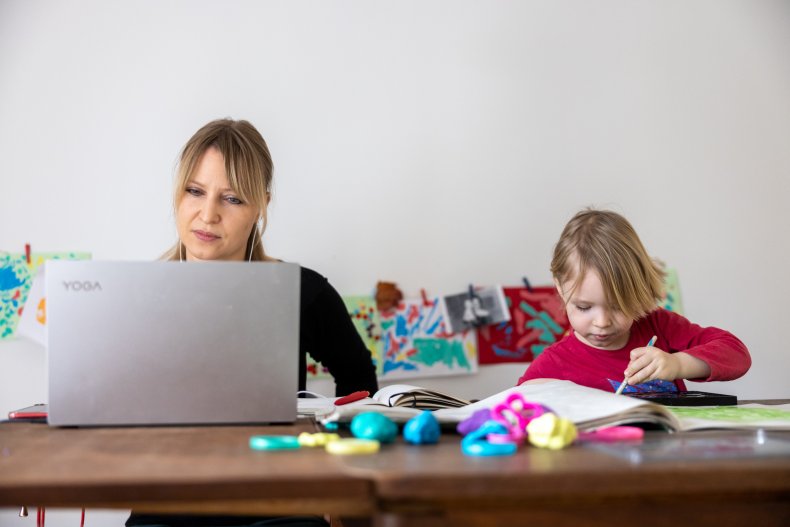 Reddit user u/meghanerd posted in the "antiwork" subreddit on Sunday with a summary of her recent employment experience: "Job was described as work from home regularly but must be able to come in-person as needed. After learning on Day #1 that 'as needed' meant M-F 9-5, had to pull teeth to WFH T/Th. Expressed my concerns a couple of times to no avail before putting my foot down. Felt good."
The post, which has exceeded 63,000 upvotes in a subreddit with now more than 1.6 million users, included screenshots of a text message exchange between the woman and her now-former boss.
Texts allegedly showed that the female employee texted her boss about working from home, asking him to unlock the office so other individuals can drop paperwork off at her desk.
When the boss inquired why she was working remotely, the woman said it was in the job description. Per texts, the boss was also working remotely during the exchange.
He said, "I cannot cover for you all the time," which prompted a response from her that stated, "If you want to make changes to the job description I was provided, please do so formally in writing so I can reply with my 2-week notice."
When the boss says that all will meet with human resources, the woman tells her that she quit. He said a two-week notice was not required.
"I think you should discuss this with me before you make hasty decisions without proper reflection," the boss told her. "This is not necessary."
The employee replied that she doesn't have to provide a notice and that she already explained her reasoning in the aforementioned texts. She ended the conversation by saying she would drop off her ID and keys at the place of employment.
In subsequent responses prompted by other Reddit users, the employee in question said her commute was 45 minutes each way. "The reason I can afford my shenanigans here is actually because my husband is a software developer," she added.
"Oh yeah, I never returned my keys/ID," she added. "I told my former boss I'd need to clock in for my commute to do that, or he'd need to pay for shipping. He declined, and this ain't a charity."
One of the more than 3,700 individuals who commented on the post asked why employers "lie" about remote work, saying that he or she had the same experience about employers "blatantly lying about being remote."
"I don't know how they expect this bait and switch to work," the user said. "The chances of someone applying for your job who happens to live in the same area are slim, and besides that, if someone is looking for a remote job that means they want a remote job. Its [sic] so ridiculous. Your boss sucks."
Another user warned others to read the entire job description before committing to a position, especially if a job is being advertised as remote.
"I've been mad applying to remote positions lately and I snagged an interview at one, had a phone interview and set up an in person interview," a user said. "Thought it was odd that I would need to go there for a remote position...went back and looked at the description and it said remote at the top but in the actual description described their dress code requirements. Looked it up and it was 3 hours away from me. Called em right back to cancel lol."
Others praised the original poster for declining to wait two weeks to quit, with some saying that if she stayed an extra two weeks she should get paid for it.
Someone also noted the irony of the boss chastising the woman when he, too, was working remotely.
Newsweek reached out to u/meghanerd for comment.