Airline Is Doubling Pay for Flight Attendants to Help Ease Holiday Travel Cancellations
As the airline industry faces reports of unruly passengers and staff shortages amid the rise of the Omicron variant, Spirit Airlines has taken a new step to ensure its flights make it through the holiday season, electing to double the pay of its flight attendants.
The announcement was made by the airline's union, Reuters reported, and the period of double pay will last through January 4. At a time when the industry has experienced some 8,000 flight cancellations, the move could put Spirit in a position to secure a stable level of staffing as other airlines deal with worker shortages.
"All flight attendants, regardless of how you have obtained your pairing, will be receiving 200% pay for any pairing that touches Dec. 28 through Jan. 4," the Association of Flight Attendants-CWA (AFA), the union representing Spirit said in a statement shared with Reuters.
The union represents roughly 4,000 flights attendants at Spirit Airlines, the AFA website reports. Recently, the union has worked to secure an increase in flight attendant moving expense allowances from $4,500 to $6,000. It also remains in negation with the airline about offering employees greater control over their schedules, a December 2 report by the union says.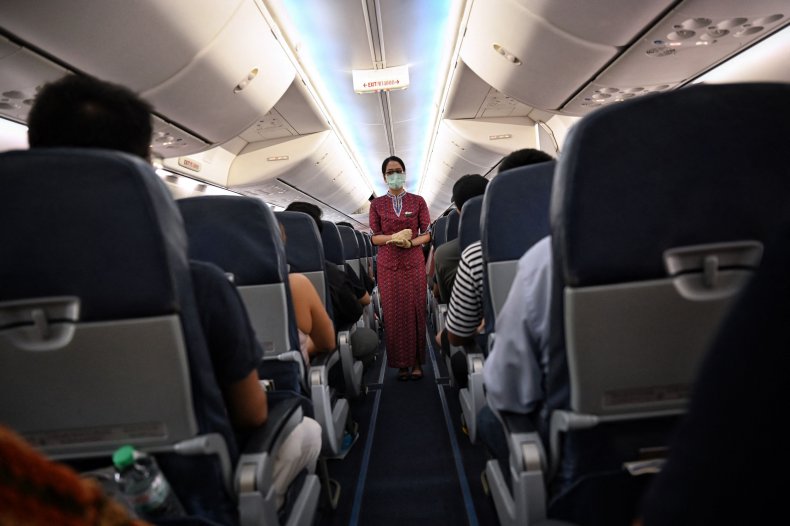 While the average union membership rate for the United States stands at just under 11 percent, within three out of the nation's four largest airlines (American Airlines, United Airlines and Southwest) union membership totals 80 to 85 percent, according to Forbes.
Southwest, which Bloomberg reports to be on the "most heavily unionized among large U.S. carriers," decided in July to raise the hourly minimum wage of its workforce to $15 an hour as coronavirus cases started to rise in the latter half of the summer.
Over the past two weeks, the United States has seen a 181 percent increase in the number of recorded cases of the virus. At the same time, the Centers for Disease Control and Prevention (CDC) announced it was shortening its recommended time for quarantine isolation following exposure from 14 days to 10, and just five days for those who test positive but are asymptomatic.
AFA President Sara Nelson condemned the move, saying that the nation's leading scientific professionals were caving in to corporate America's interest in maintaining a steady workforce.
"The CDC gave a medical explanation about why the agency has decided to reduce the quarantine requirements from 10 to five days, but the fact that it aligns with the number of days pushed by corporate America is less than reassuring," Nelson said.
Correction: A previous version of this story incorrectly reported the flight attendants' pay increase at Spirit Airlines. The airline doubled the attendants' pay through January 4.