This Baby and Her Joey Pal Inspired Her Dad To Make Some Seriously Touching Art
In a heartwarming video gone viral, Australian artist Jacob Butler, also known as Shakey, illustrated his infant daughter, Sienna, and her baby koala, also known as a Joey, in a beautiful painting. Just watching the adorable baby girl making fast friends with the young marsupial will make you go, "Aww!."
Shared on r/aww, a subreddit for cute and cuddly pictures, the Freemantle artist posted a short video Wednesday morning. While snapping pics of the enchanting duo, Butler was inspired to paint his toddler and her newfound friendship onto the water tank at his farm. Towards the end of the time-lapsed video, the black and white art piece of the young child smiling at her sweet pet is unveiled.
In response to SadiRyzer's question, Butler mentioned he had moved the family to the country, due to the pandemic. The orphaned Joey was living on its own in the wild after his mother was killed. He adopted the unnamed youngster after his daughter fell in love at first sight.
Butler explained the origins of his artwork, "We have a water tank on the farm and I knew if I had them both together in the veggie patch, they would make the best painting. I was stoked with the photo, so I made a video of their friendship and [of the] art piece."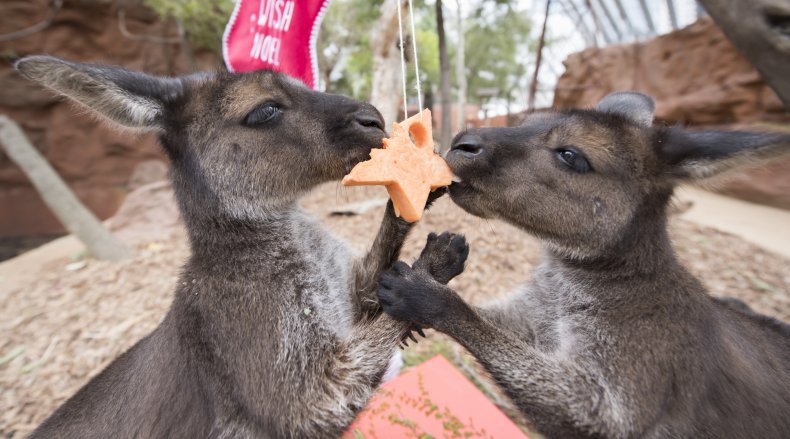 When asked by the same reddit user how long he would keep the baby 'roo, Butler said he would raise the infant pet until the animal reached adulthood. The marsupial will then live with the neighbor, who has been raising Joeys for many years. Currently, Sienna is not in any danger from her cuddly friend, due to his soft paws.
Butler said, "At the moment, he's not dangerous, soft paws and super cuddly, sticks to you like a shadow. We have to bottle feed him every three hours, loves a drink!"
Answering ozogoal's comment on his official Reddit page, Butler said he was quite interested in doing a follow-up piece. He intends to redraw the piece when his daughter grows older and starts walking. As an art lover, I really look forward to it!
Before Reddit, Butler had posted the viral vid first on Facebook on April 17 writing, "Sienna found herself a little mate, so I did them both a painting on the water tank."