This Banksy Piece Sold for 10 Million Dollars, Don't Tell That to This Man Who Stole the Artist's Graffiti
English street artist Banksy's reimagining of Claude Monet's "Bridge over a Pond of Water Lilies" just sold for nearly $10 million. A nine-minute long bidding battle happened over the 2005 painting "Show me the Monet," which features the impressionist painting with an unfortunate modern-day spin. The picture is complete with shopping carts and a bright orange traffic cone floating beneath Monet's famous Japanese water bridge in his garden by Giverny.
A statement on the painting from Sotheby's said that the artwork "presents a dialogue on the impact of the corporate world on our environment and the sacrifices made at the expense of so-called 'human progress.'"
The Banksy piece, which sold Wednesday, was estimated to go for only $4 million, and the final bidding price went well beyond expectations.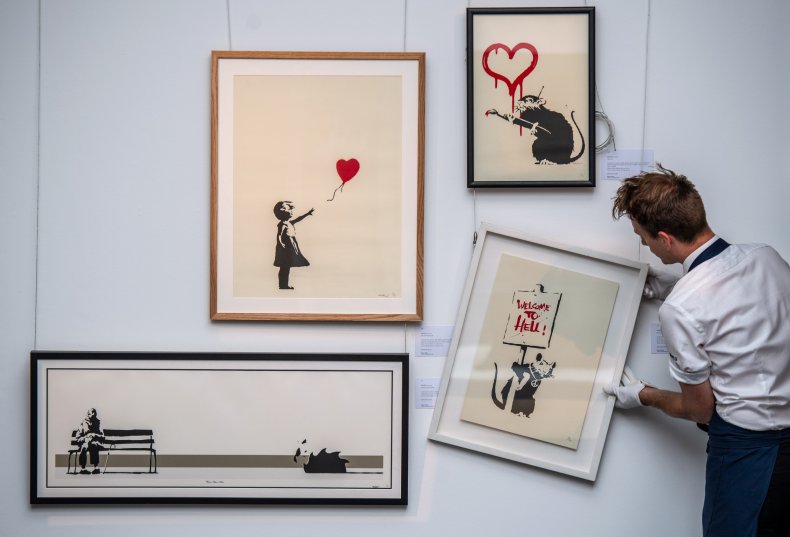 The reimagined Monet scene is the second most expensive Banksy piece ever sold, following "Devolved Parliament," which depicts the House of Commons filled with chimpanzees. The oil painting sold for over $12 million at an auction in London last year.
Banksy is known for his provocative street art and rat imagery, which can be worth at a minimum thousands of dollars. However, one man who thought he stole a real Banksy piece was embarrassed to find there was no way to tell if it was real.
He revealed that he'd tried to sell a piece of graffiti he took off a wall when he recently appeared on Antiques Roadshow to get an estimate. He found it on a "wall on the seafront in Brighton, southeast England." He was ultimately told without an authentication certificate, he wouldn't be able to sell it, and the piece was worthless.
"It looked loose. Went over, pulled it off basically, a little bit of a tug," the man explained to art expert, Rupert Maas. "I know what it is," the man continued. "It was around 2004, basically trying to get a valuation of it."
Maas determined that the piece was a Banksy original, called "Pest Control." Its value was up to $25,000, but Banksy refused to authenticate the stolen piece of graffiti. The art expert noted that since the graffiti was considered to be part of the public domain, it shouldn't be sold into the private domain.
If the man didn't take the graffiti from the wall, it likely would still be considered an authentic Banksy.
"I think the message here is, if you do see a piece of graffiti art out there, leave it — leave it for the public," Maas explained to the man. "I'm not lecturing you. I'm just saying, without that certificate, it's just very difficult to sell. With it, it might be worth £20,000 [around $26,000]. Without it, you're nowhere."