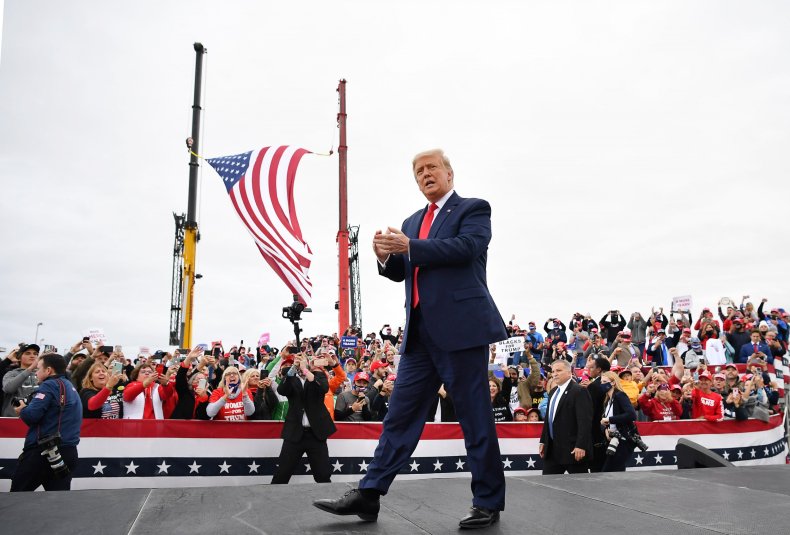 Like many areas across the United States, Monroe County, Michigan is still reeling from the economic crisis brought on by the coronavirus pandemic. But will it affect the way residents in this critical swing county vote this November?
"I know people are definitely worried in the community," said Pastor Heather Boone, the president of a local nonprofit that runs a food pantry and homeless shelter in the city of Monroe. "We are doing a lot more food boxes than we used to do. A lot of people are still in need. A lot of people are still struggling."
President Donald Trump's promise of new jobs and trade deals seemed to strike a chord with Monroe in the last election cycle. The county ended up swinging to Trump in 2016 by a 12 percent margin after twice voting for Barack Obama. The area was key in delivering Trump a win in Michigan, which he won by a mere 16,000 votes—his slimmest margin of victory of the entire election.
Unemployment hovered around 4 to 5 percent during Trump's first three years in office, and fell to as low as 3.2 percent in March. Then the coronavirus pandemic hit and the county saw unemployment rise to above 20 percent. Today, it's still three times as high as it was before the health crisis.
Henry Lievens, the chairman of the Monroe County Board of Commissioners, said one of his biggest concerns is the long-term effects the pandemic and resulting economic downturn will have on small businesses.
"My worry, as well as the worry of many of my colleagues, is that mom and pop businesses will not survive," Lievens said. He pointed to his own family's business as an example, as his wife had to end her lease in the building where she once hosted wine and paint classes.
Lievens said he's been hearing a lot of frustration from residents over both national and state leadership throughout the crises, especially when it comes to plans for reopening local economies. Monroe County sits on the border of Michigan and Ohio, and while business owners in his area struggled with restrictions, their neighbors a few miles away in Toledo were functioning more normally.
"The problem is the lack of consistency throughout," he said. "If there had been better anticipation, to have a unified approach would have been better not just for Monroe County, but for the entire nation."
Kim Hofer and his wife, Jen, opened Plum Tree Yarn Shop on Main Street in downtown Milan, Michigan, a year ago. The store was closed from mid-March through early June because of the pandemic. The couple had to immediately pivot to start an online sales portal while struggling to keep the shop's five part-time workers busy.
They've had to dramatically reduce their employees' hours, and it has been hard on everyone concerned.
"We really wanted to protect our staff and our customers," Hofer said. "We closed down before almost any other store in town."
The Yarn Shop was not eligible for a small business loan under the government stimulus program, but the Hofers were able to pay their rent and utilities with the revenues from their Web orders. The shop said many patrons and local "non-yarners" have pitched in to help keep the store in business.
But he insists customers and employees leave politics out of the store and its social knitting events.
"Sit and Stitch could become very volatile if people are talking politics and religion," Hofer said. "We have a lot of Republicans and a lot of Democrats in our area, and we honor both viewpoints. We value their opinions, but we try to keep that out of store operations."
Other officials and community members warn that the economic damage goes beyond the county's business sector.
Heather Loughner, a nurse living in Bedford Township, said health care insurance and costs are top economic issues in Monroe County, where in her job as a patient-care supervisor at a local hospital she sees firsthand people out of work because of the pandemic, living paycheck to paycheck, people who don't have and can't afford health insurance, hospital stays or quality care.
"A lot of people can't afford to have a $400 or $500 bill," Loughner said. "You make a choice: Do I pay this hospital bill, or do I feed my family? Do I help my kid go to college?"
Stephen McNew, president of the Monroe County Chamber of Commerce, expressed concern that municipalities and schools will be negatively impacted due to a drop in revenue.
"The government stimulus funds to battle the harmful effects of the COVID-19 pandemic have provided some relief," McNew said, "but assistance for state and local government has remained inadequate."
Negotiations for another COVID-19 stimulus package in Congress have stalled, making it increasingly unlikely that Americans will get additional relief before Election Day. Among the issues being debated by lawmakers is aid for state and local governments, extended unemployment benefits and funding for schools.
Representative Tim Walberg, a Republican who represents Monroe County as well as the rest of Michigan's 7th congressional district, thinks there needs to be more relief, but disagreed with the House-passed $3 trillion HEROES Act. Instead, he supports a more targeted approach that would provide more resources for business owners, educators and other struggling groups.
Walberg called the increase in unemployment in Monroe a "hard pill to swallow," but said he expects people to "readily remember" the strength of the economy pre-pandemic and support Trump based on his past record, rather than take a chance with Biden.
"I think people have to say, 'Let's go with the horse that brought us to that point in March as opposed to one where we just have to guess,'" Walberg said. "But time will tell and we'll see what happens come November 3."