The COVID-19 vaccines currently available in the U.S. have proven to be safe and highly effective in preventing symptomatic disease, hospitalizations and death.
But despite the high efficacy of the vaccines, they are not perfect, meaning a small percentage of fully vaccinated people will develop symptomatic or asymptomatic COVID-19. The extent of this can be seen in the chart below, provided by Statista.
The chart shows the number of breakthrough cases reported in the U.S. as of April 30. The figures are taken from a report published by the Centers for Disease Control and Prevention (CDC) on Tuesday.
In this case, a "breakthrough" case is defined as any individual who tested positive for COVID-19 at least 14 days or more after receiving all recommended doses of a vaccine authorized by the Food and Drug Administration (FDA).
As the figures show, breakthrough COVID-19 cases remain very rare. According to the CDC data, a total of 10,262 breakthrough infections had been reported from 46 U.S. states and territories between January 1 and April 30, 2021, out of around 101 million Americans who had been fully vaccinated by the latter date.
Of these 10,262 cases, 6,446 (63 percent) occurred in females, while the median patient age was 58.
The CDC figures show that 2,725 (27 percent) of these reported breakthrough infection cases involved people who showed no symptoms.
Meanwhile, 995 (10 percent) of the breakthrough cases were hospitalized and 160 (2 percent) died.
Of the 995 hospitalized patients, not all were admitted because of COVID-19. In fact, 289 had no COVID-19 symptoms or were hospitalized for other reasons.
The graphic below, provided by Statista, shows the number of breakthrough COVID-19 cases reported in the United States as of April 30, 2021.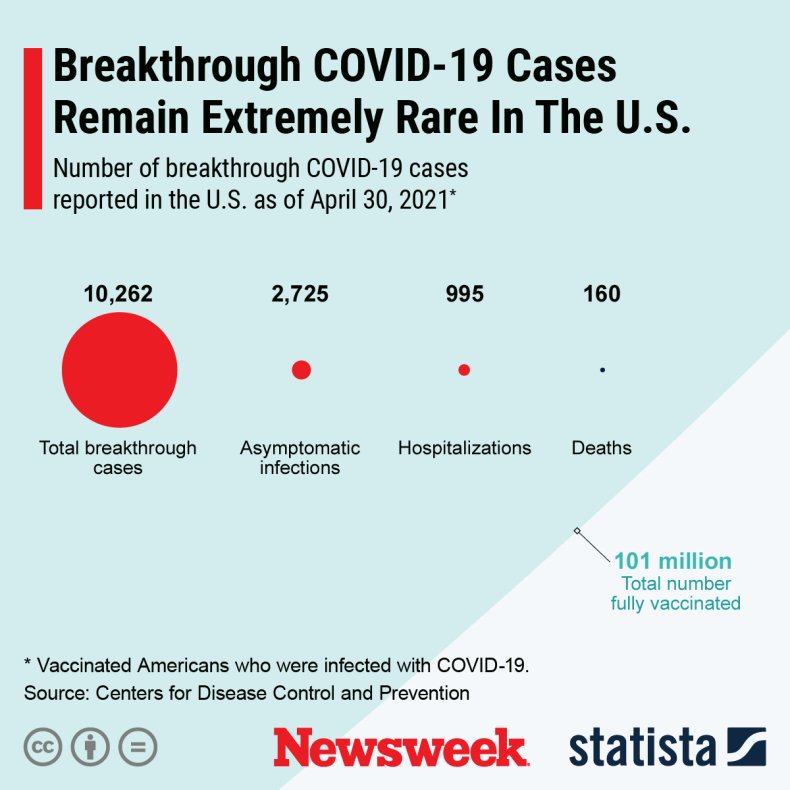 The median age of patients who died was 82 while 28 of these individuals had no COVID-19 symptoms or died from an unrelated cause.
During the study period, COVID-19 transmission was continuing at high levels in many parts of the country, the CDC said.
"Even though FDA-authorized vaccines are highly effective, breakthrough cases are expected, especially before population immunity reaches sufficient levels to further decrease transmission. However, vaccine breakthrough infections occur in only a small fraction of all vaccinated persons and account for a small percentage of all COVID-19 cases," the CDC said in the report.
"The number of COVID-19 cases, hospitalizations, and deaths that will be prevented among vaccinated persons will far exceed the number of vaccine breakthrough cases."
The authors of the CDC report did note that there were some limitations to the data contained within it. Firstly, the number of reported breakthrough cases is likely a significant underestimate of all COVID-19 infections among fully vaccinated people.
"The national surveillance system relies on passive and voluntary reporting, and data might not be complete or representative. Many persons with vaccine breakthrough infections, especially those who are asymptomatic or who experience mild illness, might not seek testing," the report said.
Dr. Susan Bailey, president of the American Medical Association, previously told Newsweek that the vaccines are highly effective, urging people to get their shots if they have not done so already.
"Each of the COVID-19 vaccines authorized for use in the United States have undergone rigorous, transparent development, testing and authorization, and all three vaccines are highly effective at preventing severe illness, hospitalization and death from COVID-19. Vaccinations against the virus that causes COVID-19 have helped flatten the curve of new cases, offering a clear path toward normalcy."
"For your health, for your loved ones, and for your community, I urge you to get vaccinated. If you or people you love have questions about vaccines, I urge you to talk to your physician. The consensus of public health and medical professionals confirms that vaccines are the best way to defeat this virus—with benefits far outweighing the risk for most people."
Newsweek, in partnership with NewsGuard, is dedicated to providing accurate and verifiable vaccine and health information. With NewsGuard's HealthGuard browser extension, users can verify if a website is a trustworthy source of health information. Visit the Newsweek VaxFacts website to learn more and to download the HealthGuard browser extension.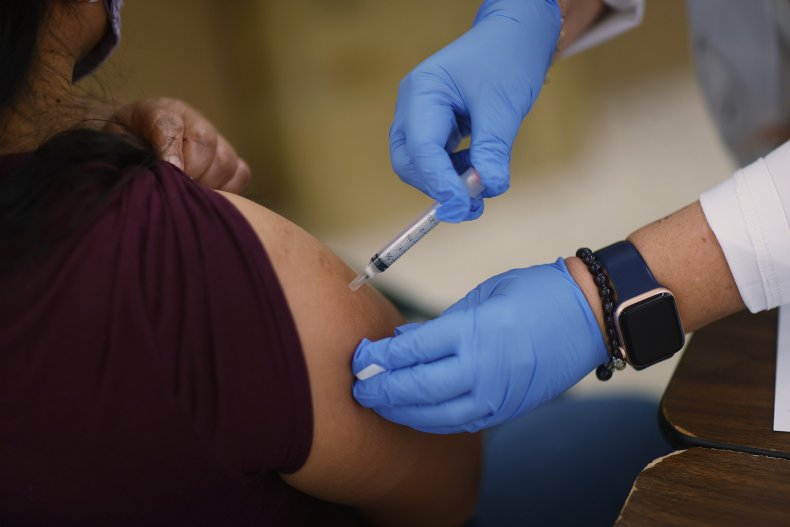 About the writer
Aristos is a Newsweek science reporter with the London, U.K., bureau. He reports on science and health topics, including; animal, mental health, and psychology-related stories. Aristos joined Newsweek in 2018 from IBTimes UK and had previously worked at The World Weekly. He is a graduate of the University of Nottingham and City University, London. Languages: English. You can get in touch with Aristos by emailing a.georgiou@newsweek.com.