This Chicago Hospital Was Built After 9/11 With an Epidemic Like Coronavirus in Mind
Built in the aftermath of the 9/11 terrorist attacks, the Rush University Medical Center in Chicago was constructed with disaster in mind. And as an influx in coronavirus patients looms, it is converting its facility to surge capacity to 130 percent.
"The Rush Tower was built to handle exactly the scenario we're experiencing right now with coronavirus," Dr. Paul Casey, Rush's acting chief medical officer, told Newsweek.
Cases of a new coronavirus in the United States surpassed 9,400 on Thursday, according to a tracker maintained by Johns Hopkins University, and officials are warning that the next two weeks are crucial. If people don't adhere to aggressive mitigation measures, cases could rise to the point that patients needing care overwhelm the healthcare system.
The attacks on September 11, 2001, highlighted the need for emergency preparedness, and Casey said anticipating a range of disasters that could strain health care systems is the "new reality." Constructed with the foundational mindset that a disaster will cause an influx in patients, Rush has the ability to rapidly expand its bed capacity, intake capabilities and negative pressure units.
"Our tower opened in 2012, so certainly that was top of mind a decade after 9/11–that we need to be prepared for this and we need to build to be prepared for this," Casey explained.
Of the 288 cases in Illinois, 178 of them are in Cook County where Rush is located, according to the Department of Public Health, and officials expect cases to increase.
To get ahead of a likely influx in cases and prevent infection among staff members, Rush converted two units to negative pressure, a method used to prevent cross-contamination. Each unit has 20 beds, but hospital staff can double that number, bringing it up to 40 beds. Multiple floors within the hospital have this conversion capability and so far, they've flipped two.
"Twenty minutes. It's impressive," Casey said when asked how long the conversion takes. "We tested this over a number of years in different exercises, including the outbreak of an infectious disease."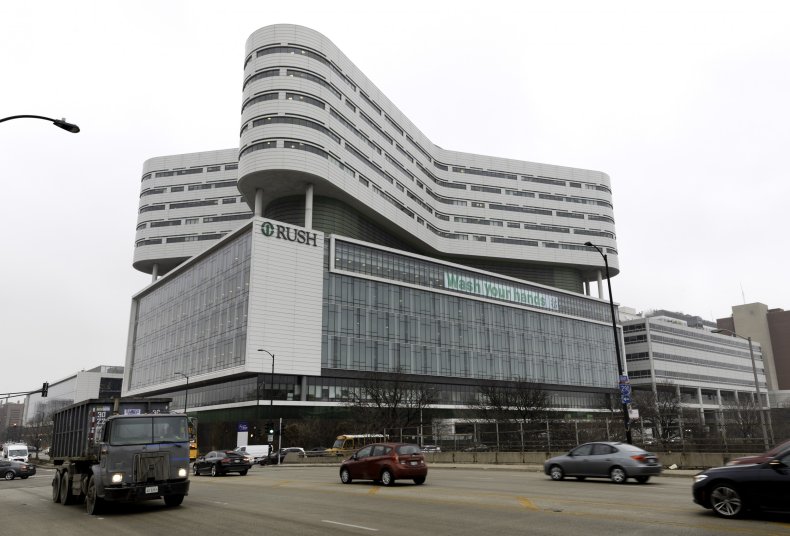 Aside from being beneficial for caring for patients, Casey said knowing operationally what the facility is capable of gives staff members confidence that they're prepared for what lies ahead.
But, no health care facility is perfect and as much as Rush was built with the current outbreak in mind, Dr. Omar Lateef, Rush CEO and president, explained: "Unpredictable times require unpredictable responses." Once they reach that 130 percent capacity, they could still be faced with a dilemma of where to put patients.
It's a question on many minds. To help ease capacity restraints, President Donald Trump announced on Wednesday that he was deploying two 1,000-bed hospital ships, the USNS Comfort and USNS Mercy. They won't treat coronavirus cases, according to Secretary of Defense Mark Esper, but can free up beds in civilian hospitals. The Mercy will likely deploy to the West Coast by the end of the month, but it could be weeks before the Comfort is ready to dock in New York City.
Rush halted elective surgeries–any procedure that won't threaten life or limb, or lead to a worse outcome in 30 days–to free up beds and personnel. It's admittedly a "huge drain" for the facility, according to Lateef, but a necessary preparation and one that other hospitals have made as well.
The facility is also keeping beds open inside the hospital by converting an ambulance bay to a forward triage area. By switching up the space, health professionals can see about 100 additional patients a day in the emergency department alone, Casey said. The "vast majority" of patients are discharged directly from that area, opening up capacity for more patients.
Every health facility across the country is preparing for a surge in patients, and Casey said many are realizing that facilities built 20 or 30 years ago weren't built to handle the "modern realities" of disaster preparedness and emergency management. Rush was the first facility of its kind, but in the adaptive spirit of America, Lateef predicted it won't be long before someone constructs a facility that outdoes theirs.
"I think we live in the most amazing country in the world ... We always get better. Every building is better than the last building. Somebody will put up a building that's better than ours, certainly in the near future," Lateef said.
Even with a building like Rush, there remains a fixed number of beds, supplies and staff as well as shortages are still a very real concern for Lateef and Casey. They're doing everything they can to increase beds and supplies, and protect staff members from becoming infected. But if any of those three go down, "you can't take care of patients," Lateef said.
That's why they're relying on the government and private industry to increase supplies and members of the public to stay home–as has been urged by officials at every level.
"No matter what's built, we can easily get overwhelmed and that's the biggest concern," Lateef said. "That's what keeps us up at night."