This Child's Best Friend Is a Skeleton and It's Ghoulishly Cute
This little boy's best friend is a skeleton named Benny, and together, the pair is warming hearts on TikTok. The child's mother, Abigail Brady, shared a video of the unlikely duo's day out on TikTok with the caption: "My son insisted on bringing his skeleton friend to the reservoir."
Brady and her son Theo were going for a drive to the reservoir when Theo insisted on bringing the 5-foot skeleton, who was initially named Albert but has since been renamed as Benny, along for the ride.
The video opens with Theo sitting in his car seat, at the back of the car, with Benny the skeleton strapped in beside him, safely secured in with a seat belt.
They arrive at the beach and Theo and Benny can be seen playing with a truck before Theo pushes Benny down the slide, which "made him so happy," Brady said in the comments of the video.
At one point, Theo props Benny up and seems to twist his head backward. Brady revealed that at one point Benny the skeleton's head fell off and Theo was "so worried."
At the end of the video, the skeleton sits on the shore and the boy paddles nearby, while "We're Going To Be Friends" by The White Stripes plays.
The video currently has 1.5 million views and more than 270,000 likes on TikTok, and the spooky but adorable pairing has TikTok users in awe at how cute the scene is.
Many also expressed how impressed they are that Brady is allowing her son to be himself, as one person commented: "You're the best mom for just letting him play with his toy no matter what others say," to which Brady said: "His imagination is my favorite."
The spooky nature of the skeleton had one TikTok user declare Theo a "future lil goth king." Brady responded that she had "always wanted to be goth growing up" and later confirmed in an Instagram post that Theo is "officially obsessed with Halloween" and enjoyed watching Tim Burton's The Nightmare Before Christmas.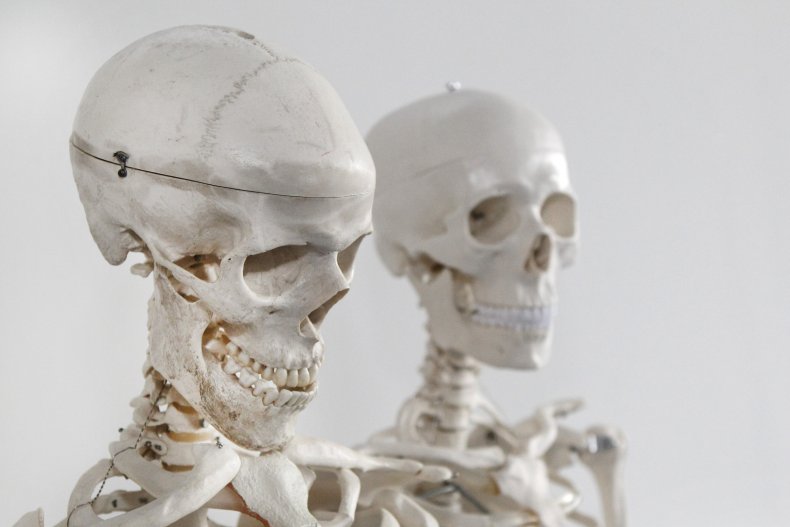 Abigail updated her Instagram followers with Theo and Benny's adventures, which saw her son read Benny a bedtime story, watch Paw Patrol with Benny in bed, sit together at the table, and take him along on a trip to the gas station.
In response to the attention that the video received, on Instagram stories Brady said: "It's been crazy. And now I have a skeleton that follows me everywhere I turn."
This Child's Best Friend Is a Skeleton and It's Ghoulishly Cute | Culture