'This City Is Killing Us': NYC Restaurants Ask Governor Cuomo to Repeal Indoor Dining Ban
New York City restaurant owners and workers gathered at Times Square on Tuesday to protest Governor Andrew Cuomo's ban on indoor dining.
The protest was organized by the New York State Latino Restaurant, Bar and Lounge Association. A video from it was posted to the Fox News Business YouTube Channel.
"This city is killing us. You're hurting a lot of New Yorkers," said Tony Herbert, a representative from the New York Multicultural Restaurant and Nightlife Chamber of Commerce, at the protest.
"We've got to protect everybody, but we also have to understand that our restaurants are one of the most important avenues of small business in our city," Herbert continued. "So I say to the governor, I say to the mayor, get your act together now. We need our restaurants open now."
On Friday, Cuomo announced all New York City restaurants will be shuttered for indoor dining beginning December 14.
"Hospitalizations have not stabilized, and with a rising infection rate and NYC's density, this means that indoor dining is too high of a risk," Cuomo added in a Friday tweet. "Takeout, delivery and outdoor dining will continue."
Jeffrey Garcia, president of the restaurant association, said at the protest that workers "demand the funding for the restaurant industry" and have "asked Governor Cuomo to also open us back up."
"We're only the 1.4%, but we were the first ones to be affected," said Garcia, referring to statewide contract-tracing data Cuomo revealed during his briefing on Friday.
According to the contract-tracing data set, which collected information from September to November, bars and restaurants accounted for less than 2 percent of reported COVID cases, while 74 percent of new cases came from private social gatherings.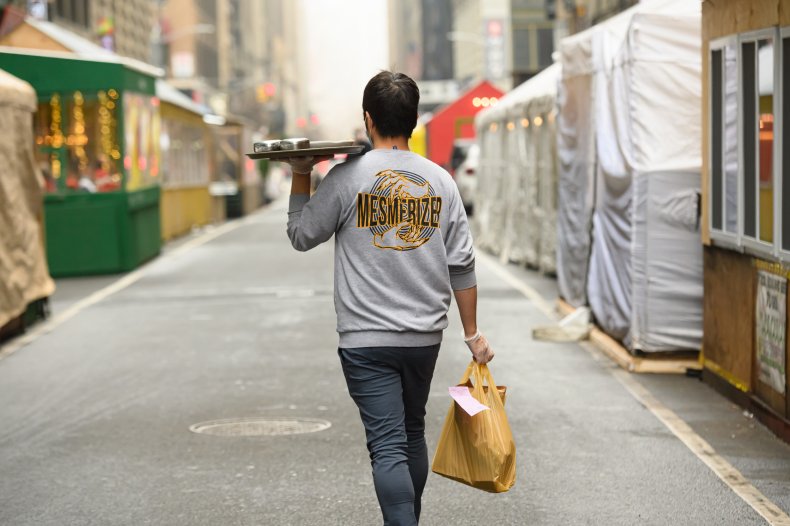 Before the pandemic, there were over 25,000 eating and drinking establishments throughout the city, employing more than 300,000 New Yorkers, according to Andrew Rigie, executive director of the New York City Hospitality Alliance.
"When we got shut down the first time we plummeted from more than 300,000 jobs to about 90,000," Rigie said at the protest. "Thankfully, due to limited indoor dining and outdoor dining, we've hired back about one hundred thousand people."
He continued: "But guess what, there are tons of people still out of work, and with our new shut-down those 100,000 jobs could be back on the chopping block...New York City will not recover unless our city's restaurant and nightlife industry are at the core of the recovery."
Both Garcia and Rigie called on Congress to pass the Restaurant Revitalization Act, a $120 billion relief package introduced in June that would specifically aid the restaurant industry.
Newsweek reached out to the restaurant association and Cuomo for comment but did not hear back in time for publication.