This Color E Ink Reading Tablet Is Weird and Wonderful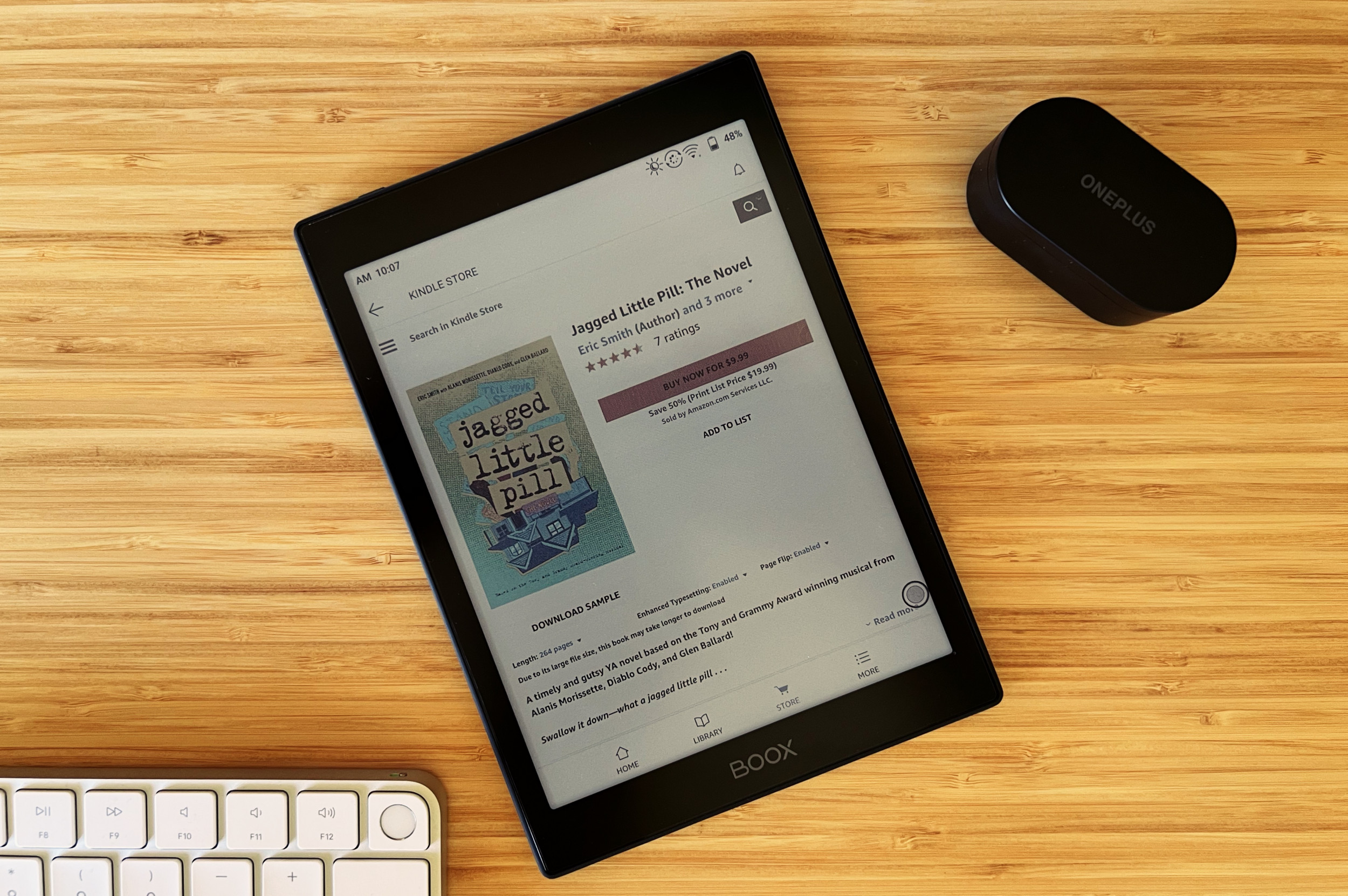 A monochrome, paper-like electronic screen is so great for reading digital books, it doesn't feel like it needs a lot of improvement. Now, however, color E Ink screens are making their way to market. So, the obvious first question with the Boox Nova Air C is, Do you actually need color on your e-reader? The simple answer is no, you don't need color on a device like this. Shunning color would be short-sighted, though, as this feature unlocks the device's potential and makes everything more wonderful.
It's a bit of a Wizard of Oz moment to move from what was once a black-and-white world to one that lights up with color. For one thing, I was surprised at how much of an impact seeing a book cover in color made a difference for skimming titles.
But the Boox Nova Air C isn't just an e-reader, it's a small tablet. It runs Android and has access to reading apps like Libby, Amazon Kindle, Audible, Kobo and even non-book-related apps like Notion. A tablet with a color paper-like display is a much more pleasant device to use than merely a black-and-white one. This really is a case for which little details add up to a big difference. As always, the prices listed may fluctuate over time.
TL;DR
Pros:
Long battery life
Easy to hold and read digital books on
Pen input for notes works well
Cons:
Colors are often muted
Still prone to ghosting of text and images
Buy at Boox.
The Specs of Color Paper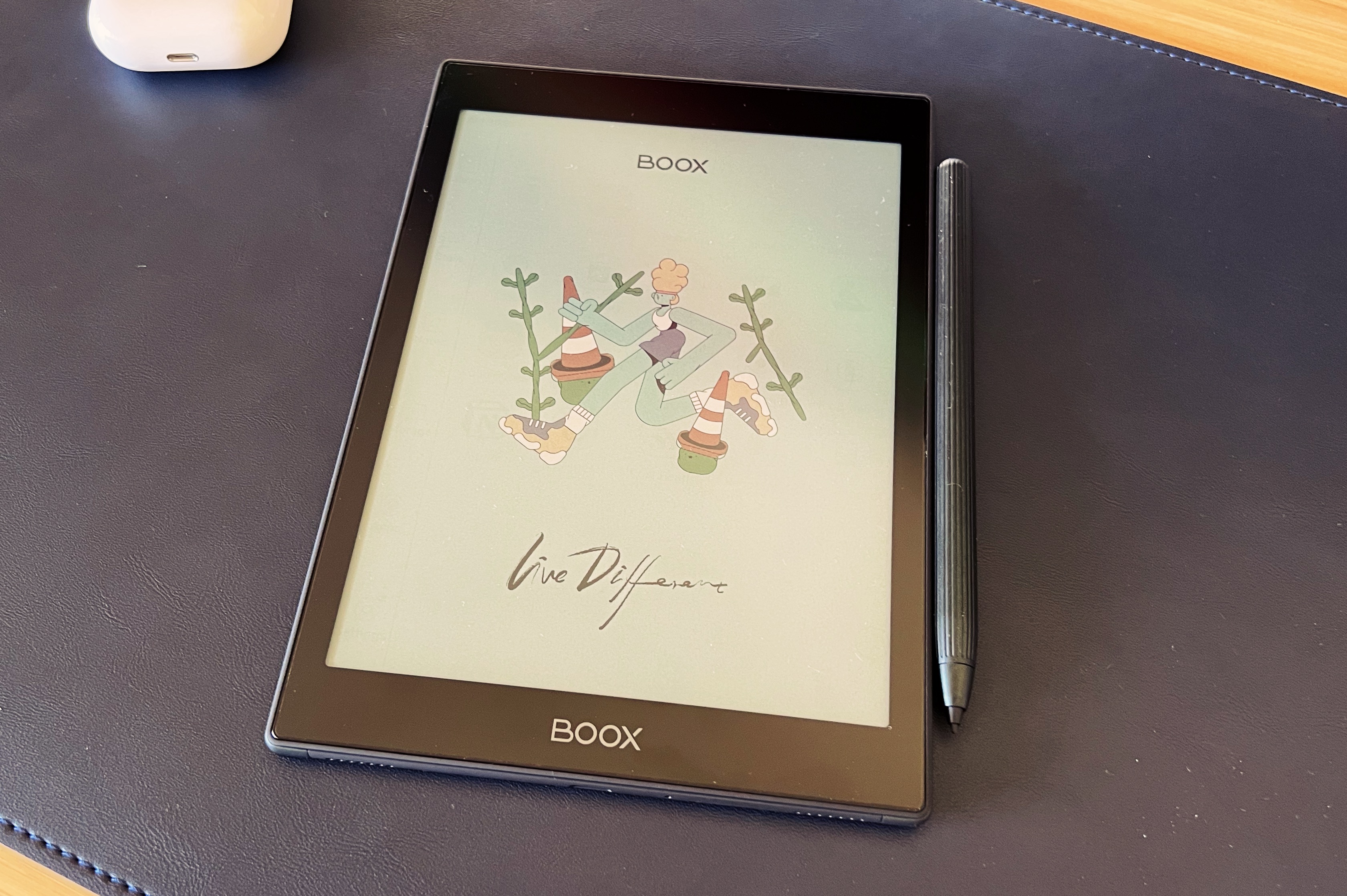 The Nova Air C uses Kaleido Plus On-Cell ePaper (with 4,096 colors), which is one of the latest forms of this display technology from E Ink. Its color resolution is 100 dots per inch, while its black-and white-resolution is 300 dots per inch.
The colors on the screen appear a little muted to my eyes, but the bigger visual deficiency is its lower resolution for color. I found it easy to notice that color images were not very crisp at close distances. This visual element mostly gets a pass from me, however, because it's an emerging technology.
It's not that there's a large spectrum of digital paper screens, and this product is using a lesser one to save money. The Nova Air C is pushing the boundaries of using a digital paper display with color. It's finally getting to the level of good enough for consumer use, but be aware that it's not flawless by any stretch.
Color E-Reader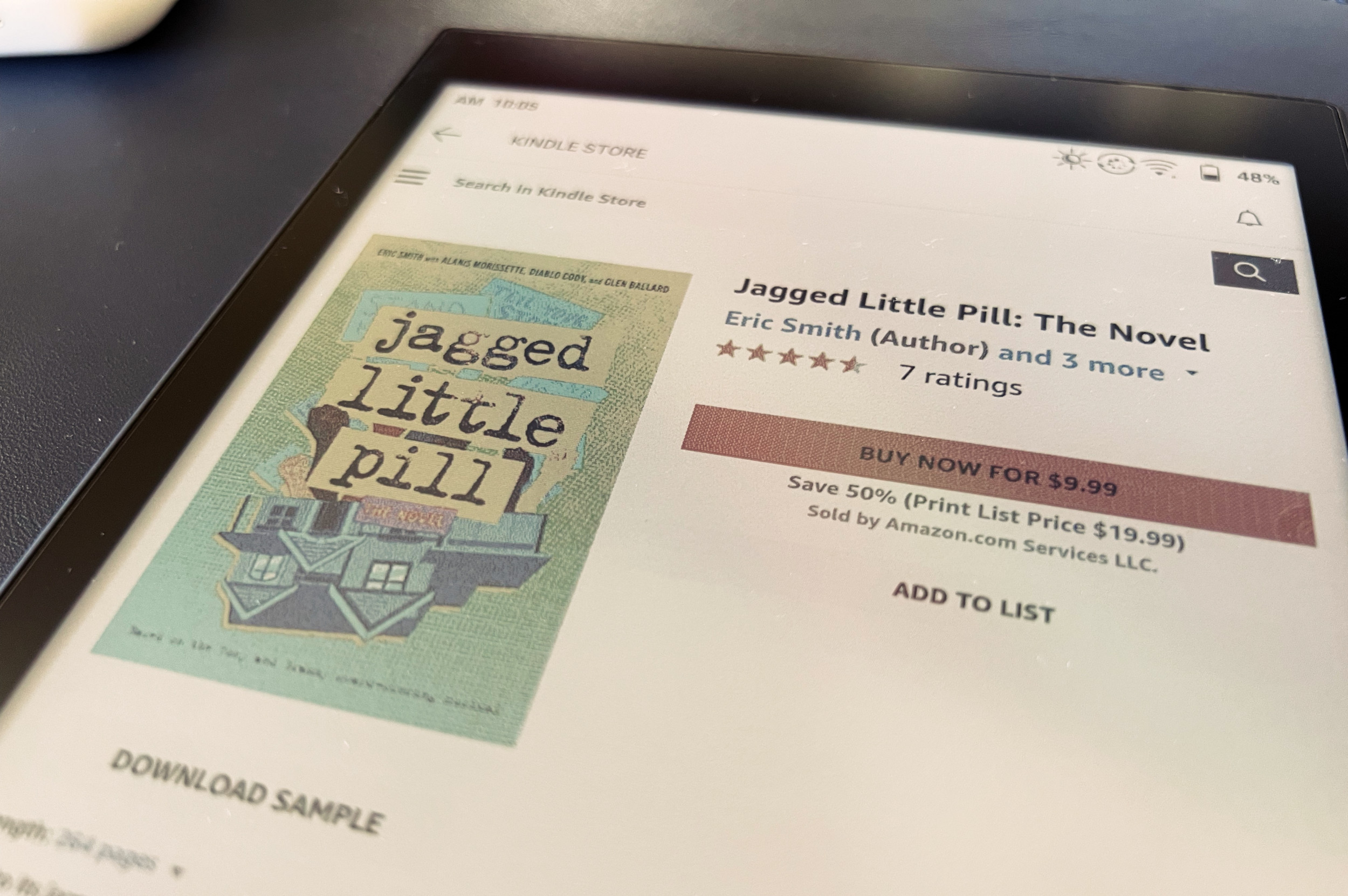 So, if adding color to a screen like this doesn't have great performance, why include it at all? You don't need color for reading black text on a white background. For starters, color book covers and dashes of color around the interface are helpful for glanceable navigation and more familiarity all around.
Color book covers are especially helpful while browsing for new books to read. I've been in the position before of searching the Kindle store desperate for a new book. Only seeing smudgy, small black-and-white thumbnails with little differentiation from one to another is not helpful for finding anything to read.
If you're going to use this device exclusively to read books, the color aspect will be a secondary concern that probably doesn't justify the cost associated with it. But, if you'll benefit from a book reader that can do more tasks, then the color becomes increasingly more important.
It's worth noting that because the Nova Air C is an Android device under the hood, that reading doesn't only happen in one place. There are multiple reading apps that can be downloaded to the device right away. Libby is an app that allows you to borrow e-books from your local library. Amazon's Kindle app is available to access your past purchases. If you have a New York Times subscription, you can use its app, as well. You can even add your own documents to the device with the BooxDrop app.
The different types of reading apps all have different interfaces and incorporate colors in unique ways. Reading on the Nova Air C isn't always spent looking at text 100 percent of the time.
Paper-Like Tablet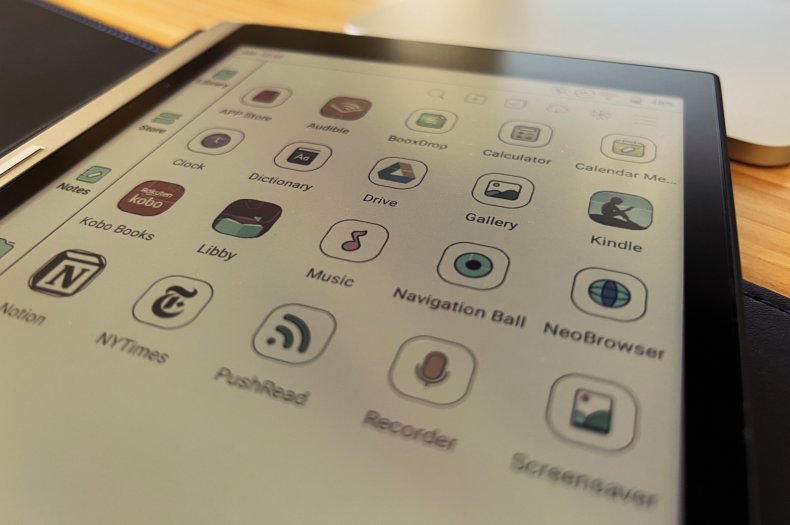 Seeing the blue G, red O, yellow O and rest of the letters on Google's sparse page was instantly more appealing and familiar than a gray monochrome version of it. It's much easier to browse the web in color versus in monochrome. Even though the screen has a ghosting effect that can leave lingering traces of the past, color helps make this technical hurdle more palatable.
Believe it or not, videos are watchable, too. While I wouldn't say it's the best way to consume your video content, it's absolutely a usable option for the occasional YouTube video. Having color on this device makes the Nova Air C a viable tablet, whereas past monochrome tablets from Boox felt a little too hard to use for productivity apps or web browsing.
The Nova Air C has a 7.8-inch display and is about the size and shape of an iPad mini. It's a perfect travel companion. I really like that it can handle some additional tasks beyond reading. The stylus is great for writing notes. Color is, again, a welcome addition to notes where highlighting or other visual indicators are now possible.
Should You Buy the Boox Nova Air C?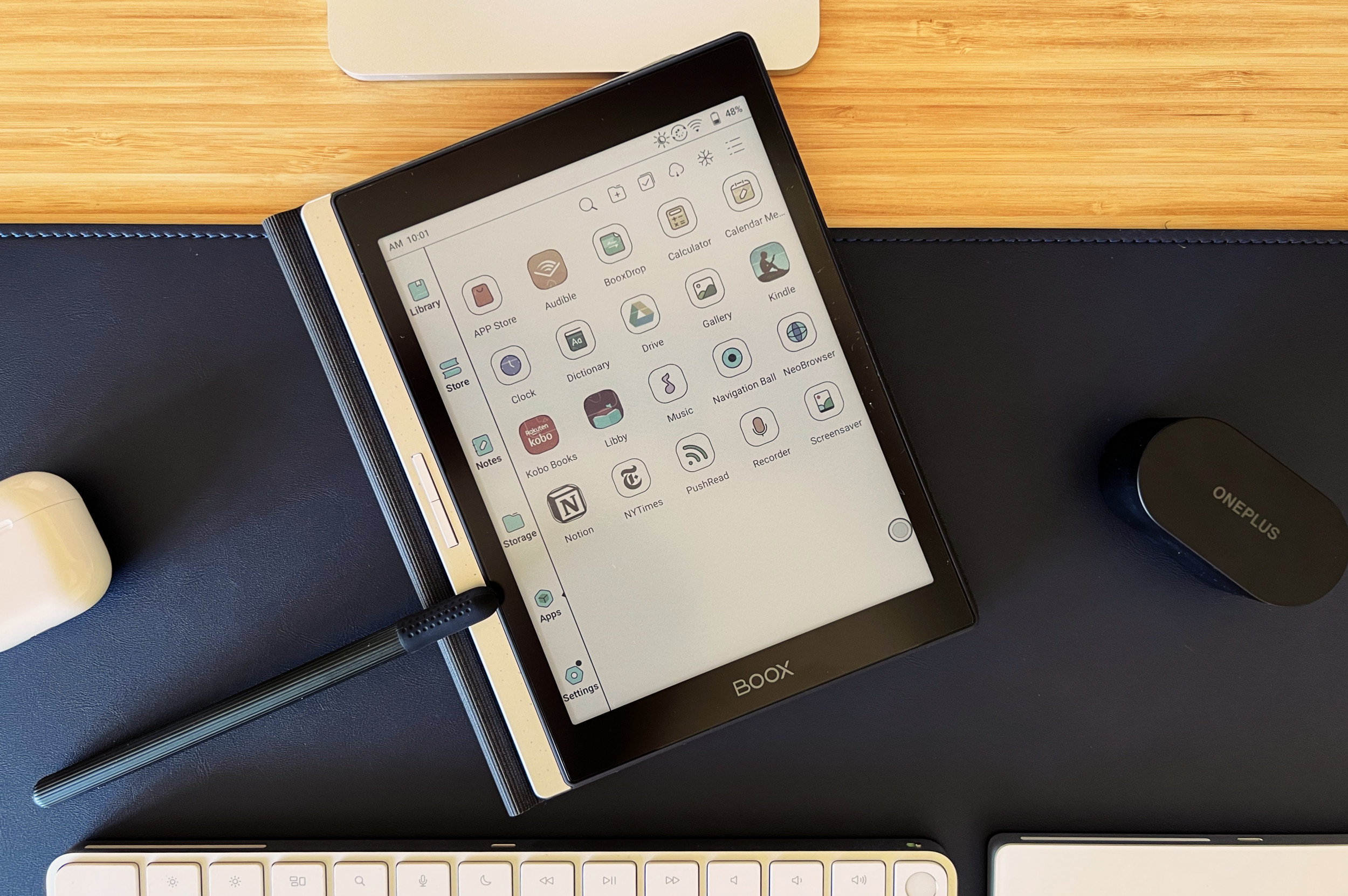 Paper-like screens are a neat idea, but doing anything other than reading text on them has always felt strenuous to me. As silly as it might sound, using a monochrome device takes more effort when you're used to seeing things more vividly. The color display on the Boox Nova Air C goes a long way toward making this type of device usable beyond only books, even though that aspect can be mediocre.
Should you buy a Nova Air C instead of an iPad mini? Should you buy one instead of a Kindle? I think the people who will find the most value here will be avid readers who will pick up an e-reader every day. Those people will love the addition of color, plus all the other tasks that having color can unlock.
For people trying to convince themselves to read more by having a multipurpose device, I'm not sure the addition of color will get them over that hurdle. They might only take advantage of the 2,000 mAh battery with a standby time of four weeks.
Buy at Boox for $449.98. (Price includes accessories bundle.)

Newsweek may earn a commission from links on this page, but we only recommend products we back. We participate in various affiliate marketing programs, which means we may get paid commissions on editorially chosen products purchased through our links to retailer sites.