This Couple Made Fine Art For Their Gerbil, How's Your Quarantine Going?
Quarantine boredom is most definitely going to result in some of the most creative advancements of our time. A couple is going viral on Reddit for making a complete art gallery for their gerbil, and it's the best thing you'll see today.
Reddit u/mariannabe posted a photo of their adorable gerbil looking very closely at a gerbil replica of the Mona Lisa on community r/aww Sunday, and it has since gained a whopping 135,000 upvotes.
The couple did not reveal their gerbil's name but did post an adorable photo of the tan creature admiring the artwork. To the left of the gerbil seems to be an animal-centric recreation of Gustav Klimt's "The Kiss" in recreated, bite-sized glory. Don't get the wrong idea, though. There's a strict sign clearly saying "do not chew."
Mariannabe revealed their boyfriend typically works in an art museum. During social distancing due to COVID-19, though, it seems their boyfriend isn't able to report to work each day. Instead, creating an at-home gallery for their pet was a fitting way to pass the time, and help him feel connected to his normal environment.
The tiny art gallery was praised by r/aww followers for its innovation and pocket-sized cuteness. It seemed the gerbil had a great quarantine outing that kept the whole family artistically cultured while remaining appropriately social-distanced.
Though the pet is clearly a gerbil, Reddit users ran wild with "mouse" related puns, calling the whole setup "a-mouse-ing" and even praising the iconic "Mousa Lisa."
Users also pitched other artwork ideas that could be added to the gallery.
Mariannabe responded and claimed the couple made two additional pieces of artwork and revealed in one comment that the "Gerbil with the Pearl Earring" can be expected in the near future. In addition, the Redditor claimed they're editing a video to be published on Monday.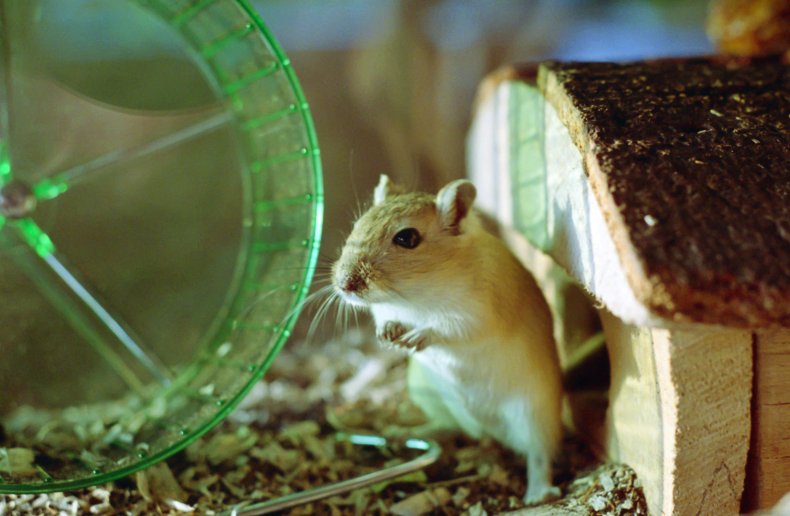 This isn't the first time the r/aww community has seen some hand-sized pets enjoying creative environments. Last week, a Fanta can hamster maze went viral on TikTok, and ended up sparking a conversation on Reddit, too. The multi-level maze was just one of a list of innovative creations by TikToker @homuraham. You can see the design here.
While TikTokers celebrated the maze, and brought millions of views and likes to the post, Reddit users seemed to think the Fanta can design was a poor use of advertising for an otherwise wholesome creation.
This Couple Made Fine Art For Their Gerbil, How's Your Quarantine Going? | Culture