This Creepy Snake-Like Creature Washed Up on a Beach and Texans Have No Clue What It Is
Snake fanatics, you're needed! Can you identify an odd creature that washed up on a beach in Padre Island, Texas? An unidentified creature resembling a snake or eel was spotted by a beachgoer, and even the professionals don't know what to make of it.
Padre Island National Seashore shared a photo of the eerie animal on Monday after a failed attempt to identify the creature. The photo shows a long, snake-like lifeform, a pale nude color. While it certainly looks like a snake, with no arms or legs, the creature has a body that could be compared to an eel. It appears to easily move through water using its long, narrow body.
Padre's Seashore group thought they'd correctly identified the creepy find as a Texas blind snake, which look like earthworms.
They later took back that guess.
"The more we looked at this picture, the more the body structure seemed more like that of an eel," the Facebook post read.
"We discovered that there are a type of eel known as snake-eels. These are also known as burrowing eels and often hide in mud or sand to catch their prey, which is normally small fish or crustaceans. Sometimes they can mimic the coloring of venomous sea snakes to deter predators and are often washed up by large storms."
The consensus? Only that this creature appears to defy both snake and eel code, and has stumped everyone involved. Hence the Facebook post. The Seashore group took the photo to Facebook not just for entertainment, but in case anyone has stumbled upon a similar animal.
One commenter, Liz Dickason, apparently identified a similar creature as an eel. "Eel-We came across one this year on Mustang Island," she wrote. "It was 10 feet or so from the water line at the beach, burrowed into the sand with just the head sticking up. We stopped to look but there was a large heron at the shoreline who also caught sight of a meal. The great blue heron quickly pulled at the eel, played with it for a few moments, then had lunch."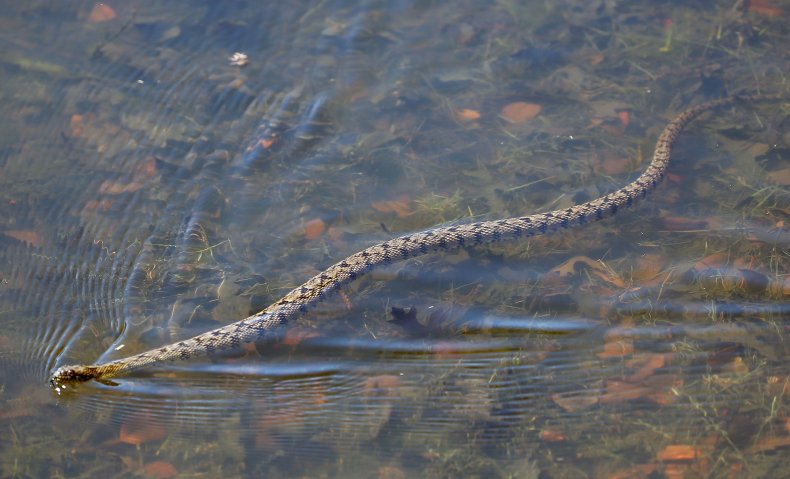 Another commenter said their "uncle calls this a ribbon snake," to which Padre Island National Seashore responded. "That was another option that we stumbled across in our research!"
The rest of the comments weren't as helpful, but they were definitely entertaining. One Facebook user, Joletta Vonasek, called the creature a "nope rope" and we're certain if this was Reddit, the comment would be upvoted dozens of times.
Plenty of other commenters hoped they'd never encounter such an odd creature on the beach, with some even pledging to stay out of the water.
Padre Island National Seashore told Newsweek they don't have formal confirmation, but believe the creature can be identified as some type of snake-eel. The species is known to burrow in sand. "We've had quite of few stories of people seeing birds pull them out of the sand or dropping them as the fly by," they explained via Facebook DM.
This article was updated to include comment from Padre Island National Seashore.