'This is a Game-Changer': Viral Post Shows Work Station at Public Library For Caregivers
A post has gone viral after a man posted a photo of a workstation at his local library that accommodated working parents and caregivers.
Ali Faruk, Policy Director of Families Forward Virginia, a nonprofit that works to "disrupt the cycles of child abuse, neglect and poverty," posted the photo to Twitter in a post that has now been liked over 230,000 times.
"A new public library in my area has these work stations for caregivers with babies!" He wrote. "Maybe these are common in other places but [I've] never seen anything like this before."
In a follow-up tweet, Faruk says the desks were set up at the Fairfield - Henrico County Public Library in Richmond, Virginia, and he was told they were designed by TMC Furniture.
The piece of furniture, which can be viewed on the company's website is aptly called "The Fairfield Parent+Child Carrel." The company tweeted in response to the viral tweet saying that the structure was developed with Henrico County Public Library and Quinn Evans Architects.
In March 2021, the United States Census Bureau reported that in January around 10 million U.S. mothers living with their own school-age children were not actively working. Just a year earlier, that number was lower by 1.4 million.
This uptick was attributed to the "devastating effect" COVID-19 had on employment, especially for working mothers.
The Census data showed that between March and April of 2020, "around 3.5 million mothers living with school-age children left active work shifting into paid or unpaid leave, losing their job, or exiting the labor market altogether."
Faruk told Newsweek in an email that in Virginia specifically, working parents "have it rough."
He said that despite the pandemic, lots of working parents don't have paid leave which can allow for parents to stay home and care for sick children or partners.
Faruk said in a follow-up tweet that accommodations like those pictured in his tweet that "Public spaces available and accessible to all are so important."
"This is how we strengthen families and create a culture and community that values children."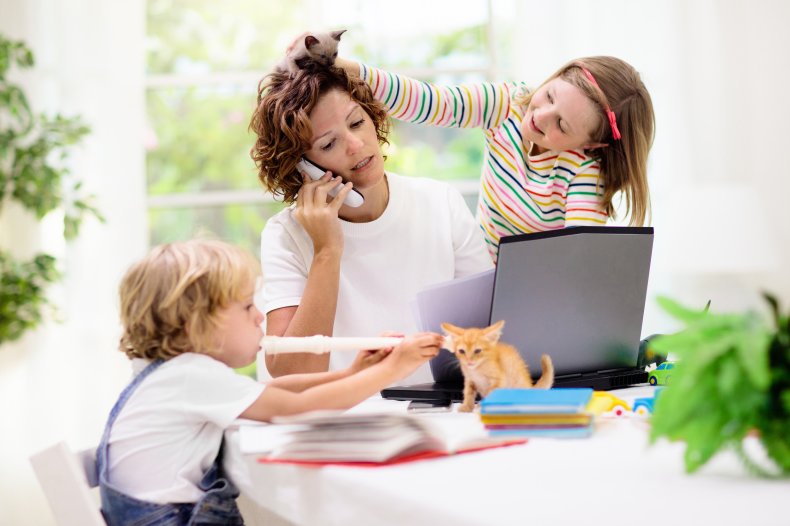 Faruk told Newsweek that he was shocked by the the big reaction to his tweet.
"But then I realized that parents of young children (I have two young boys myself) are so used to NOT having [accommodations] for children," he wrote in an email.
"Seeing a place and space designed for children and parents seemed revolutionary! The fact that this went viral indicates it's new, unexpected, and sorely needed. What a sad indictment of our society that so many people wished this type of accommodation was available to them. It's not as if this is some brand new invention or technology. It's more the intention and thought that was new: Prioritizing babies and parents!"
Though some people on Twitter pointed out possible shortcomings of the workspaces, like "sharp edges" and their cleanliness, others were happy to see the library's offering.
"This is a game-changer," one person commented. "I worked in a busy metropolitan library & too often saw moms in very difficult circumstances try to manage their babies/toddlers while using the PACs to apply for jobs or housing. It was so difficult for them. What a great innovation. Well done!"
"I would have broken down in tears had they had these at my library as a new mom...it would have given me...precious time," another commenter added.
According to the Henrico County Public Library's website, this library location was opened in 2019 which included the "innovative computer work-and-play stations, where parents and caregivers can work on the computer next to a comfortable, enclosed playspace for their little ones!"