This Happy Dog Is Best Friends With the Old Man Next Door and You Need to See It
Chances are you've seen a smiling dog or two when walking around your neighborhood. But have you ever taken the time to get to know the pups along your path? Well, one old man became best friends with his neighbor's dog, and the results have been posted about on Reddit, for everyone on the internet to bask in.
A video of the pair's sweet interactions was shared by Reddit user u/unnaturalorder via the r/aww page. This uploader isn't responsible for filming the video, though; it came from the website Gyfcat. Regardless, Reddit users are absolutely in awe of the happy clip. It had nearly 120,000 upvotes at the time of this article's publication.
The video shows the man leaving something on a box in the neighbor's yard. It can be assumed the man has dog treats for the pup. Shortly after, the footage cuts to a medium-sized, curly-haired dog standing on the box to meet the man's height. The man gives the dog lots of pets, and the pup's tail wags wildly. It's clear the pair have a bond, and their closeness is really heartwarming.
Later frames show the man nowhere in sight, but the pup continuing to search for him. From standing in the yard to looking out the window, the dog looks as though he's constantly thinking about his neighborhood friend, and wondering when he'll return.
The whole thing is adorable and worth checking out. Reddit users are keeping the feel-good content coming, too, thanks to the comments section. According to commenters, it's not that uncommon to see elderly neighbors befriending pups.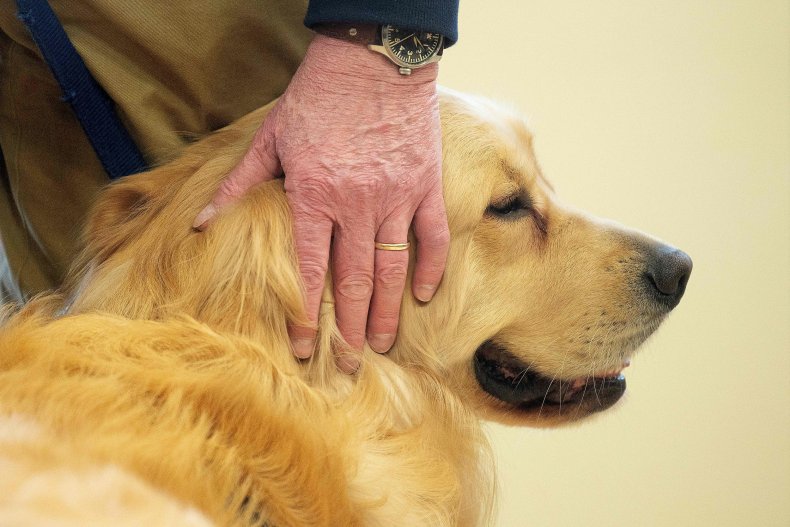 "There is an old man in our neighborhood that we call 'Biscuit Bob.' He stops his bike whenever he sees us and gives our Lab a milkbone [sic] biscuit," wrote u/Pineapplemkh. "She carries it carefully around for the rest of the walk until we get home, then she tosses it on the living room rug, does an excited dance around it and we trade-up for some freeze-dried chicken treats. She loves Biscuit Bob and he has no idea she never eats those biscuits."
In another comment, a user explained that the pup feels special, even though she doesn't love the treats Bob brings. "She runs up to him with the biggest Labrador smile, accepts the biscuit really gently like a good girl, and prances off like a trotting pony, head held high, so proud to carry her gifted biscuit. It's a win-win all round [sic]."
Other users spoke about the man in the video, and assumed that interacting with the dog makes his day. At the very least, the video has made this writer's day.
This Happy Dog Is Best Friends With the Old Man Next Door and You Need to See It | Culture