This 'Joe Exotic The Tiger King' Autographed Photo is a Top Selling Entertainment Collectible on Amazon
An autograph from Joe Exotic has become the most sought-after entertainment collectible on Amazon. The former zoo operator has gained tremendous popularity due to the Netflix docuseries, Tiger King: Murder, Mayhem, and Madness.
The top-selling collectible is currently being sold by Entertainment Autographs, which provides authentic memorabilia to interested buyers. If you're looking into getting a print for yourself, the 11x14 poster has an excellent grade for a rating. To the right side of the poster, Exotic signed his self-given name in black.
In the professionally printed photo, Joseph Allen Maldonado-Passage is wearing his flashy shirt and fancy wristwatch. The pet tiger and the former owner of Greater Wynnewood Exotic Animal Park are both looking straight at the camera. Passage has the iconic look, with his blonde mullet and purple sunglasses, down pat.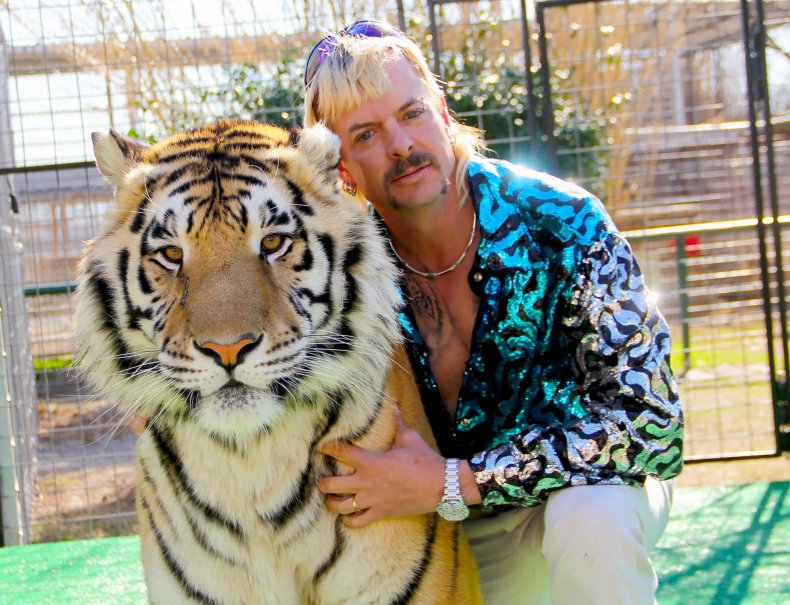 Exotic is currently serving a 22-year sentence for animal abuse and murder-for-hire charges. The convicted felon is also completing a 14-day quarantine stint. Exotic supposedly came into contact with someone infected with the coronavirus. Outside of prison, Netflix's true crime docuseries, has made the reality TV star a household name.
This writer has gone to various conventions and bought autographed photos from former wrestlers. I, for one, understand wanting a signed poster from Exotic to add to your personal collection. It will be a very long time though before Exotic finally steps out of prison and into the limelight he so craves.