This L.A. County City Is Still Allowing Outdoor Dining Despite Latest Restrictions, as Cases Surge
As coronavirus cases surge, the City of Pasadena is still allowing outdoor dining despite the ban by Los Angeles County health officials.
The city council of Pasadena, which operates under its own health department, made a unanimous decision on November 23 to allow restaurants to offer outdoor dining.
The city's call came as the latest Los Angeles County Health Officer Order--which restricted restaurants to take-out, drive-thru and delivery services only, and banned all indoor dining--kicked into effect on November 25. The restrictions were scheduled to be in place for three weeks.
In response to the city's open outdoor dining, many residents have headed to Pasadena over the Thanksgiving weekend. Some people reportedly drove several miles to get to Pasadena in order to eat at one of the city's open restaurants, as many hoped for some form of human interaction during an otherwise isolated Thanksgiving.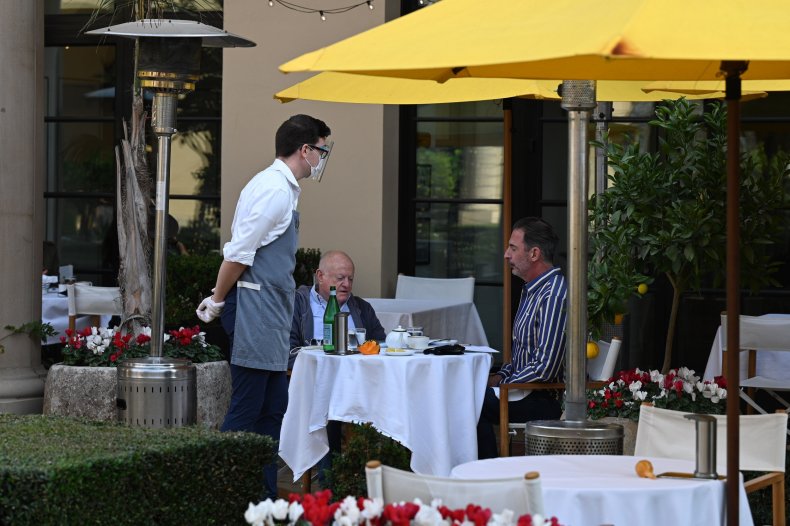 The seven-day average of confirmed COVID-19 cases in Pasadena has been on the rise since early November, after remaining steady for the majority of the pandemic since late March, according to the Pasadena Public Health Department. As of Saturday, the city has seen over 3,630 total cases and 132 deaths associated with COVID-19.
"The dramatic increase in COVID-19 cases and hospitalizations is of great concern for the City of Pasadena, its residents and healthcare partners," city officials said in a November 24 release. "Effective immediately, the City will undertake broader and more aggressive enforcement efforts to slow the spread of the virus with respect to outdoor dining."
Pasadena has since sent inspectors to visit approximately 60 restaurants in search of violations of coronavirus safety protocols, according to a report from television station CBS KCAL 9 Saturday.
Public health officials have since issued over 40 violations and suspended health permits from five local restaurants as they allegedly ignored coronavirus safety protocols, including the city's outdoor dining-only protocols, according to CBS KCAL 9.
Four of those restaurants have been closed, according to a tweet from the city.
"We want to keep restaurants operating, but that hinges on their willingness to follow the rules," the city said. "Four restaurants were closed today, pending hearings to reopen, and several others have been issued warnings."
City spokesperson Lisa Derderian wrote in an email to Newsweek Sunday that COVID-19 cases and hospitalizations are frequently evaluated.
"We assess our COVID numbers daily in coordination with the hospitalization data at Huntington Hospital to determine if we'll modify our orders," she noted.
As of Sunday, California has surpassed 1.2 million COVID-19 cases and 19,100 deaths since the start of the pandemic in March, according to data from The New York Times.
Over 13,200 new cases and 32 deaths were reported in the state on November 28, noted the Times. There has been an average of 13,776 daily COVID-19 cases, an increase of 78 percent compared to two weeks prior.