This Labor Day, Let's Honor Immigrants With a Pathway to Citizenship | Opinion
Moisés Hernández Delgado. Ofelia Tapia Alonso. Yimel Alvarado. Mario Hernandez Enríquez. These are just a few of the immigrant essential workers who have died from COVID-19. There are thousands more.
This Labor Day, as we await Congress' next steps to advance a historic budget resolution that includes a long overdue pathway to citizenship, we must recognize and honor the millions of immigrant essential workers that have helped us survive the pandemic.
Immigrants have been on the front lines of the pandemic since day one: from harvesting our food to taking care of our loved ones who are sick and helping us heal. They have also been disproportionately harmed by COVID-19 due to policymakers' failure to institute necessary protections in the workplace and in our communities. In spite of this, these same workers continue to show up day after day and help our recovery as we move forward. It is crucial that we support them.
America is on a path to recovery. With over 50 percent of the U.S. population vaccinated, we are learning how to adapt to a COVID-world. While on this path, let's remember the immigrant workers who brought us to where the country is today and pay, honor and protect them. There is no recovery without immigrants.
Today, 69 percent of immigrants—including more than 5 million undocumented immigrants—are working in essential roles. While being key to our recovery, immigrants continue to experience exclusion and discrimination. Across the country, we have seen increasing instances of racially motivated hate crimes. Millions of immigrant taxpayers and their families have been left out of critical federal relief packages, and many live in fear of employer intimidation, arrest, a worksite raid, or being separated from their families due to deportation.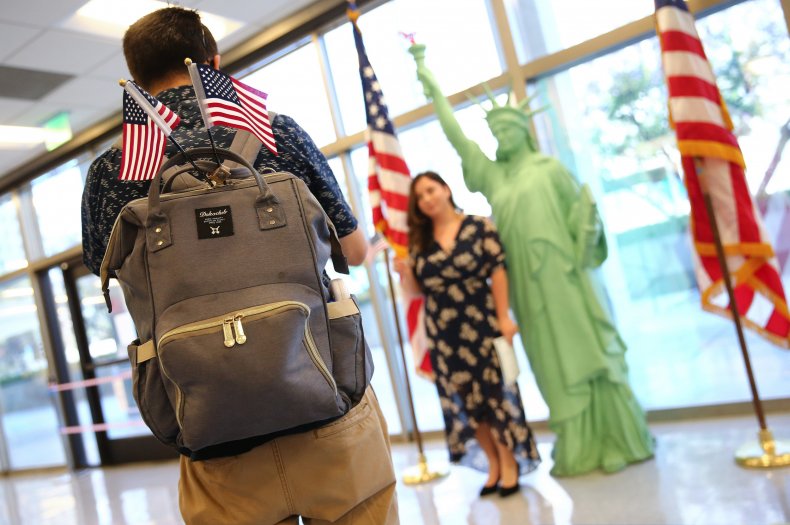 Immigrants have always been essential to who we are as a nation. Congress now has the power to create a life-changing pathway to citizenship for the 11 million undocumented immigrants who call this country home. After decades of partisan gridlock, Congress can and must finally act on the will of the American people, who overwhelmingly agree that it is past time to get it done. The pandemic has underscored that we need policies in place to ensure the safety of immigrants from xenophobic injustices and treatment in the workplace.
While essential workers put their health and safety at risk during the pandemic, millions do not even have access to health care. And immigrants are often intentionally left out, which harms us all. If we've learned anything during COVID-19, it's that our health and well-being are interdependent. In order to continue the recovery process, we must ensure that everyone in our communities can access COVID-19 testing, treatment and vaccines, as well as other lifesaving health and economic supports.
Now is the time for lawmakers to center legislation on providing the support that all of us, including immigrants, need in order to thrive in this country. We must urge Congress to quickly pass the budget resolution with a pathway to citizenship and no harmful amendments that perpetuate immigrant exclusion. Immigrants must be included in every effort to bolster worker protections, access to health care and our economic recovery. The economic benefits of doing so are irrefutable and meet the requirements for inclusion in this budget resolution. More importantly, through this budget resolution, Congress can finally recognize immigrants' dignity and humanity. We each must do our part to honor the immigrants who make our daily lives possible from harvesting the food we eat, to manufacturing the clothes we wear to educating and taking care of our loved ones.
This Labor Day, let's remember and honor the sacrifices essential workers continue to make as they help keep the country running. We must do this for the families of Moisés, Ofelia, Yimel, Mario and the millions of immigrant essential workers who are helping our nation get through this pandemic.
Marielena Hincapié is executive director of the National Immigration Law Center, an attorney and an immigrant from Colombia.
The views expressed in this article are the writer's own.