This Man Feeds Alligators While Barefoot on TikTok and It's Total Chaos
Brave does not even begin to describe one man who was caught on video feeding alligators while barefoot.
The clip, which is making the rounds on TikTok, shows a man, sans shoes, walking into an alligator enclosure. He carries a bucket of raw meat and locks the door behind him. He then walks the perimeter of the water as the alligators follow him. When he approaches the corner of the enclosure, about 10 alligators approach him. To keep them away, he uses a long wooden stick. They appear to be trained enough to not attack their feeder (there's that whole thing about not biting the hand that feeds).
At one point in the clip, you can that there's a sign in the background that says Everglades, so it's safe to assume that this took place in Florida.
TikTokkers were blown away by this casual interaction, which was titled, "How every feeding starts, total chaos."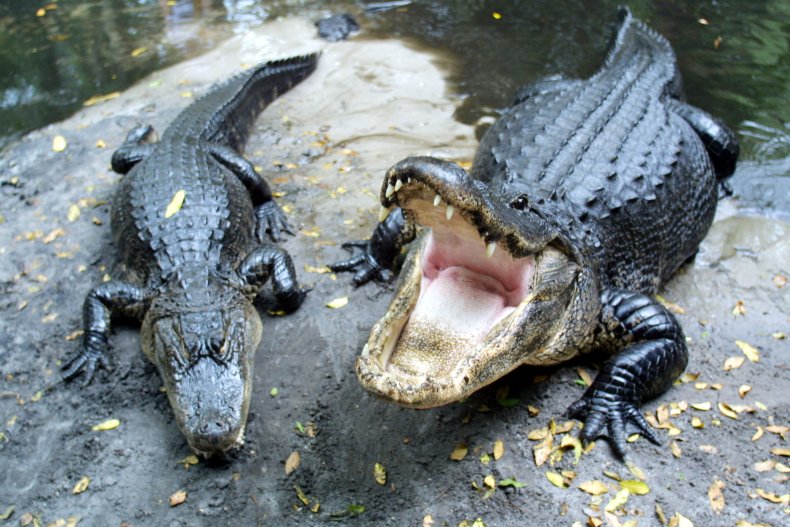 "You put a lot of trust into that stick!" one user wrote. "Is nobody going to talk about how they are barefoot?" another asked. (For the record, this writer would like to talk about that.)
"Hell nah I would just throw food to them at the gate," a third chimed in.
One user cheekily recommended he go in there with a disguise, like Crocs. "Why don't you have Crocs on?" another asked.
"Of all the places to be walking around barefoot he picked this one," a third wrote.
"Floridians walking through their backyard," another joked, commenting on the amount of alligators that live in the state.
"This is my worst nightmare," another said.
The man who made the TikTok, Christopher Gillette, is experienced working with these creatures, but it's worth noting how exactly one should handle an alligator interaction.
James Perran Ross, a retired associate scientist of wildlife ecology and conservation at the University of Florida, told Live Science how to act when facing an alligator. He said it's best to give the animal space, and avoid water if that's where the alligator comes from.
"The real problem, of course, comes from the alligator that you don't see," Ross explained. "The danger zone for an alligator is about half its body length, directly in front and about 80 or 90 degrees from either side. That's the distance that it can very rapidly strike."
Folks should also run away in a straight line, he said, discounting the myth that you should run in zig-zags. Alligators are more agile than you'd think.