This Man Who Found a Snake in His Bedroom Is Living Our Worst Nightmare
A British man had quite a scare recently, when he awoke to find a random four-foot snake in his bedroom.
(Before you read any further, we'd like to apologize for the inevitable nightmares you're about to have. But rest assured, we'll be battling snakes in our dreams, too.)
A man who wished to be identified as Kelvin told the BBC that he awoke in the middle of the night on August 9 when he heard an odd "clinking sound." To his surprise, there was a four-foot-long snake slithering up his nightstand.
"I was putting the torch down," Kelvin said, referring to how he lit the room up with his cell phone. "I saw the snake climbing up the table right next to my bed."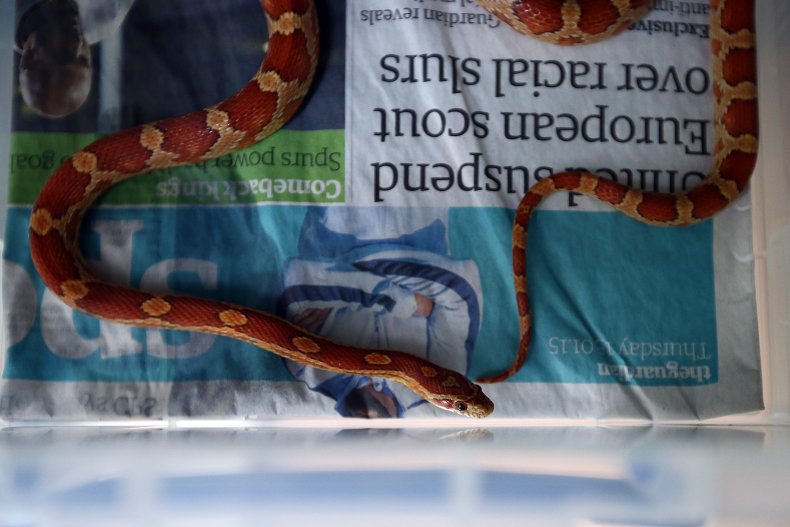 From there, Kelvin snapped into action-hero mode. "I dived across the room and switched the light on and the snake was there, half on the floor and half on the table by my bed."
To clarify, the snake did not belong to Kelvin. It was identified as a corn snake that may have been someone else's lost pet, according to the BBC. While corn snakes are a nonvenomous species not native to the U.K. and are pretty much harmless to humans, they're known for strangling small animals before consuming them—something you probably don't want to think about as it's approaching your pillow.
Kelvin captured the snake in a sleeping bag and called the Royal Society for the Prevention of Cruelty to Animals (RSPCA), who captured it. If nobody identifies the snake as their pet, then it will be rehomed by the animal-centric association.
While the RSPCA is looking over the reptile, it's been given a nickname. The orange creature is now called Tango—a cute nickname that makes the whole encounter (a little) less terrifying.
As horrifying as Kelvin's experience likely was, it isn't a total rarity. Search for "midnight snake encounters" on the Internet and there are many to browse through. In 1994, a hotel-goer and his wife awoke to find a giant boa constrictor slithering across their hotel floor, according to The Baltimore Sun. They filed a lawsuit against the hotel for emotional scarring.
Much more recently, a venomous snake was found hanging out underneath a Texas home earlier this month. Another snake was spotted slithering around a Texas Walmart on August 7.
With all of those images plastered in our minds now, is there any official way to snake-proof a bedroom? Asking for a friend.