This Memorial Day, Let Us Celebrate All Our Veterans Died to Defend | Opinion
Since the nation's founding, more than 1.1 million Americans have died fighting in our country's wars.
Think about that for a second: You could double the population of our largest city here in Alaska, Anchorage, and there would still be fewer people in this state than the number of patriots who have died in service to America.
Whether these honored dead repose in Arlington National Cemetery, somewhere closer to their homes and families, or halfway around the world, they deserve our thanks and utmost respect. It is, as President Abraham Lincoln said while dedicating the cemetery at Gettysburg, "altogether fitting and proper" that we should purposefully honor those who "gave their lives that [this] nation might live."
President Lincoln also reminds us that the best way to honor our nation's fallen heroes is to "take increased devotion to that cause for which they gave the last full measure of devotion," and resolve "that government of the people, by the people, for the people, shall not perish from the earth."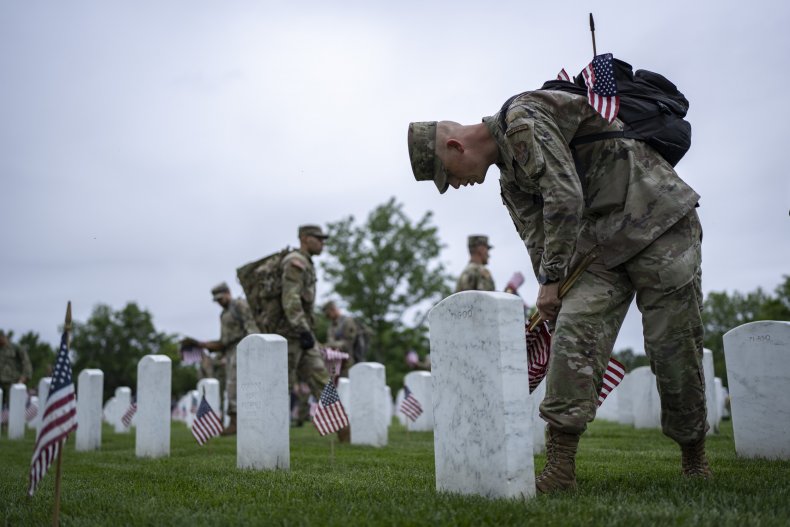 It's been a lot longer than fourscore and seven years since Lincoln uttered those remarkable words, but the counsel he gave a divided nation in 1863 remains applicable today. As another great Republican president, Ronald Reagan, memorably put it, "Freedom is a fragile thing, and it's never more than one generation away from extinction."
I implore you to keep the words of both Lincoln and Reagan in mind today, as freedom faces its greatest challenges in decades: The Taliban have retaken Afghanistan in the wake of America's poorly executed withdrawal; Russia has launched a war of aggression against Ukraine, triggering the largest land war in Europe since World War II; and China is rattling its saber more aggressively than ever, subjugating the people of Hong Kong, committing genocide against the Uyghurs and threatening the very existence of Taiwan.
America needs to reassert its leadership on the world stage. But at the same time, we must make sure that whatever actions we take, we take for the right reasons, and with full understanding of consequences. Memorial Day is a perfect time to reflect on the sacrifices that come with war, and to think about the young men and women who serve our country in uniform. If we care about them, we will never ask them to lay down their lives in vain.
Years from now, I hope our children and grandchildren will be able to look back on this time and conclude that we did what was right and just to ensure the survival of our country, our freedoms, and our ideals. And I hope they will not have to mourn the loss of more American patriots forced to give "the last full measure of devotion" for our continued liberty and security.
So this Memorial Day, let's honor the fallen in a sincere and heartfelt fashion. Let's take the time to stand alongside our veterans as they remember their comrades who never returned home. And then, let's enjoy the freedom they purchased for us with their sacrifices.
Sarah Palin was the 9th governor and first female governor of Alaska, as well as the 2008 Republican vice presidential nominee. She is currently a candidate for Alaska's at-large congressional seat.
The views in this article are the writer's own.