A construction marquee caused quite the stir on Twitter this Wednesday for its coronavirus warning message. But it wasn't the message itself causing the stir, it was how it was said: in a letter-perfect Boston accent. Or maybe we should say "Bawston?"
Advocating for social distancing measures that suggest people stay at least within a six-feet distance of one another, the sign read, "Stay Wicked Fah Apaht." Twitter user Isaac Fitzgerald who shared the photo captioned the post, "I love you, Massachusetts" but followed up with another COVID joke and referred to the state as "MASKachusetts."
Turns out, the sign was actually standing in Portsmouth, New Hampshire. "VERY important update. My friend who sent this photo has corrected me, the sign is in one of my favorite places on the planet: Portsmouth, New Hampshire. So... I love you, New England" Fitzgerald added.
Nonetheless, a number of North Easterners got a kick out of the message. "Jesus God, the perfect tweet has landed," one Twitter user wrote in response to the post.
While the warning sign's true location may actually be in New Hampshire, the state of Massachusetts is also doubling down on its messaging regarding COVID-19 as cases continue to rise throughout the state. More than 4.5 million residents across the state received coronavirus alerts on Thursday reminding people of the new stay-at-home guidelines issued by the state government in early November, according to the Boston Herald.
Issued by Public Health Commissioner Monica Bharel, the alerts will reportedly appear as text messages on residents' phones. Some of the information included in the alerts pertain to the state's updated coronavirus prevention measures—like requiring people to wear masks in public and limiting gatherings to 10 people or fewer at indoor venues and less than 25 people outdoors.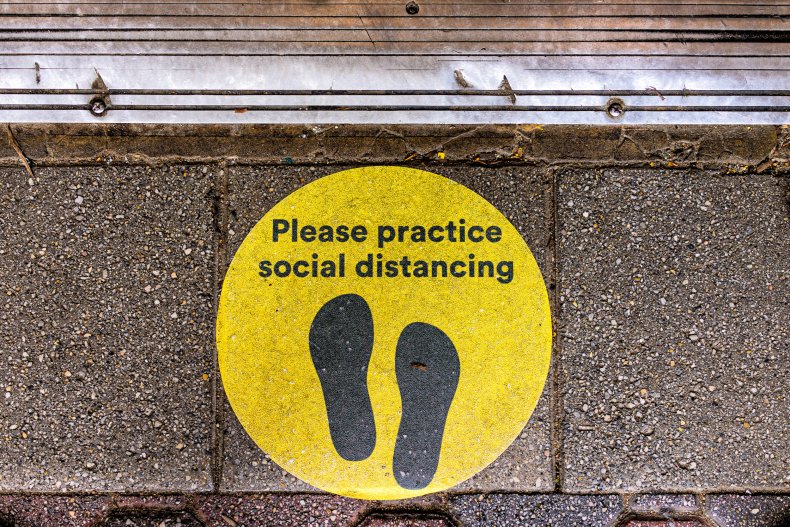 The alerts are also a reminder of Massachusetts' new orders regarding travel to and from other hotbed states, which now includes New Hampshire among other East Coast states. Residents and travelers coming from high-risk areas are expected to quarantine for at least 14 days or they must provide a negative COVID-19 within 72 hours prior to their arrival in the state.
Health officials in New Hampshire reported 447 new coronavirus cases were confirmed as of Wednesday, taking the statewide total of infections up to 15,749. Although 11,478 people have recovered in New Hampshire, there are still 3,767 active cases across the state with hospitalizations currently up to 822. Positive cases have been on the rise for the last 14 consecutive days.