You may have stumbled upon a video of an Orangutan named Sandra washing her hands during the coronavirus crisis. It seems simple and sweet, and has appeared all over the Internet with captions that suggest she's following the lead from her keepers and learning new sanitary guidelines, just like all of us.
Well, the story is fake and it's causing potential harm to Sandra and animal conservation efforts.
A video the Center for Great Apes posted in November showed Sandra scrubbing part of her enclosure and even washing her hands with a bucket of soap and water. It has nothing to do with coronavirus, and though it's fitting to the times, the center ultimately removed the video from their YouTube channel when it picked up steam with a falsified story about new, learned techniques.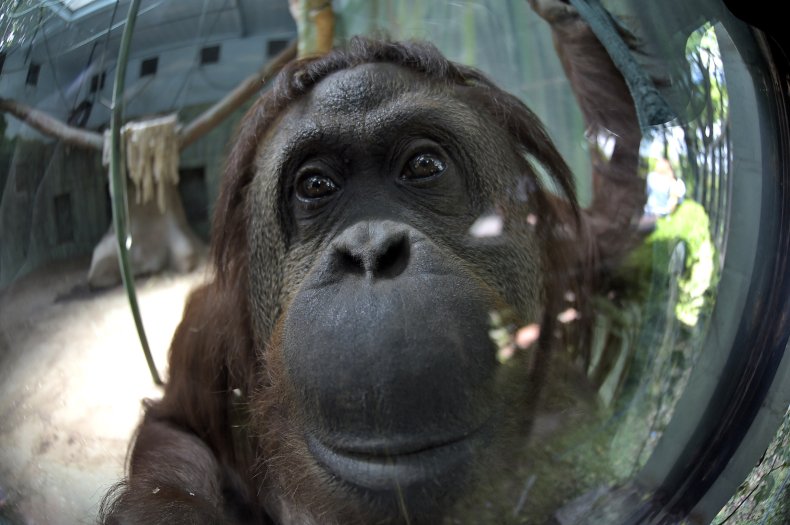 Sandra isn't being taught anything new, and this is important. National Geographic dove into the seriousness of the false story, and why it's been upsetting to the Center for Great Apes. "I'm just very conscientious about protecting her dignity," Patti Ragan, founder of the Center for Great Apes told the publication. "I took it down because I can't control the message."
Though she's being viewed as a cute Covid-19 PSA, as recently as Monday morning when the video, yet again, when viral on Reddit's r/aww thread with the same, false story, Sandra is actually a really big deal. She's the first non-human to be granted personhood. That means she's respected as a human-like being, with rights, according to a court in Argentina.
This ruling came when she was "granted legal personhood with the right to be respected as a sentient being," according to the Center for Great Apes website.
Because of her legal status as a respected being, Sandra was removed from her prior, Argentina zoo exhibit. She now resides at the Great Apes Sanctuary in Florida.
Beyond Sandra being granted personhood, and the idea that false stories about anyone can be offensive, National Geographic explained that false stories, which either humanize or aim to make animals seem adorable, can limit human care for conservation efforts. While adorable footage may make onlookers care deeply for the animals they see on the Internet, when they learn a story is false, it may draw them away from advocacy in the animal sphere.
Newsweek reached out to the Center for Great Apes for further comment on Sandra and the handwashing video.
If you're interested in supporting Sandra or other orangutans, the Center for Great Apes gives donors the opportunity to symbolically adopt Sandra and others who reside at the sanctuary. You can learn more about her here.