This R2-D2 Limited Edition Is Definitely the Droid Projector You're Looking For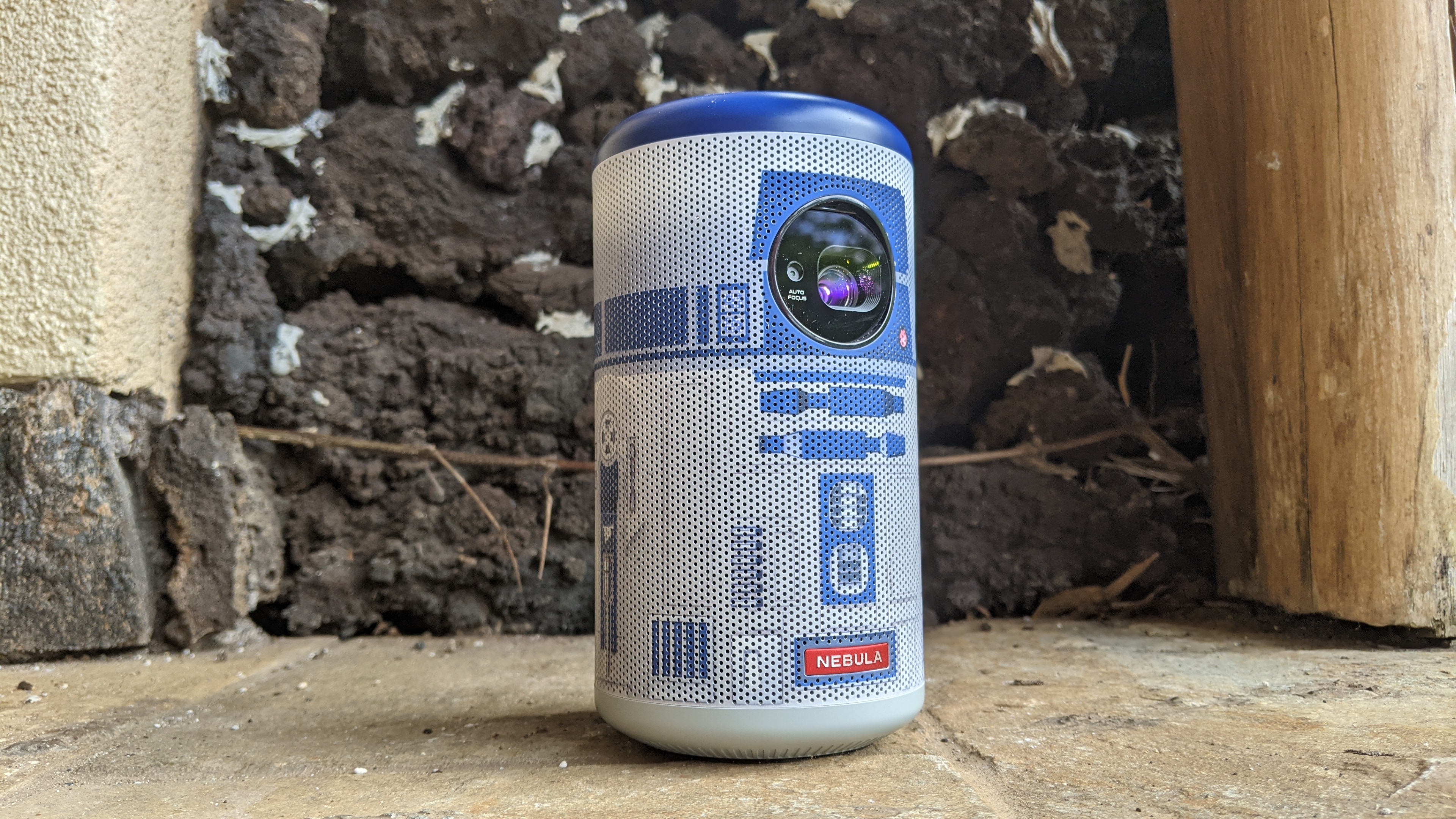 Having been a Star Wars fan since the second grade—when Episode IV became the first movie I saw more than once in the theaters—I was downright giddy to receive and review this R2-D2 pocket projector. It's essentially the Capsule II by Nebula (Anker's projector division) but with a snazzy paint job. From the first telltale beep-boo-beeps it emitted during startup to the actual movie watching experience, this adorable pint-size portable cinema did not disappoint.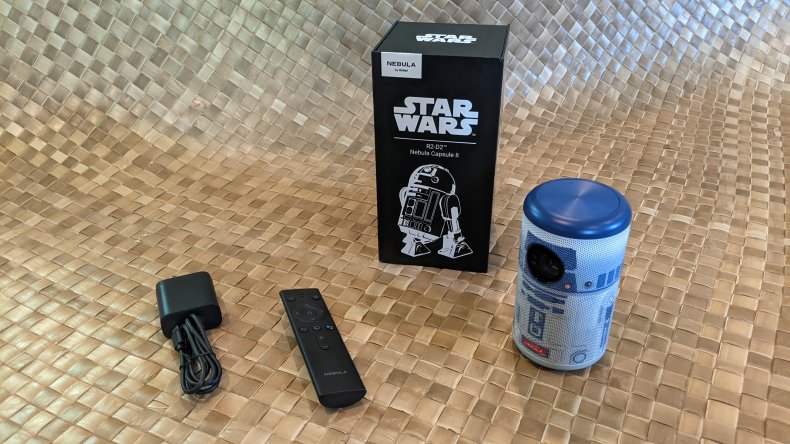 A Droid Running Android
After charging up the unit, I turned it on and quickly set it up. Because it runs Android TV (version 9), I was able to use a Google app on my Android phone to transfer all the settings quickly from my personal Gmail account, including the Wi-Fi connectivity. And just like that, I was ready to jump into Disney Plus and start streaming A New Hope. Although I admittedly haven't used Google Assistant much, the voice commands I threw at it and the intuitive on-screen Android TV navigation got me wherever I needed to go. Speaking of which, the physical navigation options include touch-sensitive buttons right on top of the projector, the buttons (and voice controls) on the included remote, and my phone's screen when using the companion Nebula Connect app.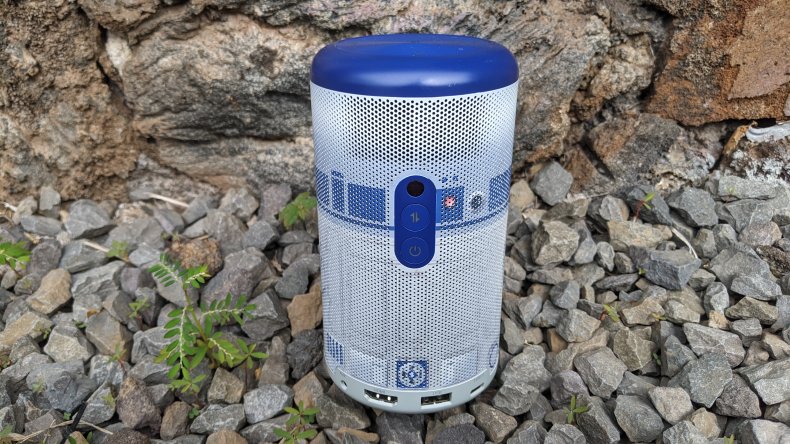 The Picture Quality
Having used a 4K laser projector recently as my main TV, I braced myself for a letdown with this projector's 720p (1280 x 720) resolution. But it was actually quite delightful. With the faithful droid positioned across the room atop a tripod, the projector produced a gorgeous 100-plus inch picture on a white painted bedroom wall. Yes, it was a little pixelated when sitting inches away. But when relaxing back at a normal distance, about 8 feet from the wall, the hues were bright and clear (for colorful titles such as Cloudy with a Chance of Meatballs) and the action was smooth (throughout various Star Wars and Marvel flicks).
With 200 ANSI lumens of brightness, it behaves best in dark rooms—especially with black-heavy scenes featuring large star fields—but did pretty well during a midafternoon viewing (as seen in the image below), for which the lights were turned out but no curtains were drawn. As advertised, the autofocus feature worked very quickly, consistently reigning in a sharp picture from any distance. The one time it stopped in a state of blur, I went into the settings to adjust it manually, and from then on it snapped into focus every time. The auto keystone correction worked well, too, conjuring an either close-to or dead-on rectangular image even when at an angle.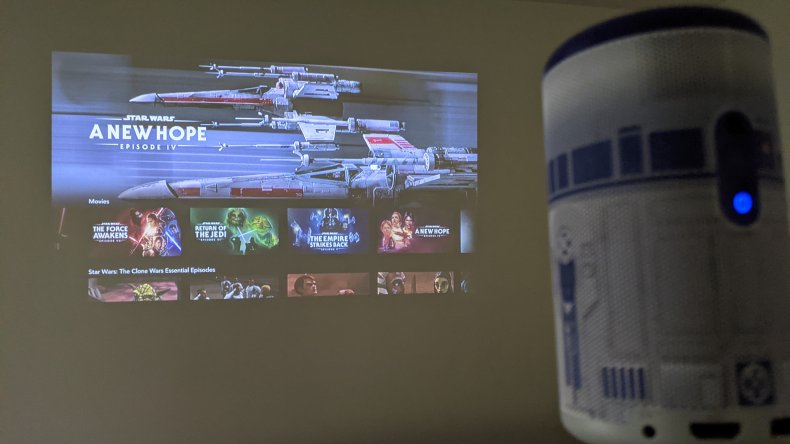 The Sound Quality
Given its diminutive stature, I wouldn't have expected it to be as loud as it was. R2's 8-watt speaker always filled the (medium-size) room with the movie's soundtrack, even when it wasn't on full volume. In fact, I had to turn it down more often than up. That says a lot about how powerful it is, given that it's not 360-degree audio. The sound comes out the back portion of the unit—which I discovered while in a natural viewing position between it and the projection wall. So it actually might have been even louder if the sound didn't have to bounce off the back wall. And though I certainly wouldn't buy this solely as a Bluetooth speaker, it served well when playing music (but not watching video) in Bluetooth mode. The sound quality was very good, despite a lack of thump in the bass that didn't catch my attention when viewing movies.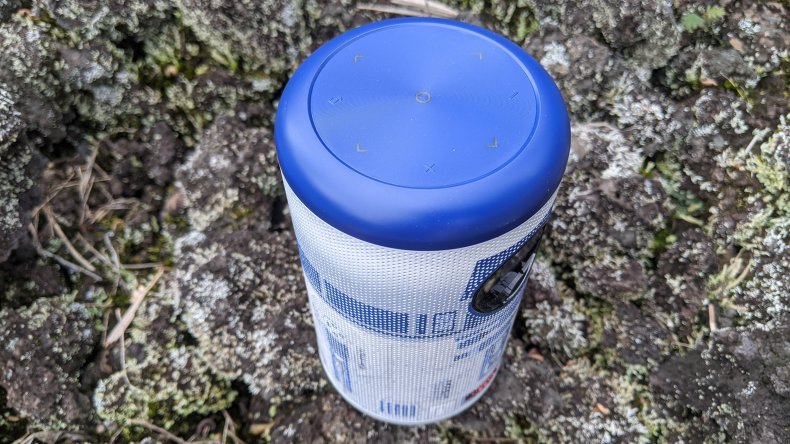 The Netflix Issue
Easily the biggest gripe I found with this otherwise faithful and obedient little unit were the hoops I had to jump through to get Netflix working. Honestly, I had already known about this issue and was prepared for it to be worse than it was in practice. But rather than just seeing Netflix on the home screen after startup (like Amazon Prime Video and Disney Plus, the other two video streaming services I use most), I had to go into the Nebula Manager app on the device itself and load it from there. Every time. Unlike YouTube and other apps, it's not possible to sideload Netflix content using Chromecast from another device.
The biggest drawback of this workaround was the difficulty I encountered when attempting to use the search function within Netflix, which I frustratingly couldn't seem to navigate to on screen or activate through voice commands. If I was in a desperate situation, I could have easily connected my laptop via an HDMI cable and run Netflix from there, thus sacrificing portability for functionality. But I don't regularly tend to search Netflix that much. Most of what I want to watch pops up under my profile and was easy to get to with the remote.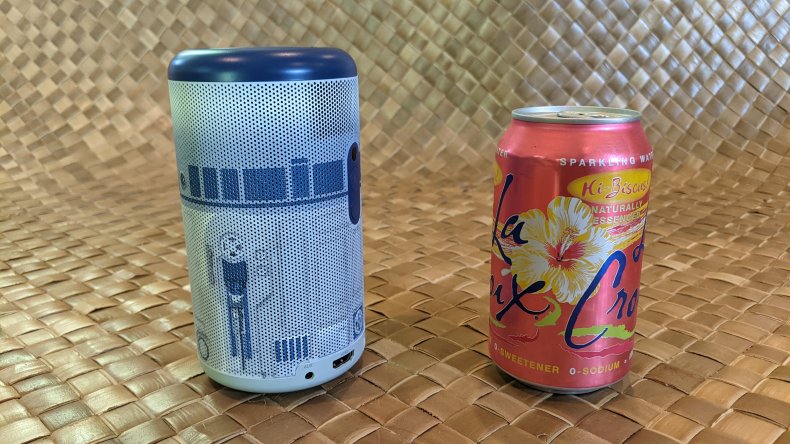 Should You Buy the Limited Edition R2-D2 Nebula Capsule II Projector?
My only hesitation is with regard to the above-mentioned Netflix issue, which isn't a deal breaker since there are valid and relatively pain-free workarounds. I would have liked a few more audiovisual Star Wars cues—nothing as advanced or demanding as a 3D hologram of Princess Leia each time on start-up but at least some preloaded Star Wars–themed screen savers stored in the droid's memory banks.
In terms of the timing, although the Capsule II projector will be continuously available for the foreseeable future, this limited edition R2-D2 version will only be offered through the end of this month (August). And it's currently about $150 off the retail price mentioned on the site. So if you're looking for a great portable projector and love Star Wars, especially if you're already an Android user and Google Assistant fan, don't be a scruffy-looking nerf herder—let R2-D2 help you make the jump to light speed.
Newsweek may earn a commission from links on this page, but we only recommend products we back. We participate in various affiliate marketing programs, which means we may get paid commissions on editorially chosen products purchased through our links to retailer sites.