The Fight You've Been Waiting For on 'This Is Us' Season 4 Will Occur During the Finale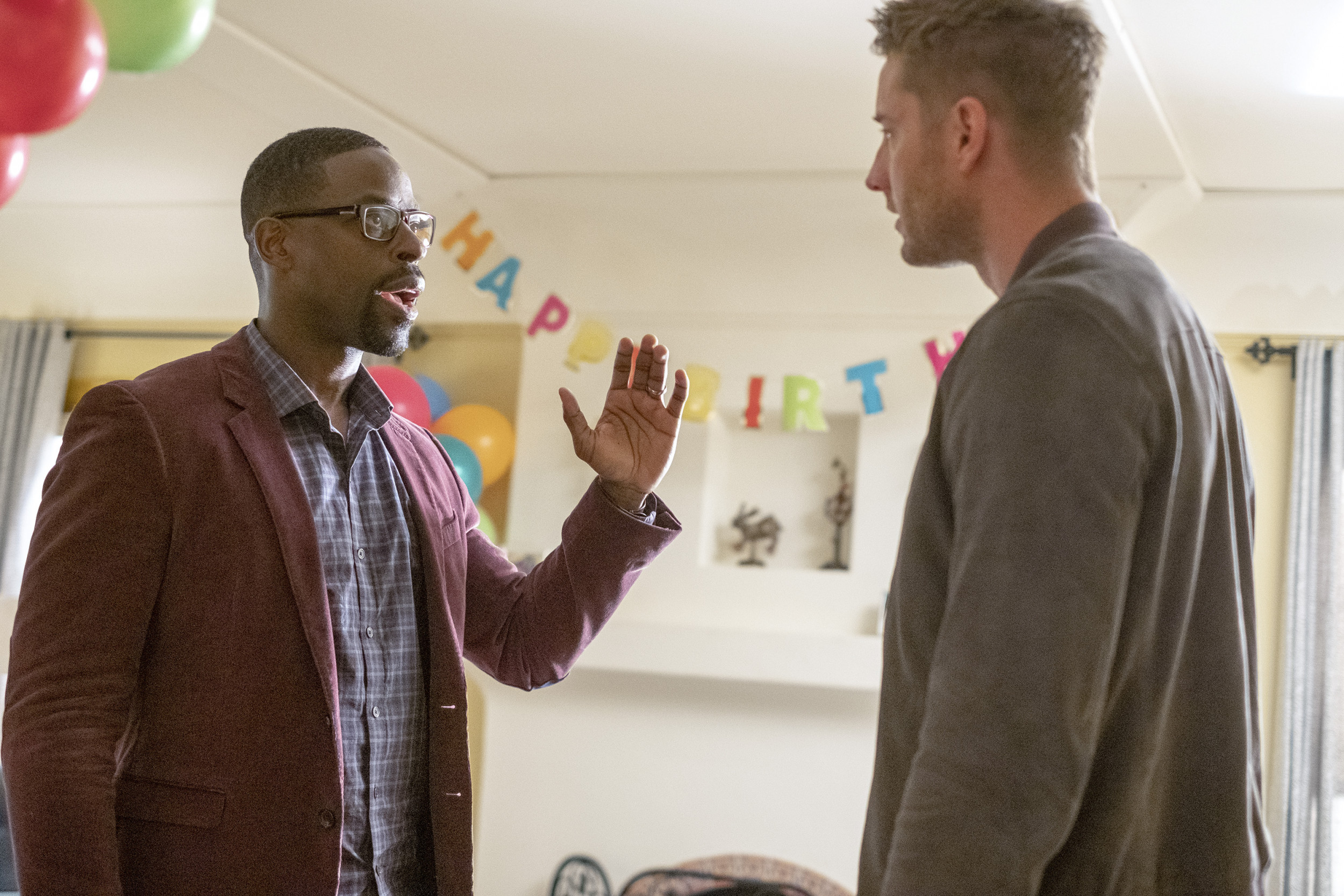 It's the moment This Is Us fans have been waiting for since December: the explosive argument that will drive a wedge so big between Randall and Kevin that the brothers won't speak for years.
The upset between Randall (Sterling K. Brown) and Kevin (Justin Hartley) was first foreshadowed during the Season 4 midseason finale. A flashforward scene teased the Pearson kids coming together for what may have been their final farewell to the family matriarch Rebecca (Mandy Moore). However, it was revealed during the scene that Randall and Kevin hadn't spoken in quite some time.
When the show returned from break in January, fans were anxious to learn what caused the brothers' fall out.
So far throughout the show, little nuggets in the storyline have hinted at the brother's soon-to-be-broken ties, but viewers will finally get to see the argument that causes the final dispute when This Is Us Season 4 finale airs on Tuesday night.
A sneak peek of the finale, titled "Strangers: Part Two," previewed what's sure to be an emotional episode when the Pearsons gather for baby Jack's (Wells and Poppy Barnes) first birthday. Dr. K (Gerald McRaney), Rebecca's neurologist, is back in the clip and sings a little tune while a montage of scenes depicts important moments like a sweet flashback of Rebecca and her late husband Jack (Milo Ventimiglia), Kate (Chrissy Metz) and Toby (Chris Sullivan on their son's birthday, a flashforward of grown-up baby Jack (Blake Stadnik) preparing to welcome his first child and Kevin and Randall yelling in a front yard.
You can't hear what the men are saying in the video, but it's very obvious that they are yelling.
More than likely, their verbal confrontation has something to do with something the men have already clashed over earlier in the season, albeit not to the point where their relationship was ruined.
A second sneak peek of the Season 4 finale revealed Randall was still planning on having their mother participate in a test trial for Alzheimer's patients in St. Louis—an effort she previously turned down—but Kevin was still not aware of their mother's apparent change of heart. Randall's wife Beth (Susan Kelechi Watson) doesn't seem to agree with Randall's secret tactics that convinced their mother to agree to the test trail.
"I think that your mom made her decision. I think that the tactics you used to get her to change her mind are hmmmm," Beth said in the clip. "I mean, did she even tell your brother that she changed her mind? Because that—that's gone be something."
Kevin was already furious that Randall even told Rebecca about the trial test during his movie premiere night. Beth is probably right that her brother-in-law won't be happy when he learns Rebecca has decided to go after all.
Watch it all go down when This Is Us Season 4 finale airs on NBC on Tuesday at 9 p.m. ET.