What to Expect on 'This Is Us' Season 4 Premiere: Remembering Everything That Happened in Season 3 Finale
This Is Us did a great job of tying up loose ends surrounding the Pearsons during the Season 3 finale. At the same time, though, the award-winning NBC drama series managed to generate even more questions about what's in store for the beloved family when it ended with a telling flash-forward into the future.
Many of those questions will still be left to linger when Season 4 premieres on Tuesday, however, the new season will kick off with a few key episodes that are crucial to every member of the Pearson family and their individual futures.
Season 3 left off with Randall (Sterling K. Brown) and Beth (Susan Kelechi Watson) finally getting on the same page with their marriage. After spending much of the season arguing, they determined the best way for them both to be happy was by moving to Philadelphia, where Randall will become a city councilman and Beth will open up her dream dance studio.
Meanwhile, Randall's brother Kevin (Justin Hartley) and his girlfriend Zoe (Melanie Liburd) weren't able to compromise on their ideas for the future—of which Kevin hoped to one day become a father while wanting children was a dealbreaker for Zoe. So they decide to call it quits on their relationship altogether.
Kate (Chrissy Metz) and Toby (Chris Sullivan) also see their present-day storyline wrap on a high note after they finally got to bring their premature son, baby Jack, home.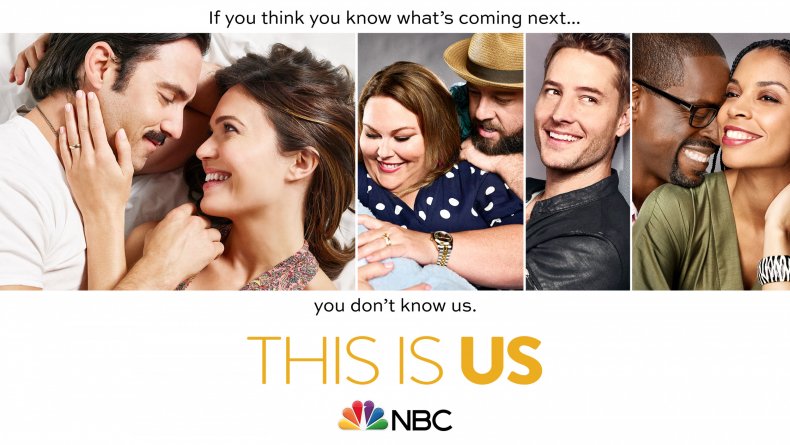 Then came the flash-forward that seemingly revealed Beth and Randall's continued future together, Kevin as a dad (who's the mother and where is she?), and Toby possibly separated from Kate. Baby Jack was still alive though.
As for the Pearson family matriarch, Rebecca (Mandy Moore) is still alive in the future—albeit a more elderly version of herself. The flash-forward also appeared to hint at her flailing health as her children enter her sleeping quarters within Kevin's lavish mansion and Randall introduces himself as her son during the final moments of the season. An elderly Nicky (Griffin Dunne) shocked many fans when he appeared at her bedside. Rebecca's second husband Miguel (Jon Huertas), however, is nowhere in sight.
Eventually, all the questions fans have about the characters will be answered, just not as soon as they would probably like them to be. Show creator Dan Fogelman noted Season 4 would pick up not focusing on the future, but rather, shedding more insight on the past—particularly back in the 1970s when Rebecca's husband Jack (Milo Ventimiglia) first met her parents.
"It's a time period we just love going to," Folgelman told Entertainment Weekly in an interview released Tuesday. "We know so much about [Jack] as we know so much about what happens to that family, and to be able to go back in time and learn an origin story of this beloved couple is so, so exciting for us. That's a big part of our season—the relationship with Rebecca's family and Jack. Jack is a little bit from the other side of the tracks, compared to Rebecca's family, and he's entering this world that is unfamiliar to him at a crossroad point in his life just weeks after meeting the woman who changes everything for him."
The new season will also dive more into the life of Jack's brother, Nicky, both in the present and in the past.
The Pearson kids will be up to their usual present-day shenanigans. Randall and Beth's marriage will still be in good standing—Fogelman told The Hollywood Reporter that fans saw worst of their relationship in Season 3—but they'll have their growing daughters to deal with, while Kate and Toby get a crash course in parenthood. The newly single Kevin will be buried in work when a potential new movie role is presented to him.
There's also a few new faces making their debut on This Is Us Season 4. Omar Epps and Jennifer Morrison both have recurring roles on the show, although details about their characters have been limited.
This Is Us returns to NBC with Season 4 on Tuesday at 9 p.m. ET.