Randall and Kevin's Big Feud Teased in 'This Is Us' Episode 16 Sneak Peek
Since This Is Us Season 4 returned from winter break, fans have awaited the to find out the cause of Kevin and Randall Pearson's epic feud. Well, on the upcoming episode of the NBC drama series on Thursday, we'll finally get to see how their falling out came about.
According to the show synopsis, Episode 16, titled, "New York, New York," some members of the Pearson family go to New York City. Meanwhile, an episode sneak peek reveals what brings the family matriarch Rebecca (Mandy Moore) and her son Kevin (Justin Hartley) to the Big Apple: He is granting his mother's wish and taking her to the red-carpet premiere of his latest film.
Previously on the show, Rebecca made her son promise not to treat her any differently after a doctor revealed that her mild cognitive impairment is likely due to Alzheimer's disease. She also asked if she could accompany Kevin to a movie premiere like the way Matt Damon brings his mom to red-carpet events. Determined to remain the fun son, Kevin helps his mom get all dolled up for her red-carpet debut and dresses her in a purple sequined gown that even her "spirit animal" Helen Mirren would envy.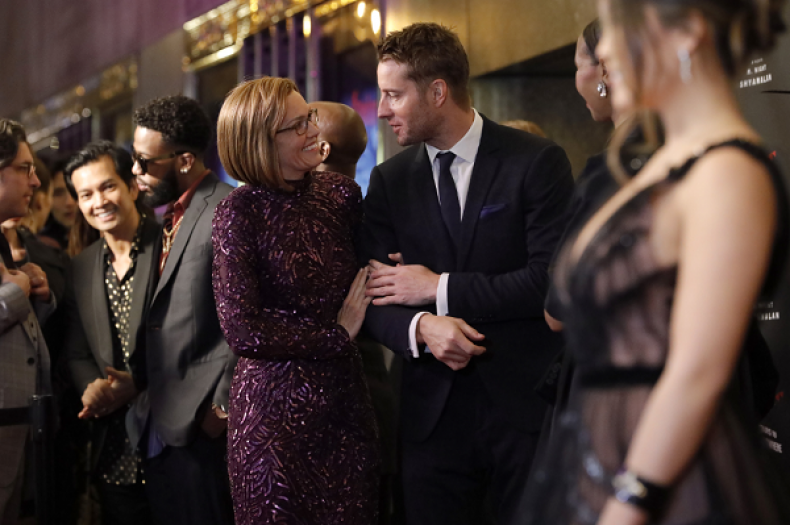 As dashing as the mother-son duo appear in the clip as they wave to at the flashing photographer lights on the red carpet, the event won't necessarily end in smiles. Hartley told TVline in an interview released Friday that despite Kevin and Rebecca's "good weekend," a "pressing event that's happening that is sort of time-sensitive kind of casts a show or a dark cloud over the weekend."
The event may be referring to Randall's (Sterling K. Brown) unexpected appearance in New York during the episode.
In the sneak peek, Randall pops up at the event and at some point, an argument erupts between the brothers. This is what some fans have long theorized since their feud was first teased in a flash-forward scene in the midseason premiere: Randall and Kevin's dispute, which will eventually cause the brothers to stop talking to each other, will begin with a disagreement over their mother's care.
"I've been taking care of mom for 20 years," Randall says in the clip.
Kevin's response is a punch to the gut: "Wrap your brain around the fact that maybe, just maybe, I actually know what's good for our mother."
And just like that, the beginning of the end of the brother's relationship is here.
This Is Us airs on NBC on Tuesday nights at 9 p.m. ET.