How Tonight's 'This Is Us' Premiere Will Address the Coronavirus Pandemic
A lot has changed in the world since viewers last saw Randall Pearson and his siblings on This Is Us. Countless Americans have spent the past seven months dealing with the ongoing coronavirus pandemic, practicing social distancing and wearing facial coverings every time they leave the house. Well, apparently, the Person clan has been taking precautions, too.
When the NBC show returns with its Season 5 premiere on Tuesday, fans will get to see what the Big 3—Randall (Sterling K. Brown), Kevin Pearson (Justin Hartley) and Kate Pearson (Chrissy Metz)—have been up to while the country's been under lockdown. From the looks of the Season 5 trailer (above) and various other clips that have surfaced online ahead of the premiere, they too have been navigating life amid COVID-19.
One clip, in particular, released by EOnline on Tuesday, teases the very moment when Randall and his family realize that it's time to take the virus more seriously: Tom Hanks and Rita Wilson's COVID-19 diagnosis.
Randall wraps up a phone call with his mother Rebecca (Mandy Moore), who tells him she'll be quarantined at their family cabin now that the clinical trial for her cognitive impairment is postponed. His daughters Deja (Lyric Ross) and Annie (Faithe C. Herman) are at the breakfast table talking about the virus and whether or not it can be contracted just by touching your face. Meanwhile, Beth is glued to her laptop when she makes the shocking discovery.
"Holy crap. Tom Hanks got it," she gasps.
Rocked by the news, Randall rushes to call his sister because, you know, Kate loves the Forrest Gump actor. The expression on Beth's face, however, seems to insinuate that she doesn't think that's the best idea. Has Randall not spoken to his sister since his big blowout with Kevin?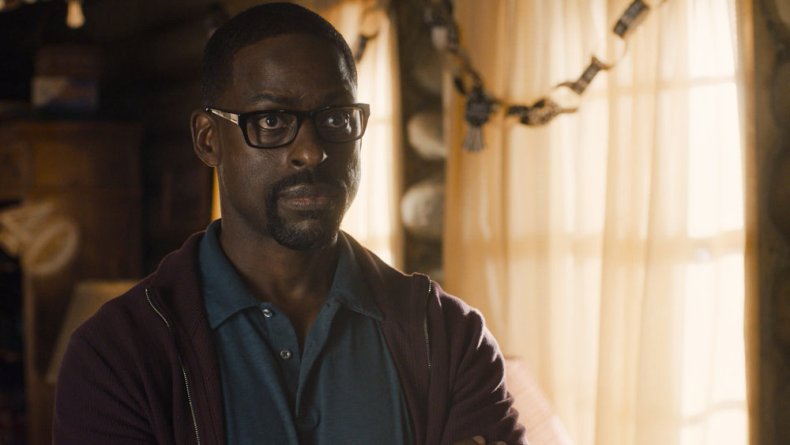 Hanks and his wife Wilson were the first celebrity couple to confirm their coronavirus diagnosis in March, just weeks before most of the country began quarantining. The movie star's plight with the virus won't be the only COVID-19 moments captured on the This Is Us screen. Before production for Season 5 began, creator Dan Fogelman told fans on Twitter in August that This Is Us would "attack" coronavirus head-on. There's even a moment in the trailer when Kevin wears a face mask while standing outside.
Coronavirus aside, there are a few more major things to note about the Season 5 premiere. For starters, the episode is set during the siblings' 40th birthday—although it appears that Randall will not be celebrating the big day with Kate and Kevin. (In the trailer, the twins are celebrating together.) And at some point during the two-hour event, Randall and his brother will come face-to-face for the first time since their Season 4 finale fight.
This Is Us Season 5 premieres on NBC on Tuesday at 9 p.m. ET.