'This Is Us' Season 5 Return: What's Next for the Pearson Family in Episode 5?
It's been nearly two months since This Is Us left viewers wanting more with the Season 5 fall finale, but fans are finally about to be reunited with the beloved Pearson family.
The last time viewers saw The Big Three—as siblings Randall (Sterling K. Brown), Kevin (Justin Hartley) and Kate (Chrissy Metz) are commonly referred to on the show—they were putting together the puzzle pieces of their lives, revealing new secrets and experiencing major breakthroughs in their own individual lives.
A routine doctor's appointment with her prospective child's birth mother led Kate to come clean to her husband Toby (Chris Sullivan) about her own past teen pregnancy.
Meanwhile, flashbacks of the Pearson matriarch Rebecca (Mandy Moore) coddling young Kevin and nurturing his quickness to quit connect to adult Kevin getting over a hump in the present day. Instead of quitting or sulking when a conversation with the director of his latest film leaves his ego wounded, Kevin takes it on the chin and pulls a play from his past, leaning on his brother's old color-coded system to nail the script and get the job done. It's a little trick he picked up from Randall during their childhood that came in handy when he was on the brink of quitting little league football because he couldn't get the plays.
As for Randall, the viral live-stream moment that Malik (Asante Black) captured while shadowing him caught the attention someone who may have answers about his paternal parents.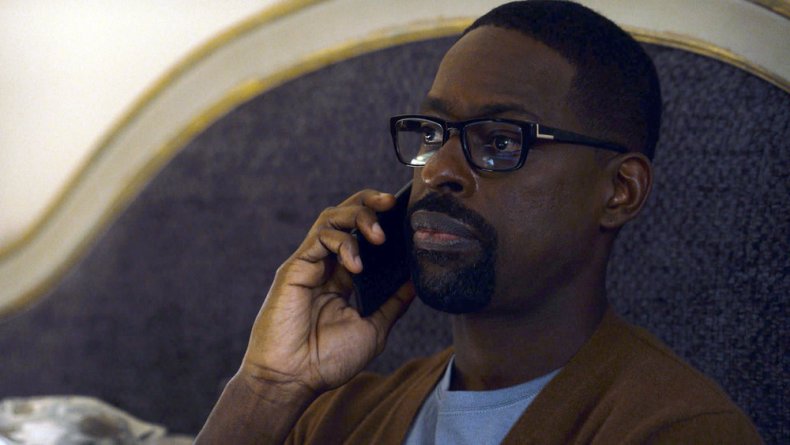 Fans can expect that Season 5 will pick up where it left off—addressing Kate's past and her painful pregnancy revelation to Toby.
"This isn't going to be a lingering mystery," executive producer Isaac Aptaker told Entertainment Weekly in an interview published Monday. "We pick up immediately into that conversation with Kate and Toby right when we come back from the break, and then we're going to explain the story of what happened."
From the looks of the Season 5 winter premiere sneak peek, the aftermath of Randall's viral moment will have an unraveling effect on his life, and it may lead him to discover new information about his birth mother.
"A man submitted a form to get in touch with me," Randall says before reading a letter to his wife Beth (Susan Kelechi Watson) in the episode 5 preview clip. "'I believe I knew your mother.'"
He adds: "My father told me she died after I was born. How could William lie to me, Beth?"
Kevin, on the other hand, will be facing family struggles of a different kind. In the same clip, he's gearing up to travel to a new set location, and Madison (Caitlin Thompson), the one-night-stand that has since become his baby's mama, is not pleased with his decision to up and leave when she needs him most.
"You made a commitment to a lot of people but you also made a commitment to me and these kids," she snaps at him in the trailer.
This Is Us returns to NBC with Season 5, episode 5 on Tuesday at 9 p.m. ET.