When Will 'This Is Us' and 'New Amsterdam,' Return? These Shows and More Will Not Air Due to Trump's State of the Union Address
If you were hoping to catch up with the Pearson family on This Is Us this week, you'll have to wait. The award-winning NBC series will not air during its usual time slot on Tuesday night. In fact, many shows across broadcast networks will take a brief hiatus this week.
ABC, CBS, Fox and NBC will not air shows that typically run during the 9 p.m. ET and 10 p.m. ET time slots on Tuesday to accommodate President Donald Trump's third State of the Union Address. The address is expected to begin at 9 p.m. ET and will air live on the major broadcast networks in addition to cable news networks.
The president is expected to highlight his 2020 campaign theme of the "Great American Comeback," according to CNN, and touch on his campaign's five focus areas, including blue-collar workers, helping and supporting American families, reducing health care costs, and policy surrounding immigration and America's borders.
Along with This Is Us, NBC's New Amsterdam will also take a break in addition to CBS series FBI and ABC's black-ish, mixed-ish and Emergence. Fox will still air Gordon Ramsay's 24 Hours to Hell and Back, however, the restaurant reality series will start at 8 p.m. ET instead of its usual 9 p.m. airtime.
All shows are expected to resume their regular air times next week on February 11.
This Is Us will pick up with the final installment of The Big Three trilogy episode titled, "A Hell of a Week: Part Three, which will predominately focus on Kate (Chrissy Metz) as she "finds strength in unexpected places," according to the episode synopsis.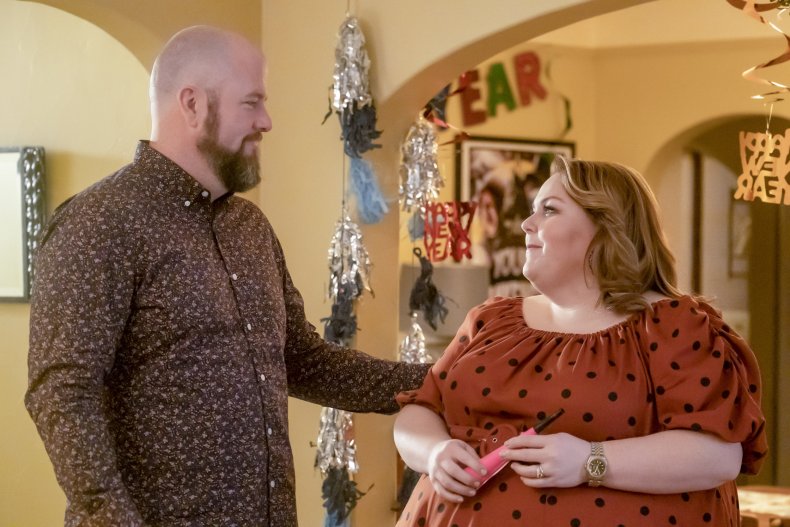 Kate and her siblings Randall (Sterling K. Brown) and Kevin (Justin Hartley) will take a trip back down memory lane when they visit the cabin where they spent their childhood summers. The flashback is expected to shed some light on an experience Kate faced as a teenager and provide some insight as to why her present-day marriage is nearly imploding.
The episode will also reveal what causes the rift in Randall and Kevin's relationship that was foreshadowed in the flash-forward during the Season 4 midseason finale. Whatever ensues between the brothers will have life-altering effects, according to Hartley.
"It's big. No, it's big, big," Hartley told Entertainment Tonight in an interview released on Tuesday. "It's more than a misunderstanding. I think it's a philosophy. It's like, 'This is how you handle your life and this is how you deal with things and this is what you think. I go about my business a different way,' and they just can't [see eye to eye]."