This Veterans Day, Remember the Veteran Caregivers | Opinion
Many veterans will spend this Veterans Day attending parades commemorating their military service. Others, concerned about the pandemic or perhaps battling PTSD, may not go out at all. But for most of our ill or injured veterans, no matter where they choose to commemorate this day, there will be a caregiver by their side. We, the caregivers, are there in times of celebration, tribulation and all of the beautiful moments in between.
There are 5.5 million of us in the United States caring for aging, injured or wounded veterans. And 1.1 million of us provide care for post-9/11 veterans. Nearly a third of us are under the age of 30. And there are some things we'd like you to know about us.
For starters, this Veterans Day is extra tough. For caregivers and veterans of the post-9/11 generation, today brings a lot of extra tough emotions. Over the past two years, veterans and their caregivers have felt the compounding stress and isolation foisted on them by the COVID-19 pandemic. This year, we wrestled with feelings brought on by the 20-year anniversary of the 9/11 attacks. We confronted, head-on, the emotional toll of the withdrawal of U.S. forces from Afghanistan. Many of us still have questions. Questions like, now that America's War in Afghanistan is over, how can we ensure that post-9/11 veterans are cared for as a whole? And can we assure them that their sacrifices matter and they're never forgotten?
Moreover, post-9/11veterans have an increased need for caregivers. The newest generation of veterans have disability rates significantly higher than those of previous generations.
Around 41 percent of those who served after Sept. 11, 2001 have disability ratings from the Department of Veterans Affairs. That's nearly twice the disability rate from previous wars. This is because where previous service members may have died in combat, thankfully, many of our loved ones survived. Every day, we're grateful that battlefield medicine saves more lives than ever before. But many of our service members still came home with physical wounds and invisible wounds of war — including traumatic brain injuries and post-traumatic stress disorder.
Tending to invisible wounds is both complex and challenging. Looking ahead, the percentage of post 9/11 veterans who will need caregivers is expected to grow.
Here's another thing we'd like you to know: You may not know that you're a caregiver to your young veteran. I am one of those caregivers who didn't know I was a caregiver until someone else identified me as one.
When my Marine husband was at the Wounded Warrior Battalion, a nurse asked me if I was his caregiver. "No, my husband's young." I said. "I'm just his wife."
"You're probably both," she very kindly corrected me.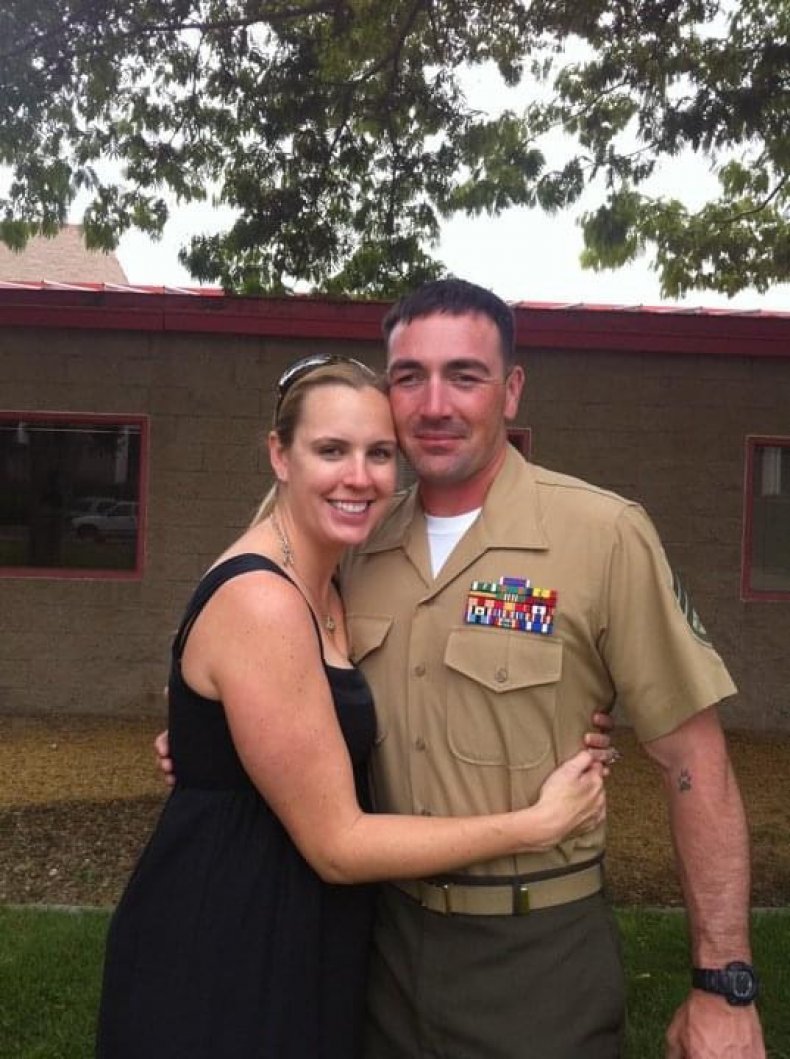 As a young wife with a 3-year-old child, a lifetime of caregiving fell in my lap at a moment when I already had a lot on my plate. But caregiving isn't just for the elderly. Many of us are younger than generations past. We are military spouses, parents or even battle buddies. Oftentimes, we're parents who step up serve as life-long caregivers for their veteran kids, many of whom were injured incredibly young while serving and never married.
And military spouse caregivers are often balancing young kids, caring for aging parents and a permanently disabled veteran. And while our roles are more critical than ever before, so much of our work remains unseen.
This is why if you're a caretaker to a veteran, it's really important to surround yourself with outside support. If you've just realized that you're a caregiver, I'd encourage you to drop any stigmas you may have. Start with simply acknowledging the tasks that you're already doing each day. Our roles are so varied, they include daily tasks such as medication management, health care coordination, emotional support and more. And we make sure that veterans engage with their communities and live life to the fullest.
Connect with people that just get it and won't need a full back story. They simply know what you mean when you say you're waiting on a medical call or you're having a tough day. Their words of wisdom may buoy you in a way nothing else will. The night after the nurse called me a caregiver, I went home and searched "military caregiver." Right then, an entire world opened up. I found people living this same life.
My caregiving journey began 10 years ago and today I'm proud to serve as the Director of the American Red Cross Military and Veteran Caregiver Network. Daily, I connect caregivers with each other and critical resources to help their families. I'm proud to have helped more than 8,200 people in need through peer support, online resources, mental wellness workshops and more. I'm tremendously proud of the work we do at MVCN.
And the thing that matters most is finding that support system that can just listen, validate and care for you and your veteran.
Because what we do is so important. Our veterans are proud of their service. They don't feel that their ability to serve ends after leaving the military. And they don't want their best days behind them just because they're physically or invisibly wounded. They want to continue to serve their local communities.
And so many veterans are able to do so because of our role as caregivers. We're proud of their military service, but who they are today fills us with pride in new and meaningful ways too.
Today, you can't talk about post-9/11 veterans without talking about veteran caregivers. More than any generation before, we are woven into the fabric of the veteran experience. And more than any time before, we value strong community support.
Melissa Comeau is a proud veteran caregiver and mom living in Southern California. She is the Director of the American Red Cross Military and Veteran Caregiver Network.
The views in this article are the writer's own.