This Video of a Mom Reuniting With Her Kids After Weeks of Caring for Coronavirus Patients Will Warm Your Heart
You're going to want to grab some tissues for this one. A healthcare worker mom recently reunited with her children after being away from them for nine weeks to care for coronavirus patients, and their embrace was caught on video. It's the sweetest thing you're likely to see all day.
The video of the heartwarming greeting surfaced on Reddit's r/aww thread. It was posted by u/Thund3rbolt, who does not seem to be associated with the video directly. As seen below, the clip shows the mom's two daughters watching a television show or movie on a laptop outside. Behind them, their mother sneaks up and props her head behind them.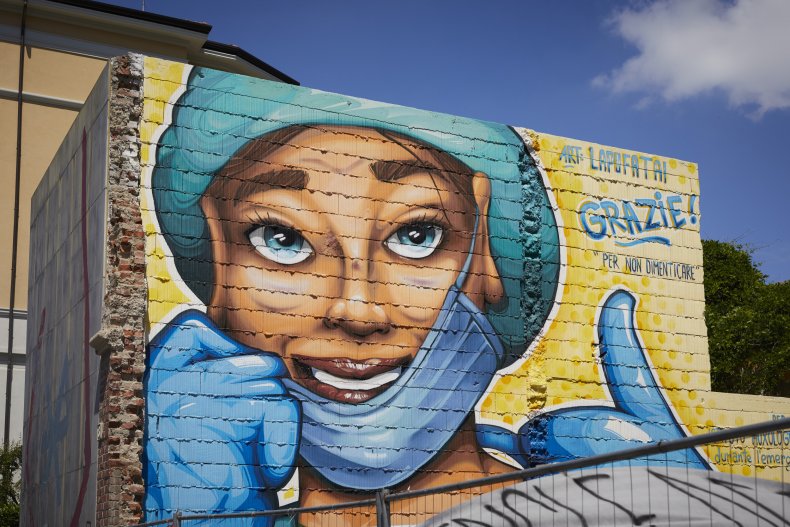 The girls are oblivious for a few moments, but eventually one of them notices that their mother is resting her head just inches behind them. "What are we watching?" the mom asks, sending her daughters into tearful excitement.
A long hug is shared, and they're all accompanied by a very excited, adorable dog who also wants to get in on the family moment.
It's no stretch to say the internet loves the family and the moving video. The post has over 117,000 upvotes on the r/aww subreddit, a great feat. It's also been given a list of awards. Some of those include a Super Hearts award, a Gold Award and a Wholesome award.
Reddit users were thrilled with the video's wholesome content and commented on the daughter's reactions. Many agreed that nine weeks likely felt like an eternity for the young daughters, who don't have an adult concept of time. "9 weeks at that age feels like a LONG f****** time," wrote u/Lidanian. "In the UK the 6 weeks holiday between school years, felt longer then what 365 days currently feels like at 30."
Another echoed the point. U/farm_sauce wrote: "Every day that you get older, a 24 hours day feels shorter relatively to the time you have experienced. When you're 1 day old, that first day is impossibly long, because you have no reference for what a day should feel like!"
Someone else sympathized with the mom, writing that it must've been hard to be away from her kids for so long.
"I can't even imagine what it's like these for these health care professionals and others who are being cautious and safe by staying away from their kids," wrote u/HowDoIEditMyUsername. "Knowing how personally painful it must be for them gives you an extra appreciation for all that they're doing. I cried after coming home after a week. I can't even imagine what this must have been like for that mom."
This family is just one of many that faced separation due to the coronavirus pandemic. The respiratory illness has infected more than 6.4 million people globally, according to the John Hopkins Coronavirus map on Wednesday, and has killed more than 381,000 people.