This Was the Celeb Eliminated on 'The Masked Singer' Season 4, Episode 5
Group C finally got their time to shine on the fifth episode of The Masked Singer Season 4 on Wednesday, but as exciting as the night of performances were, not everybody was able to move ahead in the competition.
Squiggly Monster, Mushroom, Jellyfish, Broccoli and Lips all put on quite the show during their Masked Singer debut, but it was Lips that wound up being eliminated.
Dressed up in a big costume of a pair of red, sparkling lips, the contestant delivered a fun and energetic cover of the Odyssey hit song, "Native New Yorker." While a considerably enthusiastic performer, Lips was no singer. She could barely hold a note. However, she was pretty entertaining to watch, especially during the end of her performance when she burst into laughter and let out a snort. "Oops," she giggled.
Panelist Ken Jeong, Jenny McCarthy, Nicole Scherzinger and Robin Thicke thoroughly enjoyed watching Lips rule the stage.
"I love you, Lips because you are unapologetic. You are living. You're like, 'I don't even care the notes, honey. I'm just gonna live here in my truth.' I love that you had such a good time," Scherzinger said.
McCarthy agreed that Lips put on quite the performance.
"This is what the show is all about: people stepping out of their comfort zones. I thought she was fun and did an amazing job," she said.
Based on Lips' clue package, the panelists had some pretty good ideas about who the celeb hiding behind the mask was. All the neon lights, roller skates and 70s disco imagery scattered around Lips' clue reel got Thicke thinking Sandra Bernhard was the one posing behind the mask, while all the comments about speaking her truth and having a big mouth gave McCarthy and Scherzinger the impression that it may have been Wendy Williams performing as the Season 4 contestant.
For his first impression guess, Jeong suggested that it may have been host Nick Cannon's ex-wife Mariah Carey—which is laughable considering the not-so-great vocals Lips delivered—however, he switched his guess to Allison Janney.
Lips shocked everyone when she pulled off her mask and proves McCarthy and Scherzinger were right—it's Wendy Williams.
"I can't sing. I can't dance, but I know how to have fun," Williams said about her desire to come on the show.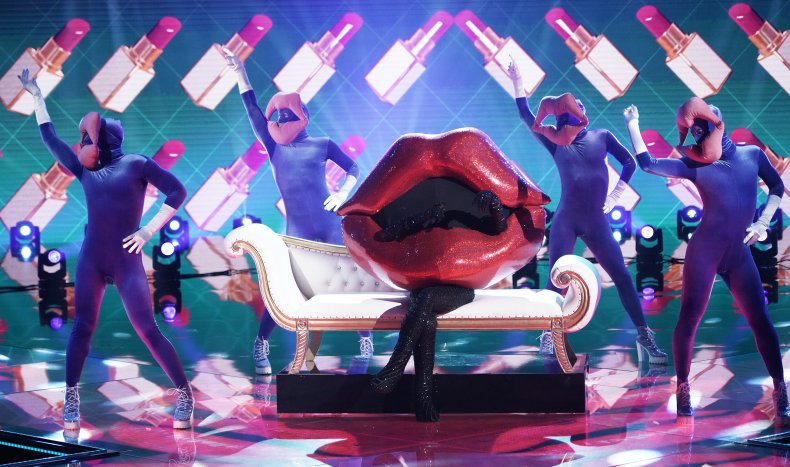 While everyone was shocked by the big reveal, Cannon was particularly surprised, especially considering the fact that he recently had a long phone call with Williams just days before her performance.
"Nick, we were on the phone for quite some time," Williams said. "We talked about mature grown-up stuff."
Along with Williams, Mark Sanchez, Brian Austin Green, Mickey Rourke and Busta Rhymes have been eliminated from Season 4 of The Masked Singer so far.
The Masked Singer airs on Fox on Wednesdays at 8 p.m. ET.