'This Is What It's Actually Like to Be Non-Monogamous'
On July 25, 2009 I was at home with my husband. Though it was more than a decade ago, I can vividly remember the lightning that filled the sky, the thunder that roared through the air and deep rumblings that shook the ground. Because that day, something awoke within me.
My husband and I had tried for years to start a family, but on that day I began to wonder whether my desire for a child wasn't actually about creating a new life outside of myself, but was a need to create a new life for myself.
I married when I was 22, to the first man I had a significant relationship with. Growing up I experienced homophobia and negativity around sex, which had the effect of squashing my queer desires and propelling me into a futile attempt to fulfil the heterosexual monogamous "dream."
Yet I knew I was attracted to women and desired multiple partners. I hoped those desires would evaporate when I experienced the "magic" of matrimony, but they never did, and for years I battled with depression and shame around my sexuality.
On that day of the storm, I had a realization that I had never really felt seen, understood, and loved for who I truly was—and that needed to change.
My husband and I separated, and within a few weeks I embarked on my journey with polyamory, a way of having multiple relationships in an honest, consensual way. I joined some Facebook groups, set up a dating profile, and didn't look back.
Confronting the mythology about romance I'd grown up with came quickly: if I was drawn to multiple partners and it was okay to feel that way then maybe there was no such thing as a soulmate or "the one"?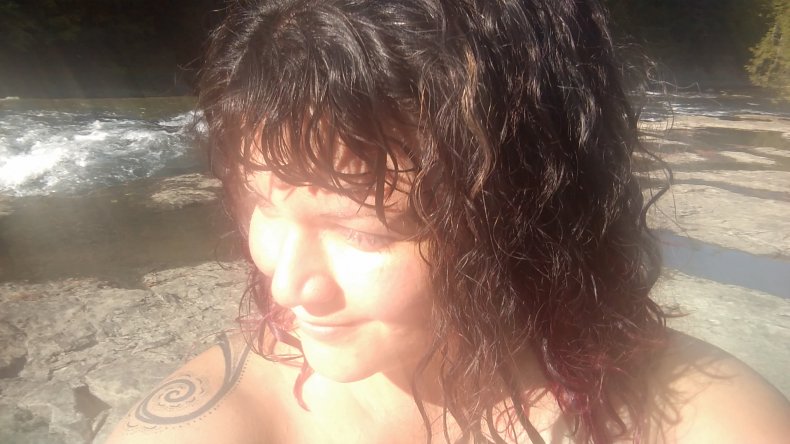 I wondered what it would look like if I took over that "soulmate" role and became my own "primary" partner. After years of putting my desires aside, prioritising myself felt bold, radical, and empowering.
I embraced a new identity—solo polyamorous. I felt like a kid in a candy store, and I wanted to date as many different people as possible. I was finally exploring all the diversity of my sexuality; I was dating women, and men; I was having threesomes, and group sex; I was falling in love and having my heart broken.
I loved dating folks who were in open marriages, where there was no pressure to become any more significant in their lives than I wanted to be. In 2014, I drove to Burning Man festival with one of my boyfriends and his wife, and on the drive home when our vehicle broke down multiple times, we bonded. On my birthday, my lovers would come together to celebrate me by co-creating ultimate nights of pleasure and sensuality.
My life became a whirlwind of excitement. Being my own primary partner, free to put my needs first, I felt safe to adventure. But though I was happy with my choice, I still struggled to feel seen, understood, and loved.
And then came along a relationship that changed all of that.
I met Peter at a polyamory discussion night, and we quickly hit it off. Truth be told, we had met before at a party, but I didn't recognise him with clothes on—and told him so. Like me, Peter identified with solo polyamory. He wanted connection, but not codependency and romance without enmeshment. We were both tender from recent breakups and in one another we found a deep sense of connection and belonging.
Peter and I would see each other once or twice a week. I knew things were serious when he put aside space in his home for me to keep some things: all his partners had a box to keep a change of underwear, and we each had our own toothbrush in his bathroom. Peter was incredible at making my other partners feel welcome and would even invite them on camping trips with us.
With Peter I felt I could be fully myself for the first time in my life. I felt seen, understood, and deeply loved. Sorrow from my marriage was remedied by the passionate and grounded way Peter loved me. Being with Peter allowed me to open up, and I realized that being my own primary partner was not a substitute for being really seen by another.
Mutual friends of ours had started a weekly polyamory community group, where relationship conflict was resolved by bringing it to the whole community to invite reflections and support for resolution. Say you'd been struggling because your partner was seeing someone new. You'd stand in the circle and talk about that, and the group leaders would help you pinpoint what was at the root of what you were feeling—maybe you were jealous? Maybe you didn't feel safe?
We joined, and I began to feel seen and understood not just by Peter, but by the people in this community. I finally experienced what it was like to be loved and accepted on a wider scale, and realised this was something I had been missing in my solo journey.
Being in this community, along with other people we were dating, had challenges. While there were many beautiful moments of connection, conflicts arose regularly.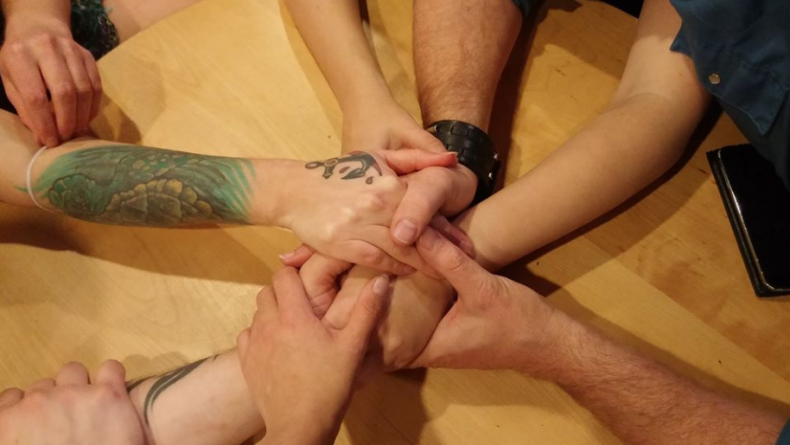 Some of the folks in the group were very new at polyamory, while others had been doing it for a long time and had very set ideas about how people in polyamorous relationships should behave. The clash between the experienced and the newbies led to friction, including between myself and one of Peter's other partners.
When our own relationship conflict erupted into the open, and we sought community support, no one had the capacity to hold us and hear us.
I felt lost. My mental health deteriorated, so I made the difficult, but empowering choice to leave the group, and my relationship with Peter faded away.
I wondered why being part of that community had felt so good, and why it had fractured. The homophobia I experienced growing up taught me that acceptance was conditional to being straight and monogamous. And this community had celebrated my sexuality and relationships. But I realized my connection with them had been based only on our identities as polyamorists, not on the wholeness of who we were.
The thunderstorm those many years ago began a stormy journey, but it's one where I have finally found peace. Through my relationship with myself, I learned to honor my boundaries and take back agency in my life. Through Peter, I learned I feel seen, understood, and loved— not by enduring unfulfilling relationships— but by being with people who love and honor my boundaries, and love me even when life is messy. Through the community I learned how important it was to be understood and loved for who I am beyond polyamory.
What I thought would be a journey about my sexuality became a journey to community.
I eventually found the healthier, more diverse community that I needed. By being part of the global community of solo polyamorous people, facilitating a regular ecstatic dance event in my local area, sharing a home with dear friends, and having partners both near and far.
COVID-19 has created shifts in my relationship landscape. I have partners in Seattle, Denver, Boulder—and a crush in LA—that I don't know when I'll see again. But I have lovers and friends nearby, of all genders including; men, women, and trans/non-binary who I share intimate time with. And Peter? He and I have become close friends.
I've found multiple spaces where I belong and I finally feel seen and understood. I have a family. And I feel free to love and be myself— all of myself.
Polyamory isn't the only way to find this, but it's been the path for me. While monogamy was like a long walk up a steep hill that left me with blisters, polyamory has been a wild dance through wide open spaces and fascinating landscapes that I had never thought I'd ever experience.
I'm still happily solo polyamorous, and I'm excited to see what comes next.
Mel Cassidy is a relationship coach, sex-positive nerd and founder of Radical Relationship Coaching. She guides social misfits and cultural rebels to experiences of joyful, embodied, authentic open relationships. Mel lives on the unceded territories of the K'ómoks Nation in British Columbia, Canada, and is currently writing her first book about open relationships. Follow Mel on Facebook/Instagram/Twitter @radicalrelating
All views expressed in this piece are the writer's own.