With fear and misinformation spreading alongside the new coronavirus, a scientist has explained why a humble bar of soap is one of the most important weapons in our arsenal against the bug which causes COVID-19.
Soap wipes out viruses including SARS-CoV-2—the pathogen which causes the disease COVID-19 not to be confused with the SARS virus—because it is able to dissolve its fat membrane, explained Palli Thordarson, a chemistry professor at the University of New South Wales.
In a Twitter thread, Thordarson said this causes the virus to fall apart "like a house of cards" and become inactive (but not die as they aren't technically alive). Water alone isn't enough, according to Thordarson, because it "'only' competes with the strong 'glue-like' interactions between the skin and virus via hydrogen bonds. They virus is quite sticky and may not budge."
"Soapy water is totally different," said Thordarson. "Soap contains fat-like substances knowns as amphiphiles, some structurally very similar to the lipids in the virus membrane. The soap molecules "compete" with the lipids in the virus membrane."
And as our hands are "quite rough and wrinkly," we need to rub and soak them to make sure the soap reaches every part of the skin, he said.
Thordarson went on to address why soap works better to deactivate viruses than other products. "Disinfectants, or liquids, wipes, gels and creams containing alcohol (and soap) have a similar effects but are not really quite as good as normal soap. Apart from the alcohol and soap, the 'antibacterial agents' in these products don't affect the virus structure much at all."
"Consequently, many antibacterial products are basically just an expensive version of soap in terms of how they act on viruses. Soap is the best but alcohol wipes are good when soap is not practical or handy (e.g. office receptions)," he said.
Donald Schaffner, distinguished professor at Rutgers University and an expert in topics including handwashing, told Newsweek soaps also work to remove viruses from the hands as they wash them down the drain, while hand sanitizers inactivate virus already on the hands. "For an added 'one-two' punch you can use both," he said.
Contrary to some recommendations that hot water must be used when handwashing, Schaffner said the level of heat doesn't matter and people should simply use a comfortable temperature.
"People should practice washing all the areas of their hands, and perhaps give special attention to places where microbes may get trapped in dirt such as under the fingernails," he said.
Schaffner added: "Alcohol-based hand sanitizers are very effective against this virus. There are some viruses like norovirus, where hand sanitizers don't work as well." That's not the case with SARS-CoV-2 because of its structure, he said.
"Of course it doesn't help that many store shelves are sold out, but I would recommend getting a bottle to have on hand the next time it's available," said Schaffner.
The advice is in line with that given by the World Health Organization, which last month urged the public to "never underestimate the power of the humble bar of soap!"
"Washing your hands regularly—either with alcohol-based rub or ordinary soap and water—is one of the most effective ways to protect yourself and others from #COVID19 and many other diseases."
For more WHO advice of preventing the spread of COVID-19, scroll to the bottom of the piece.
The U.S. Centers for Disease Control and Prevention advises people to sing the Happy Birthday song twice, which lasts about 20 seconds, while washing their hands to ensure they are doing so for long enough to rid their hands of germs.
After you've washed your hands, don't forget to moisturise, Dr. Sara Hogan, a dermatologist at UCLA Medical Center, told Slate. That's because the practice can disturb the outer layer of skin which is made up of dead cells and protects our skin from dirt and microbes, and locks in moisture.
Dr. Evan Rieder, a dermatologist at NYU Langone told the website "really greasy" moisturizers and emollients are best, followed by creams and lotions which contain more water and are therefore less hydrating.
All this can help to stem the spread of the COVID-19, which has killed over 3,800 people in 111,000 cases worldwide, with more than 62,300 people recovered, according to a tracker run by Johns Hopkins University.
Most deaths have occurred in Hubei, China, where the outbreak started in the province's capital of Wuhan in December 2019. As shown in the map below by Statista the virus has reached every continent except Antarctica.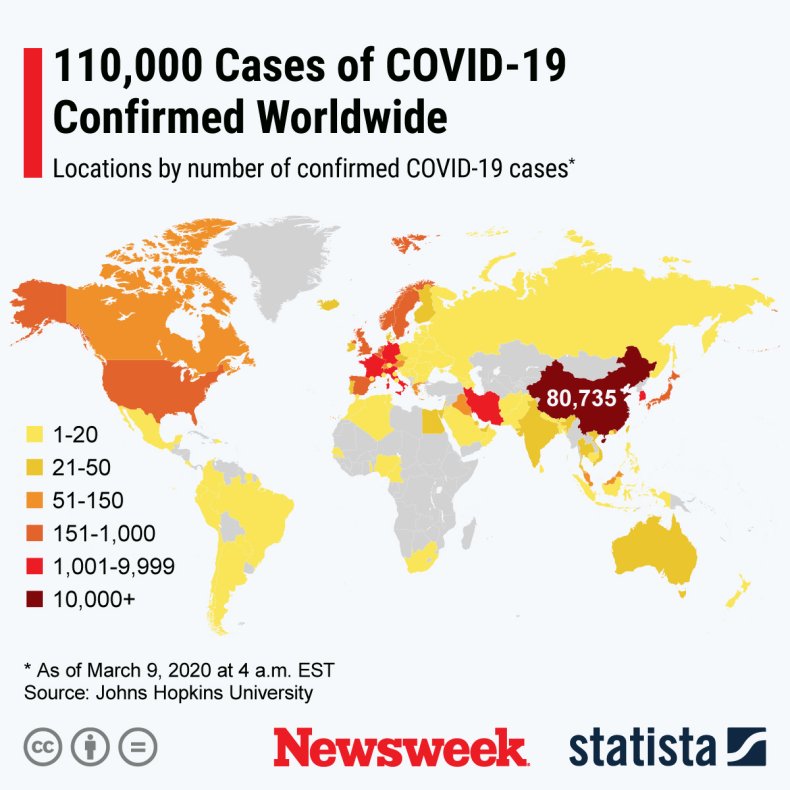 World Health Organization advice for avoiding spread of coronavirus disease (COVID-19)
Hygiene advice
Clean hands frequently with soap and water, or alcohol-based hand rub.
Wash hands after coughing or sneezing; when caring for the sick; before; during and after food preparation; before eating; after using the toilet; when hands are visibly dirty; and after handling animals or waste.
Maintain at least 1 meter (3 feet) distance from anyone who is coughing or sneezing.
Avoid touching your hands, nose and mouth. Do not spit in public.
Cover your mouth and nose with a tissue or bent elbow when coughing or sneezing. Discard the tissue immediately and clean your hands.
Medical advice
If you feel unwell (fever, cough, difficulty breathing) seek medical care early and call local health authorities in advance.
Stay up to date on COVID-19 developments issued by health authorities and follow their guidance.
Mask usage
Healthy individuals only need to wear a mask if taking care of a sick person.
Wear a mask if you are coughing or sneezing.
Masks are effective when used in combination with frequent hand cleaning.
Do not touch the mask while wearing it. Clean hands if you touch the mask.
Learn how to properly put on, remove and dispose of masks. Clean hands after disposing of mask.
Do not reuse single-use masks.
This article has been updated with comment from Donald Schaffner.
Uncommon Knowledge
Newsweek is committed to challenging conventional wisdom and finding connections in the search for common ground.
Newsweek is committed to challenging conventional wisdom and finding connections in the search for common ground.
About the writer
Kashmira Gander is Deputy Science Editor at Newsweek. Her interests include health, gender, LGBTQIA+ issues, human rights, subcultures, music, and lifestyle. Her work has also been published in the The Independent, The Independent on Sunday, The i Newspaper, the London Evening Standard and International Business Times UK.