While President Joe Biden and former President Donald Trump aren't fans of each other, the former president's picture is adorning one of the Christmas trees in the White House.
A photo of Trump and former first lady Melania Trump was hung on a Christmas tree in the State Dining Room of the White House. The picture is from 2018 when the couple received the official White House Christmas tree.
Although it may seem odd for Trump to be gracing a Christmas tree in the White House, it's in line with the theme first lady Jill Biden selected for the room. The overall theme of the White House's decorations is "Gifts from the Heart," with each room being dedicated to different "gifts" people receive throughout the year.
The State Dining Room is dedicated to the "gift of family." That includes the families people are born into, choose and create, according to the White House. In the spirit of family, the Christmas trees in the room feature ornaments with pictures of first families over the years.
"Each family who made this house a home reminds us all of the enduring love and lasting bonds of family," the White House said.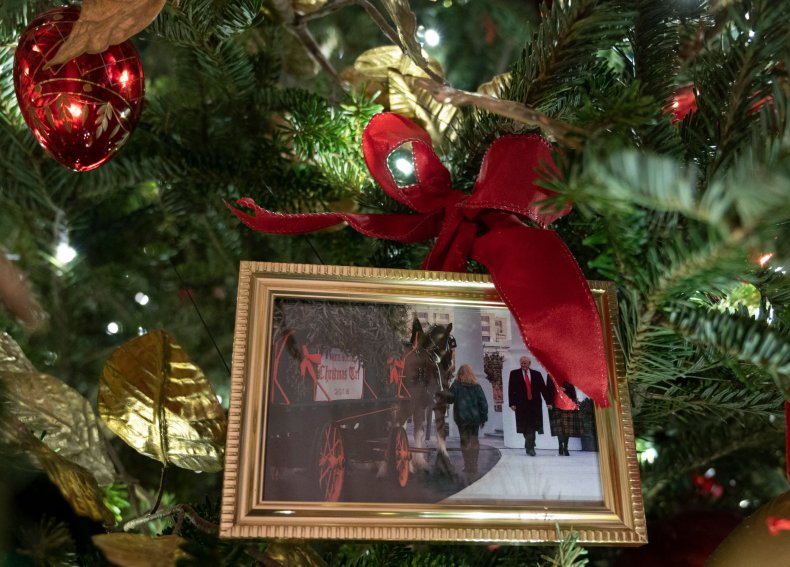 In keeping in line with the theme of first families, the Biden family has stockings hung on a fireplace that is engraved with the words of former President John Adams, "I pray heaven to bestow the best of blessings upon this house." Adams wrote the words in a letter to his wife, Abigail, in 1800, and they're now considered the White House blessing.
Much of the White House's Christmas theme centers around the ongoing pandemic. While the outbreak has meant that many families and friends have been forced to limit their time together or not see each other at all, the White House noted it also "reminded us that our time together is precious."
Along with honoring the former first families, the State Dining room also pays tribute to the frontline workers who carried out their jobs despite the risk it posed to their families. The gingerbread White House display includes eight buildings that are designed to represent frontline workers and express "gratitude and admiration" for those who "kept our country running."
Completing the gingerbread house required 55 sheets of baked gingerbread, 120 pounds of pastillage, 35 pounds of chocolate and 25 pounds of icing.
While the State Dining Room is dedicated to the joy of family, other rooms honor the gift of service, learning, visual arts, friendship, gratitude, nature, peace and unity, the performing arts and faith and community. The White House also continued the tradition of the Gold Star tree, which honors the men and women who gave their lives in service to their country and their families who "carry on their legacies."