This is the Worst Crisis I've Seen in Haiti | Opinion
I recently had to sleep in my office in Port-au-Prince because it was too dangerous to go home. Unchecked gunmen in Haiti's most powerful gangs have taken control of streets throughout the city. They are right outside my office building, blocking roads with barricades set on fire. Government agencies have been attacked and neighborhoods burned down, leaving civilians homeless, without access to clean water or food, or worse: lying dead on the street. Women are being abused publicly to intimidate others. The terrible list goes on.
This is the most desperate and violent situation I've ever seen in my country, and I say that as a Haitian who lived through 2010's disastrous earthquake and subsequent cholera epidemic, through hurricanes and less-than-smooth changes in government.
For weeks, thousands of Haitians have taken to the streets violently protesting and calling for the resignation of Prime Minister Ariel Henry. Gangs, who outnumber the police, have seized this lawless moment, blocking access to critical fuel terminals. The price of gas—only available on the black market—has soared to a staggering $50 per gallon. The crisis has forced businesses and churches to shut down, stores to close, and even hospitals and supermarkets to suspend operations. The capital has come to a standstill.
Haitians are trapped, unable to work, and going hungry. Even humanitarian aid is unable to reach people in need due to fuel shortages and dangerous road blockades. According to the U.N., a record 4.7 million people are facing acute hunger in Haiti, including 65 percent of the capital's Cité Soleil neighborhood. And for the first time ever, 19,000 Haitians are experiencing "catastrophic" hunger, the most extreme level of the international hunger index. At that point, people are destitute and already acutely malnourished. Many are quite literally dying of hunger's deadly effects.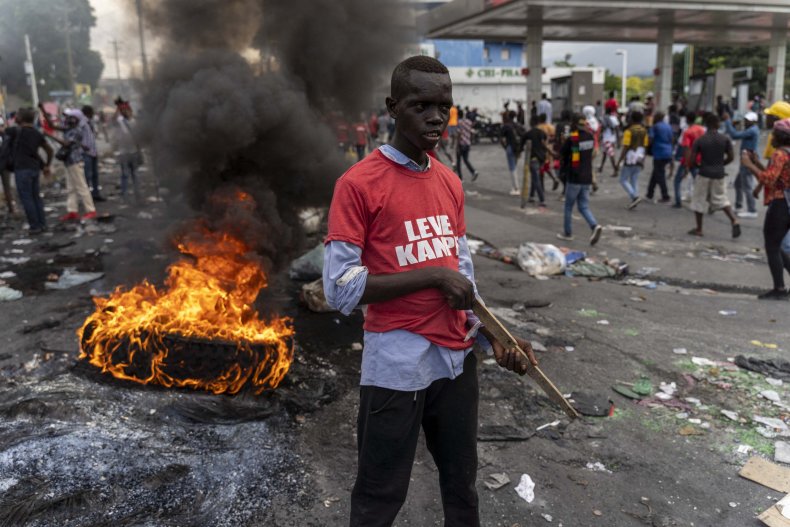 Alarmingly, sanitation services also have been discontinued, which can make malnutrition worse. Water trucks can't reach the neighborhoods they serve, priming conditions for the spread of cholera—a waterborne disease that traumatized Haitians for nearly a decade, killing 10,000 people. It was one of the worst outbreaks in recent history, and Action Against Hunger coordinated with the government, local communities, and health care workers to combat cholera here.
Thanks to these joint efforts, the disease wasn't detected for the last three years. Its resurgence and rapid spread are especially alarming as rates of malnutrition soar. Cholera's effects include diarrhea and vomiting, putting frail young bodies at a far greater risk of death.
These days, the children that we screen for malnutrition have all been exposed to cholera because water sources are polluted, and water treatment is scarce and difficult to access.
Despite the chaos around us, we are urgently working to reactivate our cholera task force and implement the techniques we previously used to fight this deadly disease, before it spreads further and becomes more entrenched.
Public education was a critical part of our success during the last epidemic. Our teams are working with the Ministry of Health and others to raise community awareness and attempt to manage the logistics of water treatment at the household level. It's a very dangerous situation for Haiti's most vulnerable and our health care workers who put themselves at risk every time they leave home to run a badly needed relief effort.
Even the basic elements of our work are becoming more difficult. Fuel supplies are dwindling. Violence is making it impossible for us to deliver food, water, water purification tablets, or medicine.
Cholera is a preventable disease. Hunger is preventable, too. At least in theory. But, as I write this, I can't even leave my office and amid this growing crisis, I fear that we won't be able to prevent either in time.
Roseval Supreme is Action Against Hunger's Haiti country director.
The views expressed in this article are the writer's own.