Thomas Barrack, Longtime Trump Ally, Pleads Not Guilty to Acting as Foreign Agent
Thomas Barrack, a former adviser to Donald Trump, pleaded not guilty Monday to charges accusing him of acting as an agent of the United Arab Emirates (UAE).
Barrack appeared in court a week after being arrested. He is accused of asking UAE officials what to promote during media interviews and whom to advocate for positions in the Trump administration, among other charges.
Barrack, 74, is also accused of sending UAE officials a speech the former president was going to give in 2016 on energy policy and asking for feedback on it. In addition, he allegedly asked officials to sign off on an opinion piece he was set to publish. If convicted on all seven charges, he faces decades in prison.
"They didn't like dictatorships word...if you can say some of the governments or regimes. Because they don't want to be also labeled as dictators. Which is true," the officials emailed back, according to court documents.
Prosecutors noted that the final version of the op-ed used the word regimes instead of dictatorships.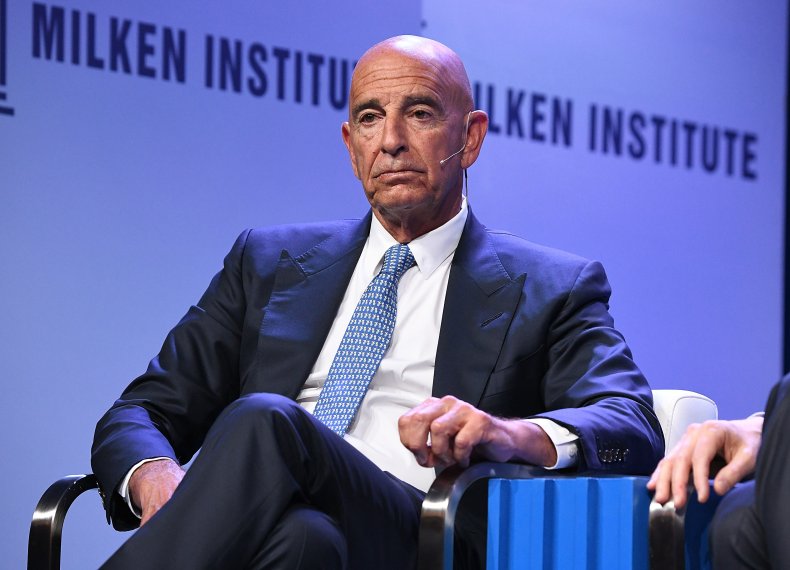 Barrack also allegedly asked UAE officials if there was anything they wanted him to discuss in a media interview and was given talking points on another occasion. After Trump took office, Barrack agreed to advocate for the appointment of individuals to the administration whom the UAE saw as being beneficial to their foreign policy interests.
"The conduct alleged in the indictment is nothing short of a betrayal of those officials in the United States, including the former President. Through this indictment, we are putting everyone—regardless of their wealth or perceived political power—on notice that the Department of Justice will enforce the prohibition of this sort of undisclosed foreign influence," acting Assistant Attorney General Mark Lesko said in a statement.
Along with failing to register as a foreign agent, prosecutors allege Barrack "knowingly made material false statements" to the FBI in 2019.
Barrack and Trump have been friends for decades, and he was an early supporter of the former president's decision to enter the political arena. He's credited with helping to convince Trump to hire as campaign chairman Paul Manafort, a longtime Republican lobbyist. Manafort was found guilty of eight felonies in 2018 and served two years in prison before receiving a pardon from Trump shortly before he left office.
In 2019, there were rumors that Barrack and Trump had a fractured relationship and were no longer speaking. However, a spokesperson for Barrack pushed back on the assertion, telling Politico that their relationship remained "unchanged."
"They have been friends for 40 years, and Tom has great respect for President Trump and the incredibly daunting task of executing the job of president of the United States," the spokesperson said.
Trump hasn't leapt to Barrack's defense, though, as has been the case with some of his other allies. After Allen Weisselberg, chief financial officer of the Trump Organization, was indicted, the company quickly released a statement calling him a "loving and devoted" husband and said his arrest was a political hit job aimed at the former president.
Rudy Giuliani, the former president's personal attorney, hasn't been indicted but had his electronic devices seized during raids. He also had his license to practice law suspended in New York and Washington, D.C.
"The greatest Mayor in the history of New York City, the Eliot Ness of his generation, one of the greatest crime fighters our Country has ever known, and this is what the Radical Left does to him," Trump said in reference to Giuliani. "All of New York is out of control, crime is at an all-time high—it's nothing but a Witch Hunt, and they should be ashamed of themselves."
But Trump's been mum on Barrack, and Newsweek did not receive a response from him before publication after it reached out for comment.
Barrack's not guilty plea came as no surprise, as a spokesperson for the defendant told CNBC he is "not guilty and will be pleading not guilty" ahead of his court appearance. Both the spokesman and Matthew Herrington, his attorney, told CNBC Barrack has been cooperating with the investigation "from the outset."