Thomas Fire Map: Ventura Fire Photos, Timeline, Death Toll From Wildfire Destruction in California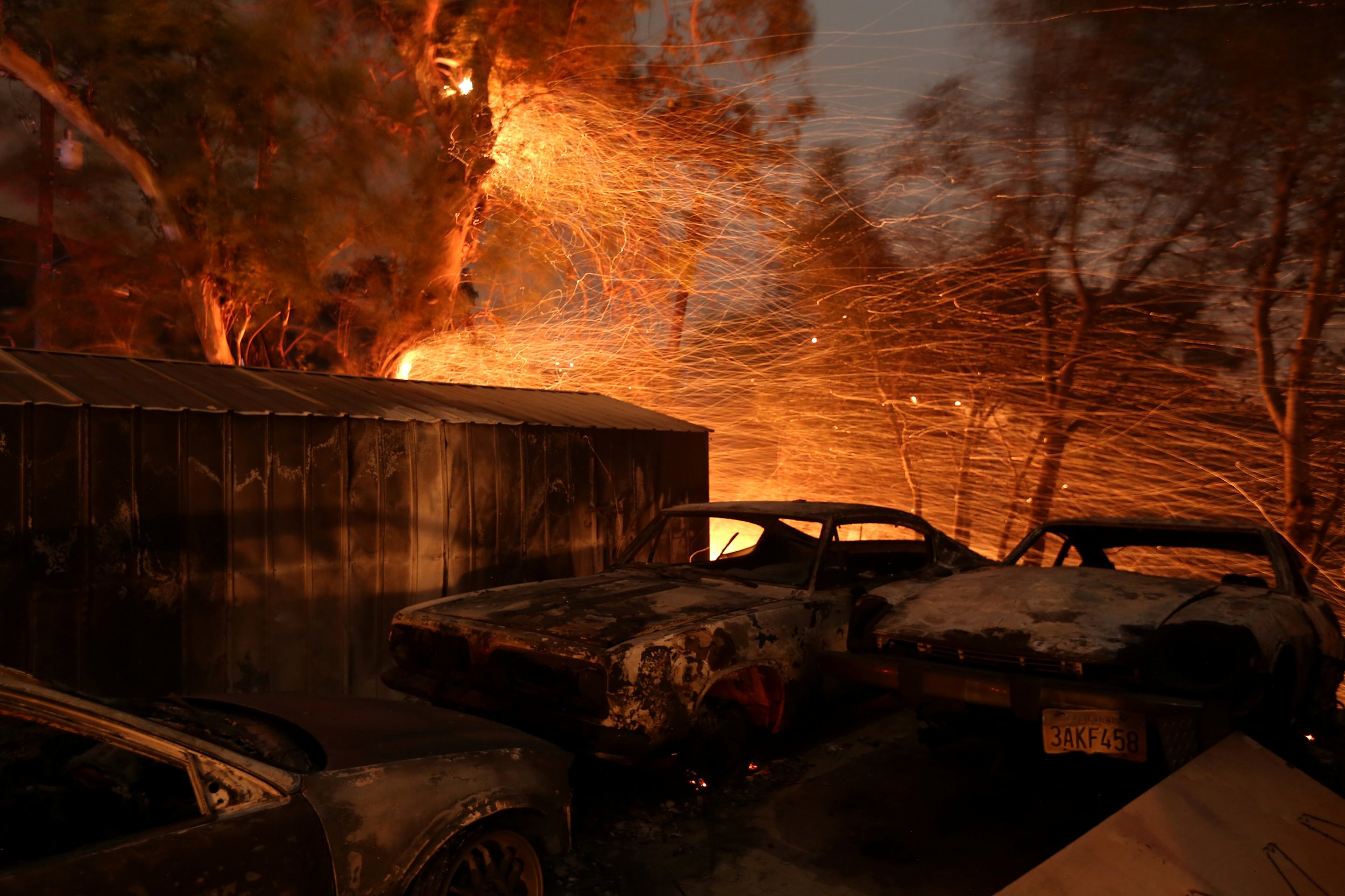 Updated | Wildfires in California have charred 50 square miles and forced the evacuation of more than 27,000 residents in the region—and the fast-spreading blazes continue to burn along the Pacific coast and burn residential homes northwest of Los Angeles.
The Thomas fire started Monday night, burning homes and destroying 150 structures, including the Vista del Mar Hospital, which had been evacuated. Californians were still being told to leave their homes Tuesday, as the fire was at zero percent containment and moving quickly through the region north of Los Angeles, according to the Ventura County Fire Department. Since then, it's been joined by four additional fires.
Officials don't know what sparked the wildfire, but extremely dry conditions across the northern region have led to several fires in the past few months. Extreme winds, which are predicted to reach 40 to 60 miles per hour through the county, are helping the fire move quickly and knocking down power lines and trees, according to the Los Angeles office of the National Weather Service.
A second fire called the Creek fire is pushing through the L.A. foothills and has tackled about 3 square miles. Firefighters are working to put out the twin blazes as they sweep apartment complexes and homes in California, according to the Los Angeles Times, but strong winds from the east are making that task difficult.
"The prospects for containment are not good," Ventura County Fire Chief Mark Lorenzen said at a news conference. "Really, Mother Nature is going to decide."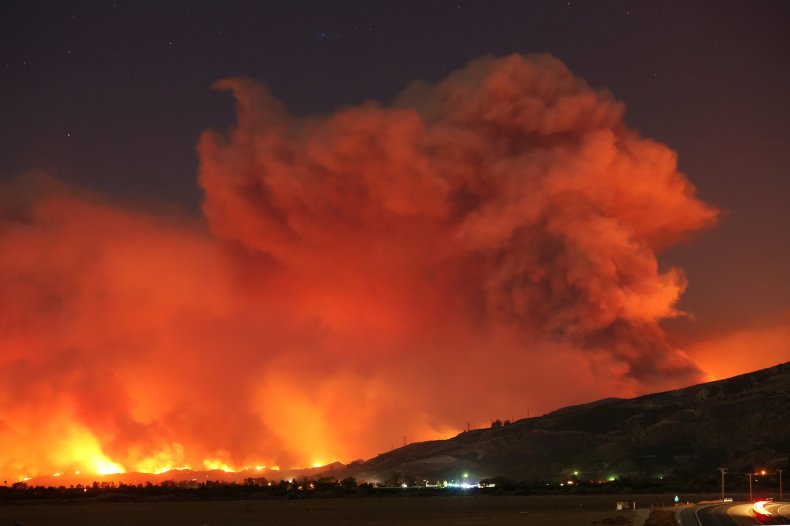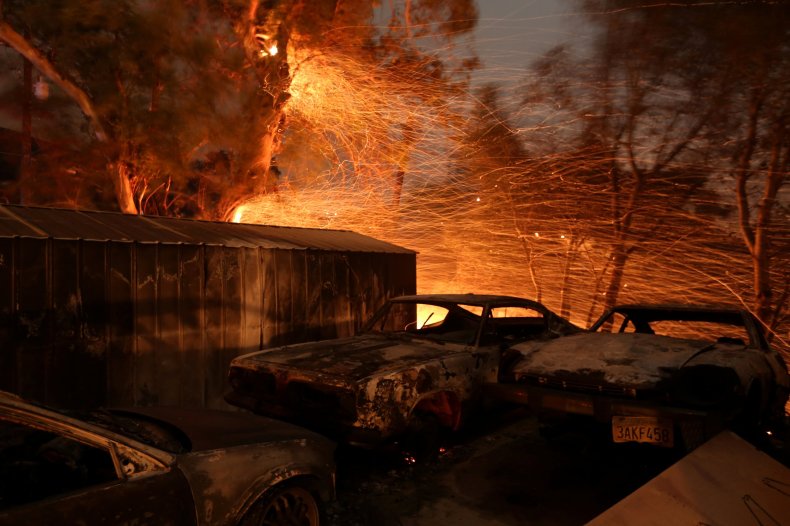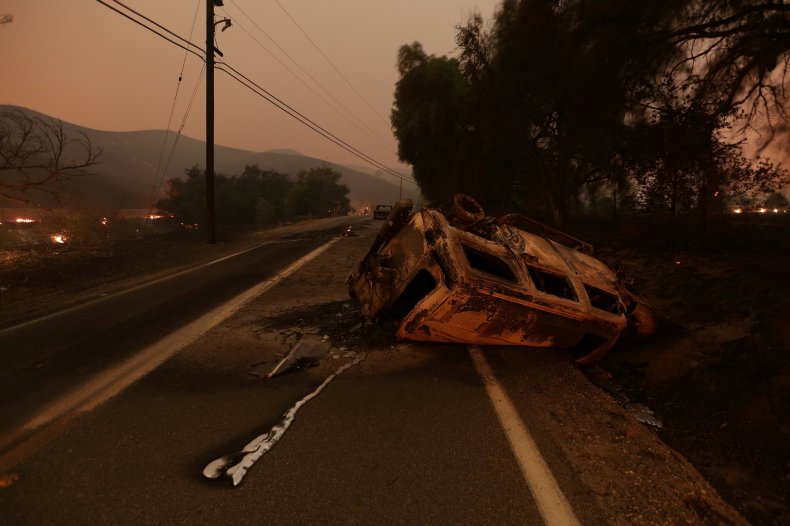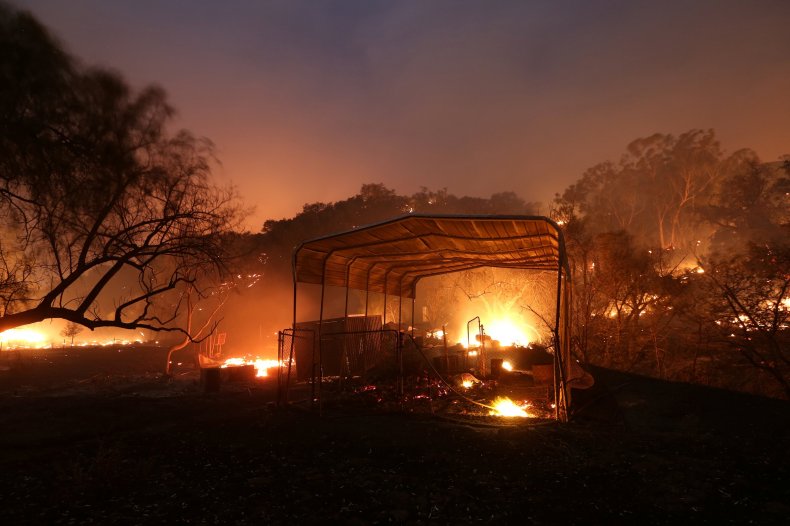 At least one firefighter has been injured while working to extinguish the flames. A report from the fire department of a fatality from a car crash was later discovered to be a dog, not a person, according to the Associated Press. Schools are closed as power goes out in the region and people flee the fires.
On Twitter, Tonia Gould said that the air in Ventura "is so dense from ash and smoke, you can taste it" alongside a photo of thick smoke on the beach. Local morning news anchor Joey Buttitta shared a video of the destroyed Vista del Mar Hospital, which helps people with mental health problems and drug dependency.
Officials are continuing to update emergency communication systems with information on the Thomas and Creek fires. The most recent fires are still small when compared to the October fires that burned more than 128,000 acres of land in Napa Valley—about eight times the size of Manhattan. Those wildfires killed 31 people and devastated California wine country.