Thomas Markle in Hospital After 'Major Stroke' in Echo of Meghan's Wedding
Thomas Markle "suffered a major stroke that has seen him lose his speech" and has been taken to an American hospital, it has been reported.
The 77-year-old suffered a stroke serious enough to have affected his speech, according to the Daily Mail.
Meghan Markle's father was filmed on a stretcher in Mexico with a breathing mask in footage published by gossip site TMZ.
Thomas Markle was due to fly to the U.K. to join Brits celebrating Queen Elizabeth II's Platinum Jubilee.
He said he had suffered two heart attacks in May 2018, days before Meghan's wedding to Prince Harry, which stopped him from walking her down the aisle.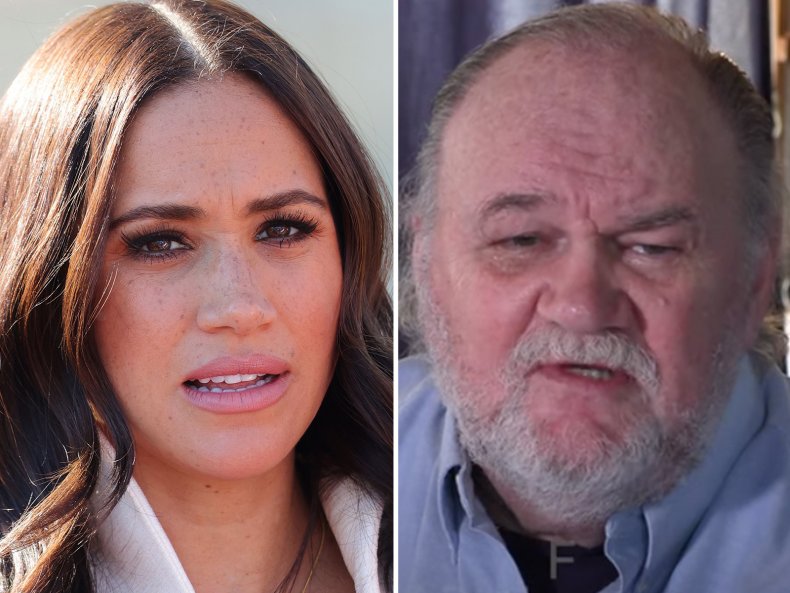 Samantha Markle Says Her Father 'Needs Some Rest'
Samantha Markle, his eldest daughter, told the Mail: "My father is recovering in hospital. We ask for privacy for the family, for his health and wellbeing. He just needs peace and rest. Godspeed. We are praying.
"He just needs some rest. It's a travesty how much he's been tortured and how much he's had to go through thanks to my sister's disregard the past few years. That is unforgivable."
Thomas Markle was due to join U.K. channel GB News for Dan Wootton's coverage of the Platinum Jubilee but the trip appears to be off.
Wootton wrote in his column for the Daily Mail: "Days before he was due to fly to London for the first time for the Queen's Platinum Jubilee, the Duchess of Sussex's father Thomas Markle has suffered a major stroke that has seen him lose his speech.
"He is currently receiving urgent medical treatment in an American hospital."
His hospital admission was also confirmed to the U.K. Press Association news agency by Karl Larsen, the press photographer who co-hosts a YouTube channel with him.
Meghan and Thomas Markle's Falling Out Before Wedding
Thomas Markle was due to walk Meghan down the aisle at St George's Chapel, in Windsor Castle, on May 19, 2018.
However, days before his daughter became a princess The Mail on Sunday revealed he had staged paparazzi pictures for money.
In the aftermath, Thomas Markle said he had experienced a heart attack and had been admitted to the hospital, telling TMZ he was pulling out of the wedding.
A text Harry sent him was made public through Meghan's lawsuit against The Mail on Sunday.
The May 14 message read: "Tom, Harry again! Really need to speak to u. U do not need to apologize, we understand the circumstances but 'going public' will only make the situation worse.
"If u love Meg and want to make it right please call me as there are two other options which don't involve u having to speak to the media, who incidentally created this whole situation.
"So please call me so I can explain. Meg and I are not angry, we just need to speak to u. Thanks."
Meghan later wrote him a message: "Very concerned about your health and safety and have taken every measure to protect you but not sure what more we can do if you don't respond...
"Do you need help? Can we send the security team down again? I'm very sorry to hear you're in the hospital but need you to please get in touch with us... What hospital are you at?"
The saga destroyed the relationship between father and daughter who have reportedly not spoken again, though they did exchange letters later in 2018.
Thomas Markle's Recent Comments
It was the queen's health rather than his own that was on Thomas Markle's mind as he appeared morose in his most recent video on his YouTube channel.
He said: "The best thing on our agenda is, last couple of days, the queen has been in very good health and smiling and looking good and looking very pretty and let's just say let's hope that keeps on going."
Thomas Markle also described his plans to visit Britain: "I decided to go to the jubilee because some people had invited me to come to the jubilee and Meghan and Harry had cancelled. They weren't going to go.
"I've already got my tickets arranged I'm ready to go and I'm going to go because now they're coming to. God only knows what's going to happen.
"I don't think we'll bump into each other, I don't think we go to the same places. But I'm sure there'll be times when there'll be glances between myself and my daughter and my son-in-law."
The video also took an unusual turn when Larsen said he visited the house next door to Meghan's mother Doria Ragland and suggested they buy it.
For more royal news and commentary check out Newsweek's The Royal Report podcast: