Kentucky GOP Rep. Defends Kyle Rittenhouse: 'He Didn't Empty a Magazine Into a Crowd'
Kentucky Rep. Thomas Massie has defended the actions of the 17-year-old charged with homicide following the fatal shooting of two protesters in Kenosha, saying he had shown "situational awareness." The comments by the Republican congressman have been condemned by the Kentucky Democratic party.
Kyle Rittenhouse has been charged with two counts of first-degree homicide following the shooting deaths of the protesters during unrest in the city in Wisconsin on August 25. It followed violence in the city sparked by video of Jacob Blake being shot in the back by a police officer.
However, Massie, who represents Kentucky's 4th district, said in a radio interview that Rittenhouse had acted in self-defense.
"He also exhibited incredible restraint and presence and situational awareness," Massie told WVHU, a talk radio station in Huntington, West Virginia, adding, "he didn't empty a magazine into a crowd."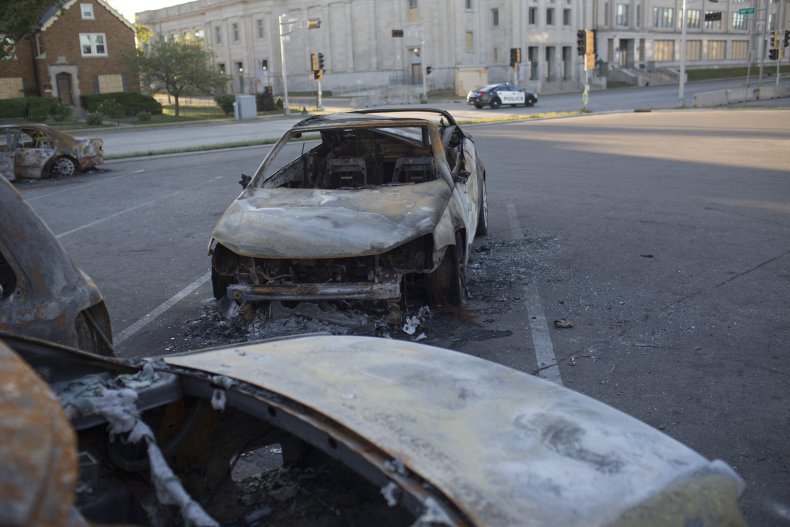 Rittenhouse's attorneys say the teenager was acting in self-defense. Massie said video footage showed that Rittenhouse was "fulfilling his obligation to retreat" from those who were chasing and attacking him after Joseph Rosenbaum was fatally shot.
"I think the strongest thing he has for him is the actual video evidence," Massie said.
"And if I were on a jury and all I had was the evidence that I have been able to acquire through social media and the videos that are out there, I would not convict him of a single one of these charges."
"What does it say about our country where this lawlessness is going on to this extent that a 17-year-old feels compelled to stop it? To be the one to turn the tide? I think it says a lot for the 17-year-old," he added.
His comments were condemned by The Kentucky Democratic Party, which tweeted: "Unbelievable. The @kygop @Team_Mitch and other Kentucky Republicans need to disavow Massie's comments immediately."
Rep. John Yarmuth, D-Louisville, said any public official who tries to justify Rittenhouse's actions "should reassess his respect for the law," the Louisville Courier Journal reported.
"Kyle Rittenhouse has, quite justifiably, been charged with murder," Yarmuth said. "He is a 17-year-old vigilante."
Alexandra Owensby, Massie's Democratic opponent in the November election, tweeted that Massie's comments were "absolutely sickening!"
"Kyle was a 17 yr old boy who should have been home, not roaming the streets with an AR-15! Also, running away after you kill someone is NOT 'retreating,'" she added. Newsweek has contacted the Republican Party of Kentucky for comment.
On Wednesday, a day after a visit by President Donald Trump, Kenosha lifted an emergency curfew more than a week after protests that followed the shooting of Jacob Blake. On Thursday, Democratic presidential contender Joe Biden paid a visit to the city which has been left reeling by the violence.