'Silicon Valley' Star Thomas Middleditch Says He and His Wife Are Swingers
Silicon Valley star Thomas Middleditch has made a surprising confession—that he and wife Mollie Gates are swingers.
Middleditch, who has been married four years, said swinging "saved" his marriage in an interview with Playboy.
The actor said it was "only after I got married was I like, 'Mollie, I'm sorry, but we have to get nontraditional here.' To her credit, instead of saying 'F**k you, I'm out,' she was like, 'Let's figure this out.'"
Swinging is when partners in a committed relationship choose to be non-monogamous and have sexual encounters with other people.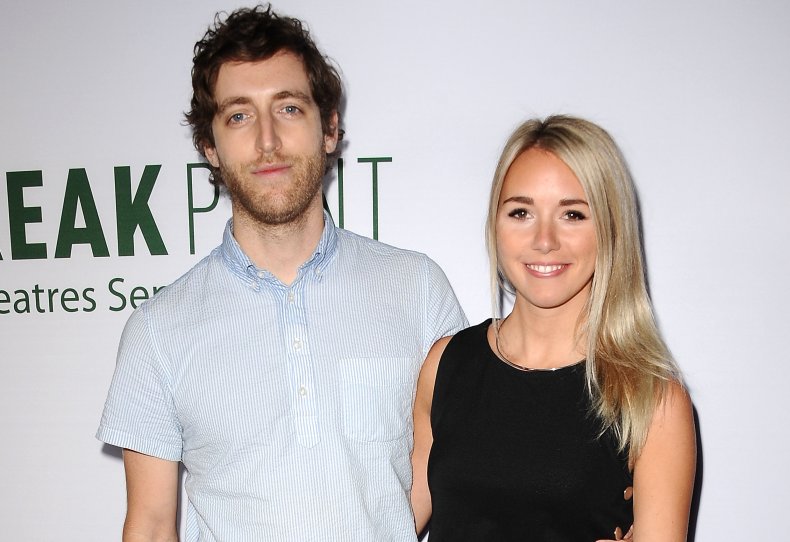 Middleditch said he and Gates, a costume designer, "argue over it constantly" but have learned to communicate about their desires.
The Silicon Valley star explained, "I'd always thought I was a romantic and that when I fall in love, that stuff fades away. It does for some years—enough to be like, 'I should get married, and I'll be different.' But it's part of me. If that's part of your being and it feels important to you, find a way to explore it, because repression sucks."
Asked if he ever thought he'd be interested in swinging, or "being part of the lifestyle," as he calls it, Middleditch said: "Absolutely not. I self-deprecatingly call myself a pervert, but that's not what it is. I just like it. I'm sexual."
Middleditch and his wife have their own rules about what is allowed when they take part in non-monogamous acts, he said. "We're not off on our own—we're together, a unit. It's a perpetual state of management and communication, to the point where it's like, 'All right, we've got to stop. Chill.'"
"I'm gas, and she's brakes," the actor said.
Middleditch said he and his wife are writing a comedy series based on the premise of swinging, and that he'd happily be the face of the activity.
However, the actor said, "my wife is more private, so I have to juggle that."
Celebrities who don't believe in monogamy
Middleditch and his wife aren't alone in having non-conventional relationships.
In 2013, comedian Margaret Cho said she had an open marriage with her husband at the time, Al Ridenour. The couple divorced in 2014 after 10 years of marriage.
Cho explained on The Real: "I'm married to a man, but I'm bisexual so I like both. We got together because we both have this side ... I just don't want to have sex with the same person my whole life, that's gross."
Younger star Nico Tortorella, who identifies as non-binary, has also spoken about being in a polyamorous marriage with partner Bethany Meyers, who is also non-binary.
Tortorella told Us Weekly in 2018 that the couple "love each other more than anything and we allow each other freedom to explore ourselves."
In June, Tortorella said: "We openly communicate all of our desires and our feelings and what we're into and what we're not into. It's just all good."