Thomas Piketty Says He Was Ambushed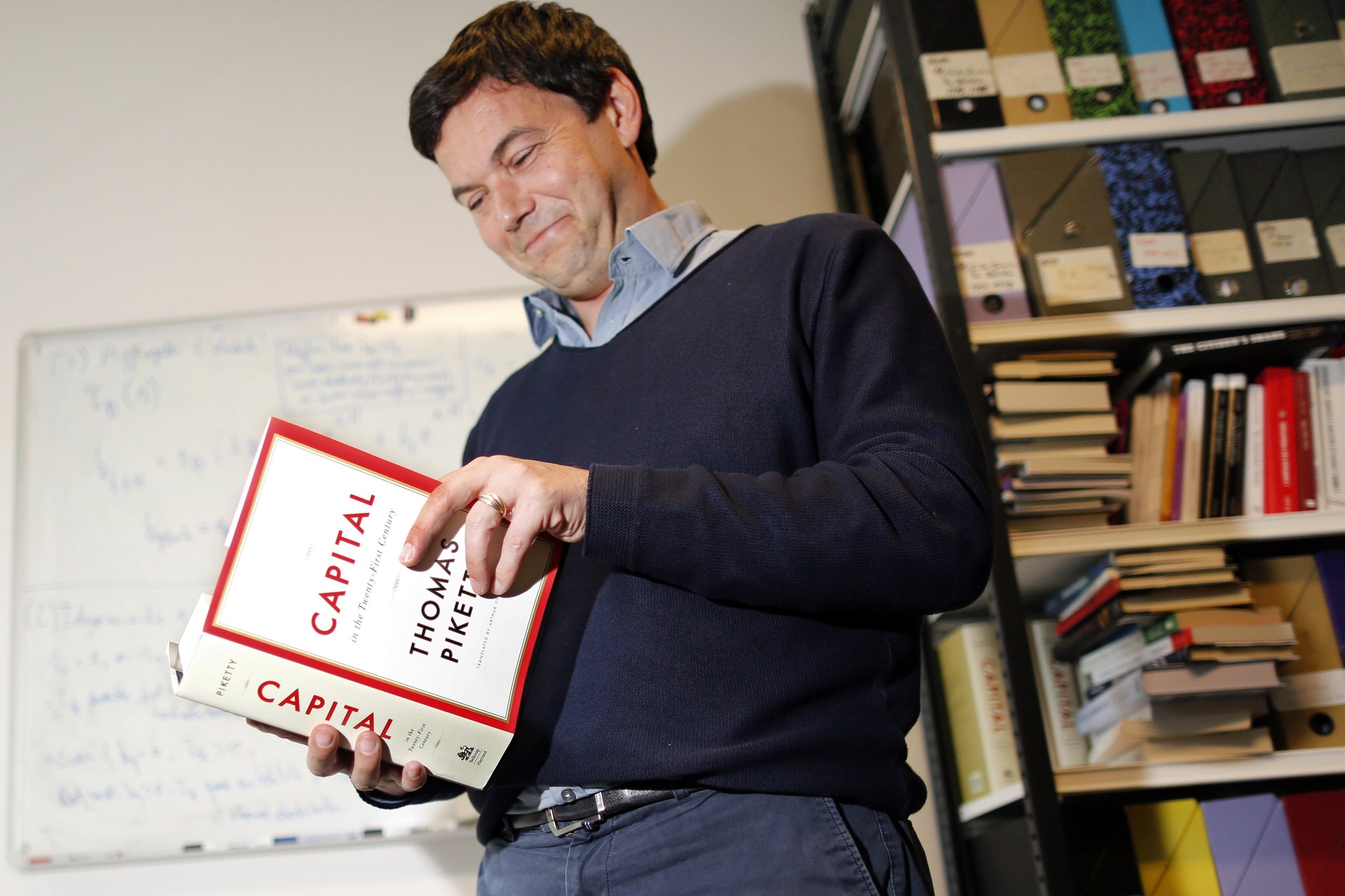 French economist Thomas Piketty stands by his best-selling bookCapital in the Twenty-First Century, and says the Financial Times published a scathing analysis questioning the data without giving him nearly enough time to answer its criticisms of a complex, nuanced argument.
In the explosive story published on Friday afternoon, the Financial Times's economics editor Chris Giles charged that key data used as the basis of the book's conclusions—which include a recommendation to impose a progressive global tax on the super-rich—are riddled with "problems and errors" that call into question the book's overall findings, which cite data indicating global wealth inequality has been on the rise since the 1970s. Giles contends that the book's underlying data tell a different story.
Piketty, who posted his data spreadsheets online for all to see, told Newsweek in an email this morning Giles gave him less than a day to respond to questions about his data and methodology used in his expansive, 696-page book, as well as his voluminous spreadsheet data.
"He didn't give me proper time to respond (less than 24 hours) and most of all the mail he sent me did not include a large part of the material that they were going to publish," he said to Newsweek in the email. "I maintain that there's no error or flaw in my series."
For those unfamiliar with Piketty, he is a professor at the Paris School of Economics and his recent book has topped sales on Amazon on both sides of the pond. The book bills itself as seeking to answer "questions about the long-term evolution of inequality, the concentration of wealth and the prospects for economic growth," through the analysis of "a unique collection of data from 20 countries, ranging as far back as the 18th century, to uncover key economic and social patterns."
Giles, reached by phone this morning, told Newsweek the paper did contact both Piketty and his publisher, Harvard Press, on Thursday evening (British Summer Time) with some of the paper's main questions, stipulating a deadline of 3 p.m. the following day. Giles received a response from Piketty just before 11 a.m. Friday. "He replied much quicker than the deadline," Giles said. He added that even if the Financial Times had presented Piketty with the totality of its questions about the book's data (which it didn't), "there was an amount of material to which Piketty did not reply."
Giles also confirmed Piketty's contention that the Financial Times did not seek to undertake a formal interview with Piketty about the many data points it questioned. Giles said the approach was given the green light by the paper's legal team. "After lengthy discussions internally and sending our analysis to an independent expert—who agreed with us, but wants to remain anonymous—we were comfortable with our approach," he told Newsweek.
Giles, in his critique, takes issue with everything from what he suggests are innocent errors in the transcription of Piketty's data to numbers that "appear simply to be constructed out of thin air."
Most damaging in the assessment is his assertion that Piketty's data on rising wealth inequality may be incorrect, holding that this contention is "the centerpiece of Capital in the Twenty-First Century." For Piketty, who charges the Financial Times effectively ambushed him on this story and gave him little time to give a nuanced answer to many nuanced questions, the process did not feel fair.
"What's really dishonest is that the small corrections that they make to my series (and with which I disagree) do not make any difference to the overall evolution and to the overall analysis proposed in the book…and they try to pretend the opposite," he told Newsweek. "I will update the online technical appendix in order to clarify all of this."
While it may be tempting to point out that the FT's criticism of Piketty's data is favorable to its moneyed readership (The Economist also initially blasted Piketty's book for being "blinkered in its focus on taxing the rich"), Giles told Newsweek he did not in any way seek to attack Piketty's book. He says he stumbled on a discrepancy between the concentration of wealth described for the U.K. in Piketty's book and what was reported in the nation's official statistics while writing a story on Britain's distribution of wealth earlier this month.
As any good journalist would do, he dug further and found what he believes to be a number of problems with Piketty's data, which he detailed at length here.
The centerpiece of Giles's argument may also need closer examination, though. In the piece, Giles states that Piketty cited a figure showing the top 10 percent of British people held 71 percent of total national wealth, but that the U.K.'s Office of National Statistics put that figure at only 44 percent.
According to the Office of National Statistics, however, the Wealth and Assets Survey that Giles believes Piketty should have used as the basis for his research on wealth inequality in the U.K., has collected data since 2006 and is still in what it tells Newsweek is an "experimental" stage.
In other words, these figures, according to the office doing the survey, are not yet ready for prime time.
Giles told Newsweek he did not think the U.K. data should be assumed to be of lesser quality just because it is new and experimental—but he also did not appear to know this fact about the data and said he would "look into it." He added that it does not change the fact that Piketty appears to use numbers that cannot be sourced or may have cherry-picked the data or used data out of context.
Despite the knee-jerk reactions seen across the blogosphere over the weekend, it seems clear the full nuances of these data must be examined further. To be sure, detailed and transparent data on the super-rich are hard to come by and part of the reason for the debate, as well as the U.K.'s efforts to begin to collect more data through its new Wealth and Assets Survey.
That said, the risks of an over-reliance on data, from cherry-picking data sets to how the data is gathered, weighed and presented, is hardly new. In the era of Big Data and heightened access to it, it is tantalizing and fashionable to rely on data as the last arbiter of all arguments, but how data is contextualized and analyzed remains a major stumbling block on the way to absolute truths.
Perhaps data, if correct, cannot lie, but liars will figure, as the aphorism goes. And the collection, conveyance and interpretation of such figures can be boundless.
As Carroll D. Wright, one of the many possible sources of that quote (not to mention Civil War commander Charles H. Grosvenor and Mark Twain) and a top statistician employed by the United States in the late 19th century, said: "It is our duty, as practical statisticians, to prevent the liar from figuring. In other words, to prevent him from perverting the truth, in the interest of some theory he wishes to establish."
Yet, in the era of Big Data, that is exactly what we see happening with data, again and again.